Aing Bunath acknowledges that local residents were getting a little greedy during Sihanoukville's online gambling boom in recent years.
"Before, when we weren't greedy, we just rented a house and took the money," says Bunath, a landlord in the coastal city. "We didn't try to get more and more money by buying more houses and land."
But things changed when Chinese businesses and workers flooded into the city from 2016 through 2019. Macau banned "proxy betting" in 2016 — a form of online gambling — and soon the business was taking off in Sihanoukville instead.
An ex-Macau triad boss arrived in Cambodia and set up a business network with the blessing of Deputy Prime Minister Men Sam An and military police commander Sao Sokha. Crime shot up as large casinos and hotels rose across the coast.
The bustle — though believed to be linked to money laundering and organized crime — created burgeoning demand for hotels, guesthouses and rented rooms.
"I borrowed money to buy land worth more than $200,000 because I thought it was a great opportunity," Bunath recalls. "We could earn $7,500 [per month] — why wouldn't we dare to pay $2,000 per month [in loan repayments]? The banks were happy to lend money between $200,000 and $300,000."
But China was pressing to stamp out online gambling among its citizens as well as the capital outflows that result — a general concern about wealth leaving the country, and the same drive that led to the Macau ban in the first place. In an order that aligned with China's wishes, Cambodian Prime Minister Hun Sen announced an online gambling ban starting at the end of 2019.
Since then, everything has changed, Bunath says. He has sold his car to pay for loan repayments, and he is struggling to meet them every month.
"I'm speechless. It's very difficult, brother," says Sihanoukville realtor and developer Kim Ratanak. "We've taken loans from the banks and we're facing an economic crisis. Real estate is frozen."
According to provincial officials, more than 1,000 constructions have been left unfinished in Preah Sihanouk province. Sihanoukville, in particular, was in recent years the epicenter of a nationwide construction boom.
Cement imports show the rise in construction activity across the country, which peaked in late 2019. Covid-19 and the online gambling ban brought that activity down, and the figure has been suppressed even further in the past year. A visitor to Sihanoukville is now struck by the concrete husks of abandoned buildings scattered across the city.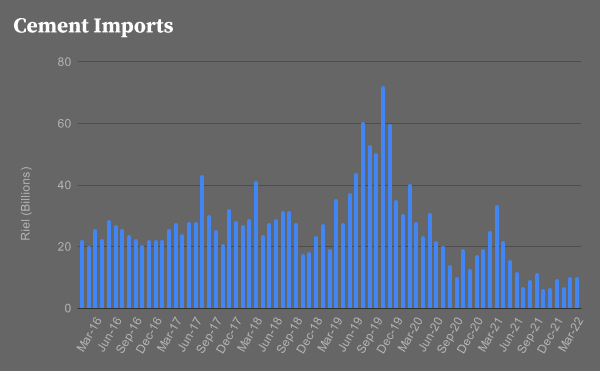 Preah Sihanouk deputy governor Long Dimanche says foreign investors came into Sihanoukville in a "landslide" — and departed again in another rush.
"Foreign investors moved out in a landslide too, so the huge foreign investors that left because they did not have a license to continue their [online gambling] business operations — as well as Covid-19 — resulted in our many problems, like economic and social issues," Dimanche says.
Left unused, many online gambling compounds have filled the void with alleged human trafficking and modern slavery. Thousands of foreign workers are said to be working on global scams there — many of them duped into thinking they were coming to Cambodia for legitimate jobs. They have spoken of threats, violence and forced labor, and say they or their families must pay thousands of dollars to the scam operators if they want to leave.
"There are more than 1,000 unfinished buildings, and though it's an unofficial figure we see it as a challenge and we cannot let this situation continue like this because it impacts the economy, society and environment," Dimanche says.
The Finance Ministry's director of macroeconomic and fiscal policy, Chea Kok Hong, has said that "based on the current situation, all parties are in economic trouble," according to provincial spokesman Kheang Phearum. The National Bank will not be able to release any funds to help the situation, but proposed remedies include tax relief and special visas to encourage foreign investors. Deputy governor Dimanche adds that a recent meeting with Singaporean investors was positive.
According to Credit Bureau statistics, late loan payments shot up in the second quarter of 2020, coinciding with the Covid-19 pandemic. The Tonle Sap area, which includes tourism-dependent Siem Reap city, is faring the worst, with 3.7% of payments more than 30 days late as of the first quarter of this year, but the coast is not far behind with a 3% rate.
Cambodia Microfinance Association spokesman Kaing Tongngy says those bad loan rates are still at manageable levels, and notes that Sihanoukville loans have typically been larger — issued by banks rather than microlenders.
But those in Sihanoukville speak of distress. The owner of a small construction company in the city, who gave his name only as Vibol, says building owners have no renters, and work has stopped.
"When our economy was growing very fast it was unbelievable," Vibol says. "We were very happy and they borrowed money from banks and microfinance to construct houses and buildings."
He used to work 10 construction sites at a time, but now barely has two. His staffing is down from 20 to five. Most construction workers have gone to look for work in factories, Vibol says.
"Now we only see empty buildings, and we do not see any buildings growing. The crank isn't turning. It's frozen."
Bunath, the Sihanoukville landlord, says land prices are falling and banks are no longer lending out money. "In this time, it's a challenge to survive," he says.
Realtor Ratanak wants things to go back to the way they were, when the economy was "booming." He wants online gambling to return and loose lending practices to return.
"As a citizen in Sihanouk province, I would like to request the relevant authorities and state institutions to help loosen up loans until the economy returns to normal," Ratanak says.
Updated on July 14 with more detail about government plans.