At least 19 bodies have been pulled from a Poipet city casino, including Cambodian, Malaysian, Thai and Vietnamese workers — and the death toll could double, provincial authorities said Thursday afternoon.
Sek Sokhom, head of the Banteay Meanchey provincial information department, said in the late afternoon that 19 bodies had been found as of around midday.
The fire broke out at about midnight at the Grand Diamond City Casino, according to a National Police statement, with photos and videos posted by authorities showing huge flames devastating the large structure.
As of 4 p.m., the fire had yet to be completely put out, National Police said, adding that the adjacent G Club was also burned. Photos show a hotel and casino complex connected by now burnt-out crosswalk bridges on the main road right at the Thai border checkpoint.
Sokhom said many of the injured and some of those who died had been workers who had jumped from upper floors in the building trying to escape.
"So far, we've seen 19 bodies and the death toll could be many more than this, it could be between 30 to 40 people or even more," he said.
"We have not entered the blocked rooms yet. … There are many floors," Sokhom said.
He claimed that much of the access to the building had been lost when power went out.
"When there was a blackout, the elevator got stuck, rooms were shut and we cannot enter," he said. "When we can open the rooms, there will be more deaths."
"We have sprayed water from the outside, but some of the rooms in the casino, they use smart keys or electronic keys so that when the fire started, they locked."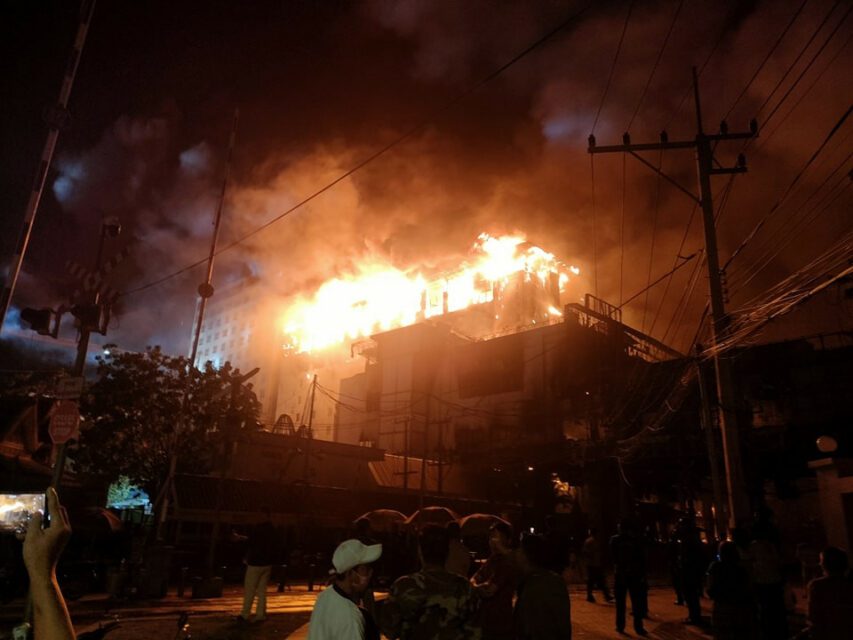 Authorities believe the fire started due to electrical problems, and those dead include Cambodians, Malaysians, Thai and Vietnamese workers, he said.
"A helicopter rescued 50 people," he added, but it could not land on some parts of the roof due to antennas and other obstructions.
Senior government officials including Interior Minister Sar Kheng and military generals Ke Kim Yan and Kun Kim arrived at the scene during the morning. Thirty to 40 fire trucks from both Cambodia and Thailand as well as 400 officers were participating in the rescue, Sokhom said.
Interior Ministry spokesperson Khieu Sopheak said the death toll was still unclear, but the casino building had around 400 employees.
"We need to help rescue the survivors first," Sopheak said.
In addition to casino gaming, some of Poipet's casino compounds have become known for housing scam operations employing hundreds of foreign workers, many of whom were trafficked or confined and forced to work.