KANDAL STUNG DISTRICT, Kandal — The water used to pool and recede in the wetlands at Kandal province's Ampov Prey commune, and Choeu, a 30-year-old fisherman, recalled that he used to place his tube-shaped nets in the shallow waters and catch between 5 and 7 kg of fish a day.
But as plans for a new airport — which would dwarf many Southeast Asian runways — emerged in Kandal province two years ago, Choeu said his daily catch dwindled to about 1 kg, as construction workers filled parts of the lake claimed by the airport and opportunistic landowners. The fisherman, still damp and speckled with leaves after retrieving his nets from the water, said on Friday that he knows the construction will soon push him out of this work.
"Four or five years more, and the lake will be finished, because they've started to fill it up step by step," he said.
A sub-decree obtained this month — signed by Prime Minister Hun Sen on June 3, 2020 — granted state land to the Cambodia Airport Investment company, a joint venture between the Overseas Cambodia Investment Corporation and the government's State Secretariat for Civil Aviation. The plot shown on the sub-decree spans Kandal province's Kandal Steung district and Takeo province's Bati district, and measures around 2,600 hectares.
Civil Aviation Secretariat spokesperson Sinn Chansereyvutha said the original agreement to develop Phnom Penh's new international airport in Kandal included some 900 hectares, but officials on a committee for land development had to procure between 1,000 and 2,000 additional hectares for the development of an "airport city," or businesses outside the airport.
"The airport development nowadays needs to include the airport city [in order] to support the airport development … with other revenue streams to fund the airport operations," he said on Monday, adding that the airport would be able to "break even" around 2040 after accounting for development expenses, according to a viability study.
He referred further questions about the land and what the airport city would include to OCIC and an airport land committee chaired by Land Minister Chea Sophara, saying the civil aviation agency only holds a 10 percent stake in Cambodia Airport Investment in order to oversee the airport itself.
Government spokesperson Phay Siphan described the new airport as cooperation between state and private companies, and it would bring new tax revenue, jobs and foreign investment to the country. He denied the land grant had anything to do with connections between the government and OCIC's chair, Pung Khiev Se.
"[The company's] first achievement is Koh Pich island, and it is a symbol of the development of Cambodia," he said. "[Khiev Se] invested in the airport so it means he has the ability to renovate this location into a development with potential to provide jobs to the people and revenue for the state."
OCIC could not be reached for comment.
Kruy Malen, Kandal province's administration director, said there had been conflicts over the land in Kandal Stung district in the past but claimed the issues were settled. Though he did not know details about the June sub-decree, he said the area in question was state land that farmers had been allowed to rent and cultivate.
"In short, the land is lake that belongs to the state, and people used to cultivate it in the past and have received a solution. … Beyond that there is no problem because the airport project has been underway [for some time]," Malen said.
Meas Uy, the administration director for Takeo, added that both a provincial working group and Land Management Ministry officials had measured and cut the land already.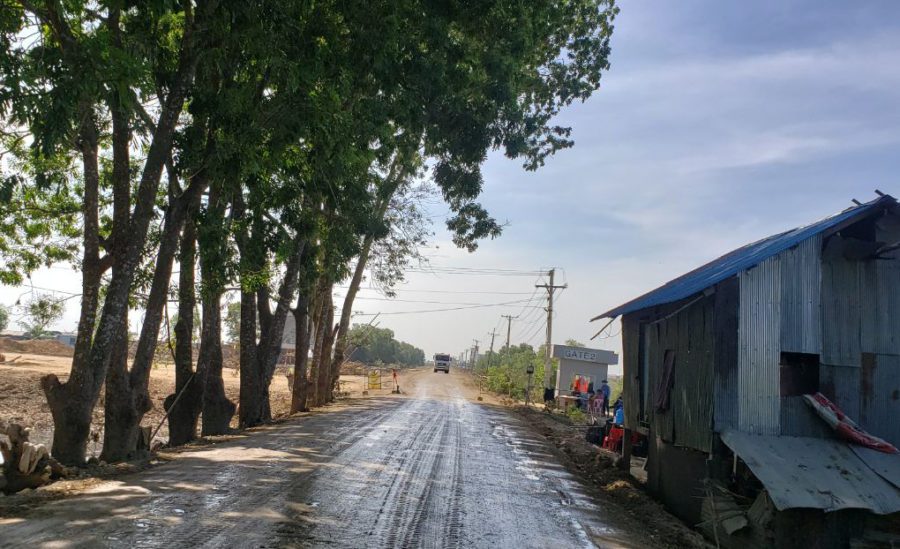 Fishers, farmers and a guard who spoke to VOD on Friday said the area due north of the airport development was owned by three controversial tycoons: Seang Chanheng, Khun Sea and Kun Kim.
Two of the three have been flagged for corruption and land grabs by the U.S. government. Kim, the National Committee for Disaster Management first vice president and former chief of the Royal Cambodian Armed Forces, was sanctioned by the U.S. government in 2019, and Chanheng, owner of Heng Development, had her U.S. visa revoked over a land dispute in the airport area.
Sea is behind the ongoing infilling of 70 hectares of the Mekong River for a shopping and condominium complex, and has been alleged to use dirty tactics in a 2013 Phnom Penh land dispute.
Two residents in the area said that Kim owned land in between Cambodia Airport Investment's new land and the undeveloped stretch of Hun Sen Boulevard that leads to the airport. Families rent pieces of the land for rice farming currently, but Kim also cut part of the land to give to the airport development, residents said. Last year, Kim urged more development in the area.
Carrying an armload of collected sticks back to his rented farm plot, Muon Dara, 52, said that people used to own the land, but Chanheng bought the land before the prices rose to $100 per square meter.
"They sold it to Heng [Development] a long time ago. It was about 10 years ago," he said.
Most people can no longer fish, he said, but he wasn't concerned that farmers would lose access to water yet.
"When there is no water, the company will find a solution for people," he said.
Most of the fishers gave up and took jobs as construction workers, but Ngoy Kim, 46, said he had done the opposite. He used to work as a construction worker, but he switched to fishing near the airport after his liver issues prevented him from doing the dangerous manual labor.
With a cigarette dangling from his mouth, he wades through the meter-deep water, gathering and shaking one of his still-empty fishing nets.
"It is not regular," he said of his catch. "Sometimes we can catch to sell and sometimes we do not catch anything."
Choeu, who had worked as a fisherman since he was young, said he was concerned how few fish there were now compared to the past, when he could support his family off fishing near Kandal's now-filled lake and save money too.
"It is very difficult because we are ordinary people," he said. "We have no power and we cannot do anything."