Anniversaries of the Paris Peace Agreements were not always prominent affairs. Largely overlooked by local newspapers until the landmark 20th anniversary, the day rose in visibility and contentiousness alongside the emergence of the popular opposition Cambodia National Rescue Party, a look through newspaper archives shows.
Five Years
The fifth anniversary of the agreements did not make the front page of the Cambodia Daily, though it was item No. 6 in a box of teasers to the bottom left. An article on page seven noted that "an uphill battle still lies ahead."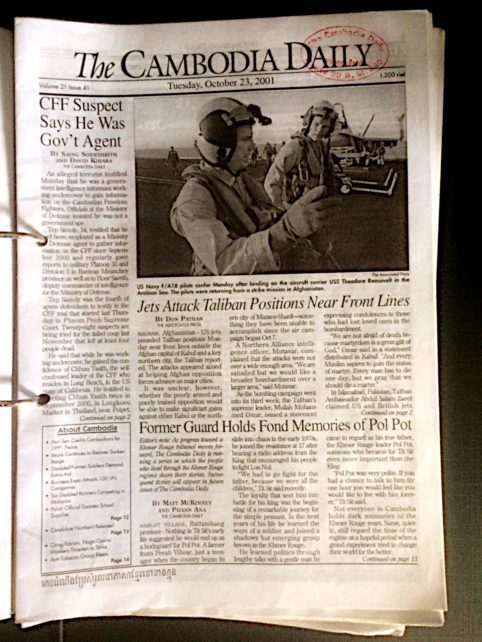 Ten Years
The tenth anniversary also saw no front-page article, but "Hun Sen Credits Cambodians for 1991 Peace," on page 12, made it to the top of the teaser box.
Fifteen Years
In 2006, the Paris Peace Agreements anniversary made the front page, as the government held a forum to celebrate its achievements.
Hun Sen spoke about the negotiations, saying historians had inaccurately portrayed him as having received advice from foreign powers during the talks.
He also pointed out that the end to factional fighting did not actually occur until long after both the peace deal and the U.N.'s transitional administration in 1992-93.
Twenty Years
A weekend magazine feature by the Daily's Michelle Vachon heralded the signing of the 1991 deal as "a new beginning."
In the Phnom Penh Post, the anniversary's coverage was a small page-two item, in which Sam Rainsy — a long-time opposition politician soon to become co-founder of the CNRP — calls for supporters to uproot Vietnamese border posts to mark the day.
2013-2014
The rise of the opposition Cambodia National Rescue Party brought with it mass political rallies in 2013 and 2014 — raising the temperature on Paris Peace Agreements Day, a national holiday that became a day of protest.
Twenty-Five Years
In 2016, the government denied a request to hold a rally at Phnom Penh's Freedom Park, pushing the CNRP to mark the day outside its offices instead.
CNRP vice president Mu Sochua said this week that the party aligned itself with the peace deal's principles — such as holding genuine elections — "as democrats."
"The 2013-14 protests focused on the violations of the PPA principles mentioned above as we contested the results of the 2013 elections."
By 2017, the Daily was no longer in print, and the CNRP less than a month away from dissolution.