BANGKOK — Fifty-nine Thais were removed from scam operations in Cambodia in simultaneous raids on two compounds this week — including 40 from the Kandal facility where Vietnamese nationals last month made a dramatic escape swimming across a river, Thai police said Friday.
One of the raids occurred at a scam hotspot Sihanoukville, where 19 people were rounded up working for an investment fraud scheme causing damage over 50 million baht, or about $1.4 million. Another 40 were arrested from a phone scam operation in Chrey Thom, Kandal province, that had caused damage of approximately over 100 million baht, about $2.7 million. Both raids took place on Monday.
Thai deputy police commissioner Damrongsak Kittiprapat said in a press conference in Bangkok that the raids were a satisfying result following an agreement recently signed by both Thai and Cambodian officials aiming to increase cooperation between the two countries as scam-related crime spiked.
In relation to these two scams, Thai police submitted a total of 91 warrants to Cambodia, but only found 55 of the suspects, plus four others who were present there but were not named in the warrants.
The phone scam in Chrey Thom was located at a building called Pacific Real Estate, the same spot where Vietnamese victims of forced labor recently made their escape, Thai police said. The scheme was similar to those widely reported in Thailand, where scammers pretend to be calling from a post office or international courier DHL, then pose as a police officer to trick victims into believing they were being accused of fraud or money laundering.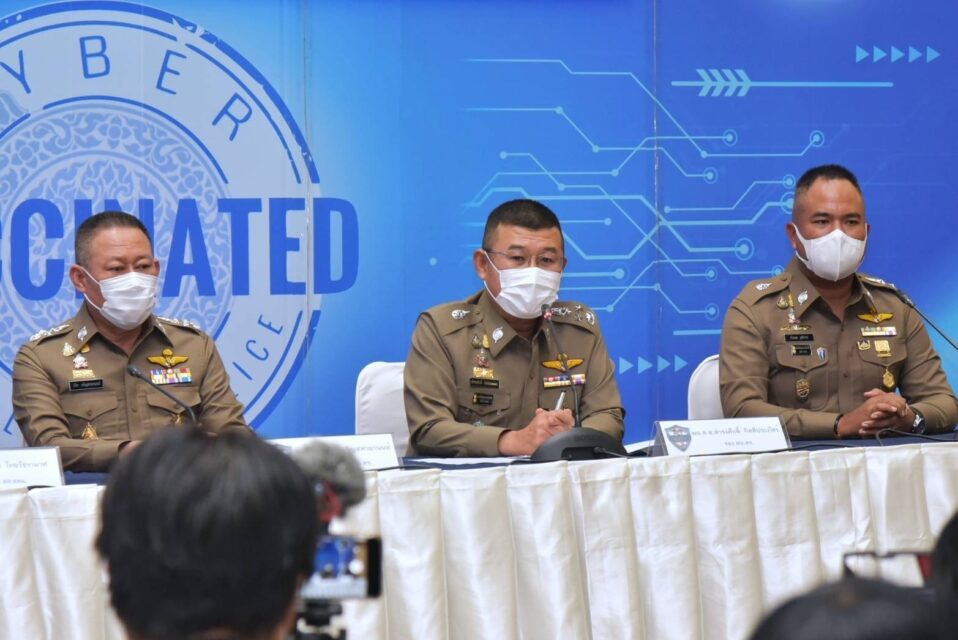 Thai police said it was their first raid in Kandal, and it appeared to them that scammers were expanding or moving their bases as police were cracking down harder in original hotspots such as Poipet, Sihanoukville and Phnom Penh.
The scammers in Sihanoukville were found at a building named Jingcheng, Thai police said. They were involved in an elaborate investment fraud scheme, luring victims with social media ads offering investments with high returns.
After victims click on the link on these ads, they would be directed to a chat application Line, where scammers asked them to install a fraudulent investment application that was made to look similar to TikTok. Victims would be asked to deposit money to "complete a mission," which was clicking a heart on a TikTok clip. For the first few times, victims make a return, but if they continue, scammers are asked for bigger deposits ranging from a few hundred to tens of thousands of baht.
Police said authorities had received over 350 complaints in relation to this investment scam, but believe there are many more victims who haven't come forward.
When a reporter asked about the chance of the victims getting their money back, however, one of the cybercrime police commanders at the press conference would only encourage those who haven't made a report to do so to facilitate their investigation.
All 59 were charged with illegal entry to Cambodia, and after a week or two they would be extradited to Thailand and face charges including public fraud, Damrongsak said.
Meanwhile, Cambodian authorities spoke of ongoing operations — referring to human trafficking rescues rather than scam arrests — leading to the removal of Taiwanese, Malaysian, Chinese and Vietnamese nationals.
Ma Eng Ngoun, Toek La'ak I commune police chief in Phnom Penh's Toul Kork district, said two Vietnamese youths aged 14 and 17 had been handed to immigration police after they called authorities from in front of the National Pediatric Hospital on Tuesday.
The teenagers had arrived from Sihanoukville, Eng Nguon said. "They had nothing with them, no phone," he added. Local media reports suggested they had been shuffled between scam operations in Bavet and Sihanoukville before being moved to Phnom Penh.
Interior Ministry spokesman Khieu Sopheak said one Taiwanese national was removed from the Hook I building in Sihanoukville's Bei commune on Thursday. The woman had been promised a false job and flew in from Taiwan, he said.
A 19-year-old Malaysian trafficking victim claiming confinement had further been removed from a building in Buon commune, while four Chinese nationals were removed from a separate location in the same commune, Sopheak said.