Alleging renewed large-scale illegal logging, environmentalists around the Prey Lang Wildlife Sanctuary said authorities should take action to stop deforestation before it was too late, just as officials had reclaimed 60,000 hectares of protected flooded forests around the Tonle Sap lake.
Since late November, when Prime Minister Hun Sen posted an audio tirade online admonishing officials for alleged complicity in accelerating encroachment around the Tonle Sap, authorities have made a show of taking action around the flooded forests.
Land Management Ministry spokesperson Seng Lot said on Thursday that 60,000 hectares of protected land in six provinces had been reclaimed as state property.
Authorities had also set up billboards and boundary markers around the protected areas, he said.
"[We] replanted trees, such as sugar palm, bamboo and raing along the boundary that has seen encroachment to make it return to normal," Lot said.
He added that a large number of people had confessed to encroachment and agreed to return their land to the state, while some complicit officials were being prosecuted in court.
He said he could not specify how many.
Royal Academy president Sok Touch, whose report to Hun Sen on flooded forest destruction sparked the drive, said there was more to be done.
At a conference at the academy last month, he said that in Kampong Thom province alone, more than 100,000 hectares of flooded forest had been lost, but authorities had only reported a loss of just over 3,000 hectares.
"I can't bear this.​ It might not be 3,000 hectares. It is more than 100,000 hectares. Please, all of those people, be honest with the people and the government. I can't bear this. So I'm using this forum to say, please, all of those people, tell [the truth] to the government," Touch said.
Heng Kimhong, an advocacy officer at the Cambodian Youth Network, said investigations into encroachment should be pursued long-term.
"The loss of tens of thousands of hectares of flooded forests is not accidental, and it does not just happen. There is certainly a malicious intention to destroy this natural resource," he said. "No matter whether they were careless or hiding information, action needs to be taken against those involved officials who played a part in causing the loss of flooded forests, which are important habitats for fish."
Around the Prey Lang Wildlife Sanctuary, which covers more than 430,000 hectares in four provinces, environmentalists said that if officials were able to take urgent action in Tonle Sap flooded forests, they should similarly be able to pay more attention to Prey Lang deforestation.
Hing Yoeun, a member of the Prey Lang Community Network in Preah Vihear province, said his group had gone on two patrols last month, and found large-scale logging activities being conducted openly.
Environmentalists have been banned from patrolling the protected areas for two years, but the group has continued its activities.
They patrolled for nine days and found more than 600 instances of forest crimes in Chey Sen and Rovieng districts, much of it done with large equipment, suggesting the involvement of companies, Yoeun said.
"Crimes of transporting timber are ongoing day and night," he said, calling for stricter law enforcement.
Another community activist in Preah Vihear, Srey Thei, said he had seen how the government had announced serious actions around the Tonle Sap flooded forests, and considered that they should be able to do the same in Prey Lang.
"Don't just implement it in that area and turn a blind eye to Prey Lang," Thei said. "The government should pay close attention to the Prey Lang issue, especially looking into officials who manage the conservation area, because they are the ones who allow rampant crime."
Environment Ministry spokesperson Neth Pheaktra, however, accused the community network of raising issues only to attract donors' attention, and that state patrols had already stamped out large-scale deforestation. He added that the group was not properly registered.
"The report or concern raised by the Prey Lang Community Network, an illegally structured organization, only serves the needs of its donors. It does not reflect the overall management of natural resources," Pheaktra said.
According to satellite data, Prey Lang Wildlife Sanctuary appears to have experienced some of the worst levels of logging among protected areas, losing an estimated 9,119 hectares of tree cover in 2020, up 21 percent from 2019. Its annual average loss in the five years from 2016 to 2020, around 7,348 hectares, is almost triple what it was between 2011 and 2015.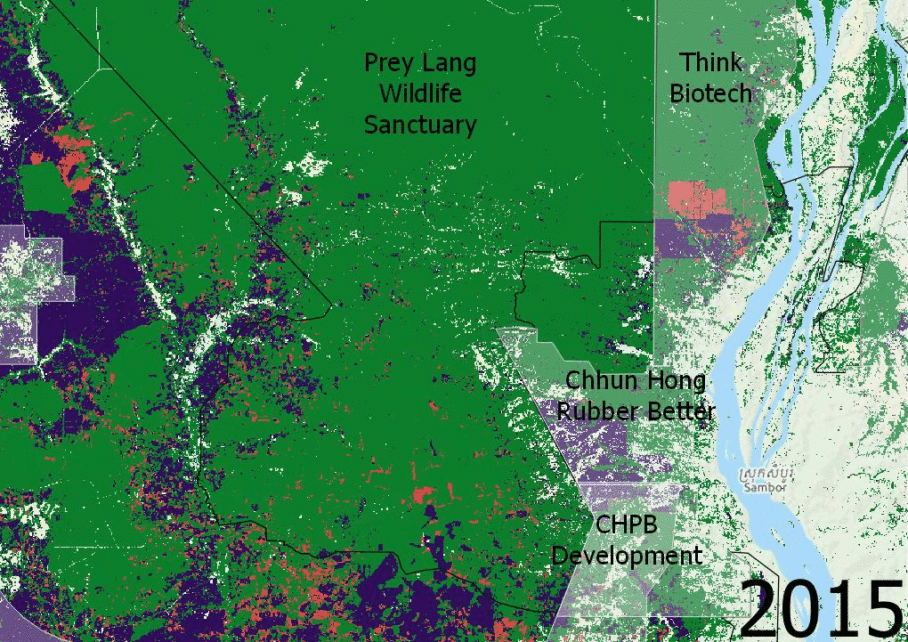 Eng Hy, spokesperson for the military police and national anti-deforestation committee, said authorities' actions were ongoing both around the Tonle Sap and elsewhere, and more work would be undertaken.
"It has not ended yet! We will do this work until we can restore the forests," Hy said.