The Cambodian People's Party will hold a national congress on Friday where more than 800 of its central committee members are expected to anoint Prime Minister Hun Sen's successor.
The CPP, which has a stranglehold on political life in the country, will meet in Phnom Penh at the party headquarters on Norodom Boulevard. According to Hun Sen, the party's central committee will then pick a new prime ministerial candidate, though he has made clear that he would remain prime minister going into the 2023 national election. All 10 deputy prime ministers have endorsed in some way Hun Sen's eldest son, Hun Manet, for the position after his father officially announced his support for Manet earlier this month.
Party officials have been tight-lipped this week about the conclave, with most unwilling to answer basic questions about the meeting's agenda.
CPP spokesperson Sok Eysan said on Thursday the meeting would start at 7 a.m. and likely end before noon. Eysan said there will be a vote on a prime ministerial candidate for the future, but would not say how many CPP members were on the ballot.
He added the party would then pick two new vice presidents to join current vice presidents Say Chhum and Sar Kheng. Lastly, Hun Sen will address the congress about the state of the country, while Kheng will talk about the upcoming commune election in June 2022.
"At the end, [Hun Sen] will have some recommendations for the members of the central committee and [discuss] some issues, especially leading to the commune election. But no opening speech," Eysan said.
He did not reveal who will be picked as the two new vice presidents, but said there were only two candidates in the running.
Eysan had on Wednesday confirmed the conference was a confidential, internal matter and would not be publicly broadcast, though he said he would provide the "results of the meeting" later in the day.
Hun Sen has been reluctant to unequivocally announce an heir to his more than three decades at the helm of the Cambodian government. However, in early December in Sihanoukville, he made his clearest pronouncement to date on who will be the next prime minister of the country, if elected to parliament.
"I declare today to support my son to be the next prime minister, but it means nothing without an election. It must be voted on," Hun Sen said of his eldest son.
Days later, Hun Sen said he had consulted with senior cabinet colleagues — including Sar Kheng — and decided to pick a new cabinet-in-waiting that would take over once the prime minister decides to retire.
The agenda for Friday does not make any mention of this new cabinet, even though Hun Sen previously said it would be presented at the central committee meeting.
Even as more than 800 CPP central committee members head to tomorrow's congress, Hun Sen has all but quashed the hopes of any other prime ministerial hopeful, especially Sar Kheng.
At the Sihanoukville speech, Hun Sen did the math on how old he would be during the 2028 election and said that Sar Kheng, who is a year older than the prime minister, would be too old to run for office. While the prime minister has not mentioned any other criteria for what the new cabinet will look like, his comments suggest that anyone older than him or near his age might have to make way for a new generation of CPP leaders.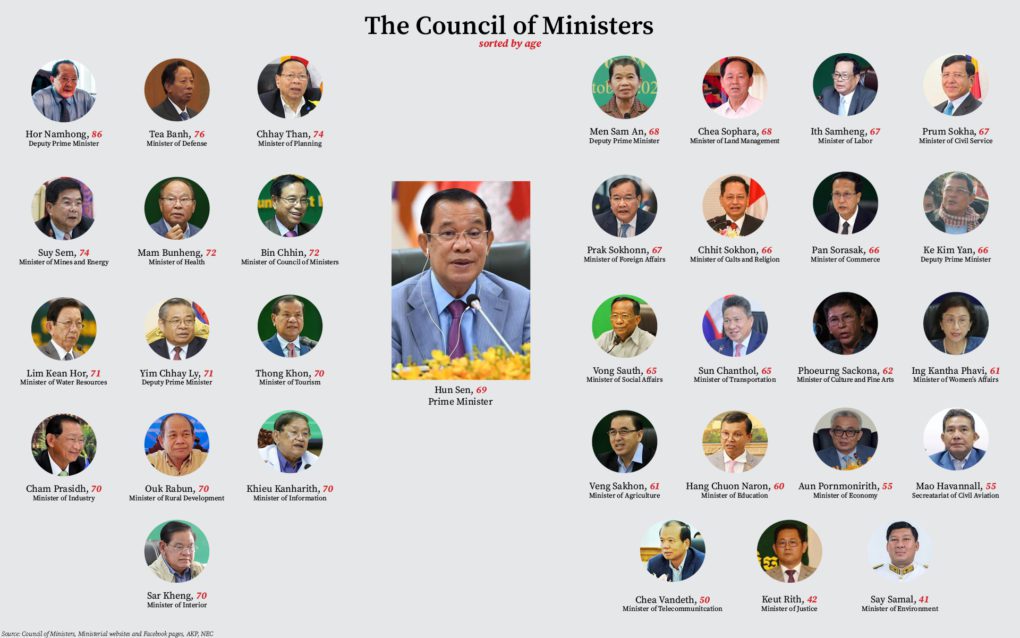 Hun Sen, who inaugurated a new customs department headquarters in Phnom Penh on Thursday, revealed one member of the cabinet who would retain their position. Hun Sen said that even if he steps down, Finance Minister Aun Pornmoniroth — who was in attendance at the inauguration — would keep his post, which also includes his role as a deputy prime minister.
Pornmoniroth is one the younger members of Hun Sen's cabinet, and at 55 he is 14 years younger than Hun Sen. The prime minister did not comment on the political futures of other cabinet members in attendance, including Men Sam An, Ke Kim Yan, Tea Banh and Hor Namhong, the latter being the eldest cabinet minister at 86 years old.
Younger members of the CPP have been vociferous in their support for Hun Manet, who leads the party's youth wing. Heng Sour, spokesperson for the Labor Ministry, took to Facebook to pledge his support for Manet at the congress, even releasing an official letter announcing his vote for the eldest Hun son.
Reached on Wednesday, Sour would not confirm if there will be a vote because he had not seen the agenda for the meeting. But if there was balloting, he had picked his candidate.
"On that day, I will continue what I have already clarified to the public, whether there is a vote or not, I am happy to support Hun Manet's candidacy."