Poipet commune, Banteay Meanchey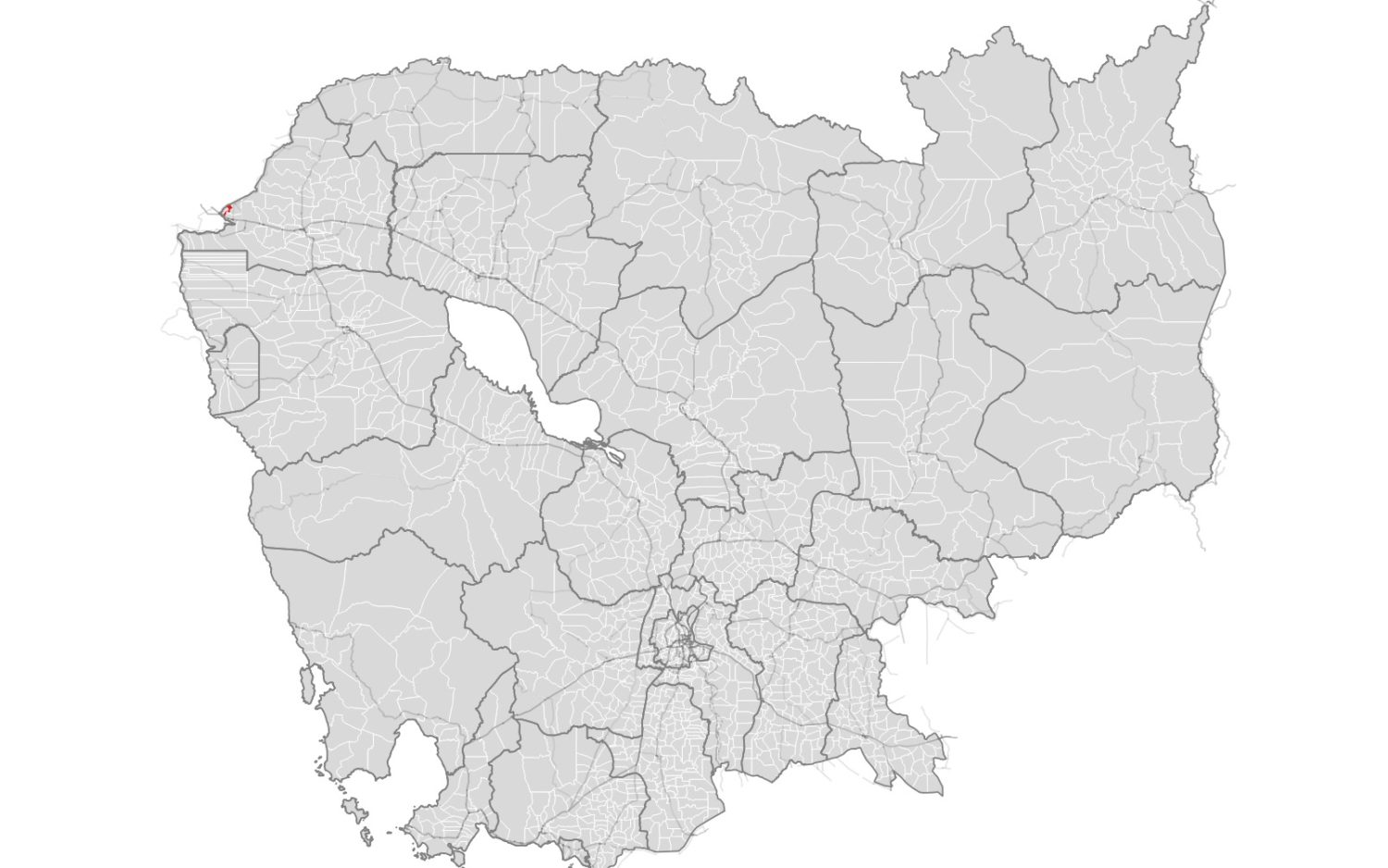 At around 9 years old, during school breaks, Chao Ratanak started walking through forests with her parents from Poipet city to Thailand. They would dodge authorities near the border, sometimes passing through uncleared minefields.
"I sometimes asked my mother, why aren't we going through the formal way? Why are we going through the shortcut?" Ratanak told VOD last week.
Her mother told her they couldn't afford the documents required to use the official border crossing. "Our income was only enough to live day to day," Ratanak said.
She and her parents would leave Poipet before sunrise, pick about 10 kilograms of chilis on a Thai farm all day, earning 70 baht, or around $2, and return to their rented room in Poipet well after nightfall.
During Ratanak's childhood, her parents worked as cart-pushers, transporting goods across the border for about $2 a day. Her father also worked as a porter in Thailand's Rong Kluea border market.
Later, the father would be accused of inciting an anti-government protest by porters and jailed ahead of the 2017 election — a commune race he won from behind bars.
One of a minority of women candidates in the June 5 commune election, Ratanak, 35, is familiar with the struggles of poor families, especially migrant workers.
"I know clearly about their needs," she said during an interview at her house in Poipet.
After years of her parents crossing the border each day for work, Ratanak left school after grade 10 to help her mother sell groceries in Poipet.
Now, Ratanak is running for the commune chief position in Poipet commune on the opposition Candlelight Party ticket, the same commune and party, though renamed, of her father, Chao Veasna, who served as the second deputy chief from 2012 to 2017.
Until recently, Ratanak had no political experience, but she says she's not just replacing her father as a proxy candidate. Still, she acknowledges his support.
"I have the right [to stand as a candidate]. But I have my father as a role model," she said.
If elected, Ratanak says she will draw on life lessons coming from a family of former migrant workers, as well as her father's guidance.
"I still believe people want to have change," she said.
A Daughter Stands for Women
In Ratanak's house, about 3 kilometers from the Thai border, rolled up Candlelight and Cambodian flags lay across a few wooden armchairs and two metal bullhorns sit on the floor, ready for the campaign.
Ratanak's mother and father, who is now Candlelight's Poipet city party boss, live next door. She was born in Kampuchea Krom in southern Vietnam, and moved to Prey Veng province as an infant. The family then moved across the country and has lived in Poipet since she started school.
Ratanak, a single mother of three, says she's lucky her parents and younger brother have encouraged her political pursuits since she decided to run last year.
"I just wanted and looked to see which party would have potential to challenge the ruling party," said Ratanak, a supporter of the outlawed CNRP and exiled opposition leader Sam Rainsy.
Her father Veasna was arrested in February 2017 and later sentenced to five years in prison for inciting a 2015 anti-government protest by porters at the Thai border, a charge he denies. Despite his arrest, Veasna remained on the CNRP party list and was elected Poipet commune chief in June 2017, with the CNRP winning eight of the commune's 11 council seats. But Veasna's imprisonment and the Supreme Court's dissolution of the CNRP months after the election meant he never assumed the role.
The injustice of his imprisonment, the Cambodian judicial system — which Ratanak said favors the rich and powerful — and her desire to encourage more women's political participation pushed her into politics, she said.
Less than a third of total registered commune council candidates are women, while less than 1 in 4 of Candlelight's candidates are women, a slightly lower percentage than the ruling CPP, according to National Election Committee figures.
Women's low participation results from traditional child-care responsibilities and a typical lack of encouragement from men in families, Ratanak said. All political parties should give more opportunities to women to speak and participate, and not just talk or advertise about women's participation, she added.
"I want to improve and encourage [women] by seeing us participate and they will also want to participate," she said.
If elected, she said she'd advocate for the many women working in Poipet's casinos who face regular harassment and violence from customers.
Commune chiefs should let it be known that when women face abuse, they can consult with leaders, she said. "What I want to provide them is empathy."
A Father With Experience
For Poipet residents, especially migrant workers, the speed and cost of processing border passes and other official documents is a community concern, Ratanak said.
Attaining a border pass to work in Thailand can take up to a month if illicit fees are not paid to officials, she said. "If you have money, it can be processed faster."
Veasna, Ratanak's father, said that when he was the second deputy commune chief in Poipet he repeatedly observed that wealthier individuals got documents — from land titles and family books, to residency and birth certificates — processed more quickly.
"Asking for bribes still happened," he said last week.
He raised the issue at every meeting he attended with commune councilors and other local officials. But even though they accepted during the meetings that bribery was occurring, Veasna said it continued to happen.
"At first, I felt a bit disappointed. We kept talking, but it kept happening. But then I realized it was the mistake of the top leaders," he said.
Poipet commune chief Phork Lorn denied that the CPP-led commune administration charged people above official fees for public services.
In the 2017 election, Veasna said he stood for commune chief of Poipet "to be a role model for others. But instead I was arrested and jailed."
Challenging leaders over corruption, he added, "amounts to breaking their rice pot."
Despite the job's challenges, Veasna said he was overjoyed when he learned that Ratanak would stand for commune chief.
"I felt very, very excited. I can't find anything to match my feelings. No matter what kind of gift you give to me, it wouldn't be equal to my daughter's decision to participate in politics," he said.
While he acknowledged she doesn't have as much experience as him, Veasna said Ratanak would look to his example for guidance. His record of helping Poipet residents process documents and listening to their needs should help Candlelight and Ratanak secure a win at the polls, he added.
"People have seen what I have done before," Veasna said. "Voting for Candlelight now is the same as voting for the CNRP in 2017."
Veasna's neighbor, 32-year-old Peng Nguon, agreed that those like him who supported the CNRP will now support Candlelight.
"All their principles and slogans are the same," he said.
Nguon, who works as an online gambling technician, has known Ratanak since they were children. He said she's friendly and someone who loves justice, like her father.
"I'm happy to have an opposition candidate here so we can compete and have a more developed area," he said.
Another neighbor, Yin Koeun, a 57-year-old seamstress, said she voted for Veasna in the past and when he was councilor people would line up on their street to meet with him at home.
"People in Poipet love him very much. He has never caused any trouble," Koeun said. "People, they love him, but they don't speak much."
But Lorn, the CPP commune chief, said it was difficult to know which party had more support in Poipet.
His administration had achieved a lot in the past five years, including providing flood relief, Covid-19 vaccinations and new roads to the commune's 50,000 residents, which include more than 30,000 eligible voters, he said.
"If people think which party has good policy and which party has good leadership, they will vote for that party," Lorn said.
'Never Voted'
At Poipet's Wat Trach on Visak Bochea day, while Buddhist worshippers filled the main temple complex, across a parking lot from the littering of sandals left outside the pagoda, Ngin Rotana sat on a bench in the shade next to his motorbike.
Unemployed for four months, Rotana, 33, said he most recently worked as an online gambling technician, the same as his wife. But for more than a decade before that, beginning when he was 15 years old, Rotana migrated regularly to Thailand for work. He first worked in a factory sorting plastic bags by color, and later in a restaurant and hotels in Bangkok.
Originally from Banteay Meanchey's O'Chrou district, Rotana left school after grade 8 because his parents were poor rice farmers and he was the oldest of five children, he said.
Asked what issues he thinks the Poipet commune council should address, Rotana lists public order, child poverty and drug abuse among youth as main concerns.
But, he said, "I have never voted, even a single time."
He might vote next month though. If he does, Rotana said he will not be concerned with candidates' identities or backgrounds, but about what they have done. "The important thing is how they are leading the people in the community."
If elected in Poipet commune, Ratanak said she will not be able to create change alone, at least not in a short period.
"Communes are one part of the government," she said. "As commune authorities, we can receive suggestions but the decision is up to the [national] government."
So she wants people to "want to be aware and protest whenever you are not satisfied with something."
"Don't focus on a single person. Don't put your hope on a single person. [Resolving] sociopolitical problems will rely on you all."