Chhim Sithar has been preparing herself for arrest, cutting her hair and staying away from her home to protect her family. The more challenging task for the laid-off president of NagaWorld's union, though, is preparing her union members for her inevitable arrest.
During the months leading up to the Labor Rights Supported Union's strike, which began last month, Sithar said she and the other leaders had been warning their members of the possibilities of arrests and violence during rallies. Even with this knowledge, workers did not want Sithar to show up to the protests out of concern for her, so the president only showed her face briefly on three strike days, she told VOD in a phone interview on Monday, one day before she was dragged and wrestled into a car just outside protest barricades.
"I spoke for 30 minutes, and [the union members] said they don't need me there anymore, and they asked me to leave because they are afraid I will be arrested," she said. "They're prepared for me to be arrested, but they don't want me to be arrested."
Sithar was arrested in a violent pile-on by police and guards on the 18th day of the union's strike against alleged union busting and labor rights violations by Phnom Penh casino NagaWorld. But the day before, she predicted her members would continue the strike even as she and eight union organizers faced incitement charges in court.
As soon as Sithar got out of a gold Camry at the intersection between the Australian Embassy and the Bridge mall, just before 4 p.m. Tuesday afternoon, she started running. She headed toward about 500 workers gathered for another rally about 30 meters beyond red and white barricades. But she was quickly chased down.
Uniformed and plainclothes authorities lunged at her. A woman was thrown out of the police's way and into a tree. Multiple guards dragged Sithar down and pulled her arms, twisting her in different directions.
After a minute of scuffle, she was shoved into a white sedan with police plates and driven away. Guards continued to push and drag down union members who had jumped to help Sithar as the car pulled away.
Union members drowned out their police sirens with the drone of their plastic horns as they walked back into the strike barricades. One striker was chanting in English, "Sithar is innocent, Sithar is innocent."
When reporters approached union members to ask for a reaction, one woman took photos of the reporters' badges out of caution, and then walked away to wipe tears out of her eyes.
Pov Kalyan, a casino worker who witnessed the arrest from up close, shouted above the horns to reporters, saying they have a conflict with the company but it's the police who respond with force. "They arrested one Sithar, but we still have a thousand Sithars. Arrest us as they wish."
The nine LRSU leaders charged this week with incitement to cause social disorder had all been arrested by late Tuesday afternoon, and a Licadho monitor said they were taken to the Phnom Penh Municipal Court.
While strikers have stood for hours around the NagaWorld complex during the 18-day strike, shielded only by umbrellas and the red-and-white barriers set up by security, Sithar, the union's president since 2010, has been moving between safe houses, participating in negotiations during the first week of the strike, and more recently fielding communications with strikers, non-striking union members still in the workplace, the union's international affiliate and media.
She said LRSU organizers have been preparing members for months leading into the strike, running through scenarios in which she and other organizers would be arrested.
After eluding an alleged arrest attempt outside the LRSU office in Tonle Bassac district on December 18, the strike's first day, Sithar said she was confident she would be arrested over the strike. Six union organizers were arrested and detained amid a nighttime protest in front of the casino complex on New Year's Eve, alongside four others who were later released.
Sithar cut her hair short during the strike, aware that long hair would be inconvenient and dirty while incarcerated. She hadn't been to her home in Phnom Penh, where she lives with her mother.
"My family is already aware of everything. The most concerning [to me] is my mom's feelings. She might get sick, but sorry, mom, that will not stop me," she said, calling herself a "bad daughter." But she said her family understands her convictions.
"They worry but they know what I'm doing is the right thing to do."
Reflecting on the strike so far on the day before her arrest, Sithar said she didn't expect to see authorities swarm striking workers, deploying shielded riot police and uniformed and plainclothes guards who have been caught shoving and threatening to hit members as part of their enforcement. She felt that officials from the city and Labor Ministry have shown partiality for the company through negotiations and enforcement during the strike, which she considered a disturbing new trend even after she was detained during a wage strike in 2019 and 2020.
"They don't even care to hide their identity that they support the company, they even show that they work for this company," she said. "Compared to the strike in 2020, it was not that kind of response from authorities. We have been surprised a lot."
But she took pride in how union members have proven resilient to authorities throughout the labor action.
As Sithar recounted what she knew about the union members arrested on New Year's Eve, she made special note of the letters that the four union members had signed upon their release from police custody. The final version includes the usual jargon required by police, urging the released individuals to cooperate with authorities and be good Cambodian citizens. But Sithar shares a first copy of the letter in which LRSU members wrote a message to police, declaring their right to participate in the legal strike. The members also wrote that they would cooperate with authorities "if they have time," she recalled with a slight chuckle.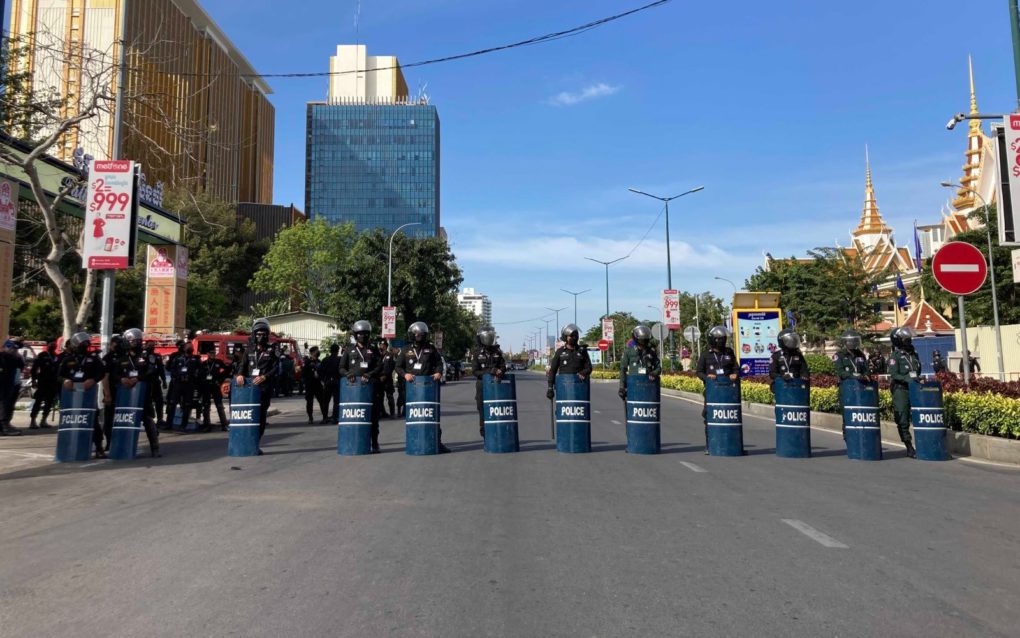 After the New Year's Eve arrests, she urged workers to take a two-day break from the strike while they figured out what happened to the 10 people arrested that night and the union's next move.
"They didn't want to stop the strike even on January 1, but I explained that we want to make sure about the other 10" before resuming, she said.
"The majority of strikers are strong and even stronger because they're really mad and pissed off about authorities' response to the strike and the arrest of representatives. That's why they want to go back and strike as soon as possible."
Sithar became LRSU's president in 2010 after all NagaWorld union leaders were fired in 2009 — she has frequently compared last year's mass layoff of 1,329 workers to that time, arguing that NagaCorp is attempting to dissolve the union.
Her team spent more than 10 years growing to the point where it could successfully demand higher wages for workers during a strike in 2019 and 2020. Striking workers at that time also successfully lobbied for Sithar's reinstatement after NagaCorp suspended her during the action.
She feels she has grown as a union leader: "There's been change, but the change is that I feel stronger, I feel more commitment" to representing the union members, she said.
If the strike fails, Sithar feels that it would spell the end of the union, noting how long it would take workers to reorganize, and the fear among remaining union members who chose not to participate in the strike.
She was frustrated to hear work had grown harder for remaining employees, some of whom have reported to union leaders while working during the dispute. The strike was the first time that workers were able to resume full hours after the company closed during the pandemic. But workers were overworked, and some of the chefs inside the company were also cooking food for authorities, she claimed. NagaWorld management had also threatened workers against participating in the strike during a meeting, so Sithar predicted it would be challenging for the union to regroup if 365 terminated workers contesting last year's layoffs, which includes all of the union leadership, failed to be reinstated.
"We can ask the question, who will be the next leader? And when they are elected as leaders, there's a law protecting them from being terminated. But in real practice there's no law that can protect them, and the employers can terminate them again and again."
NagaCorp has not responded to questions about Sithar's claims. The Labor Ministry did not respond to requests for comment on Wednesday.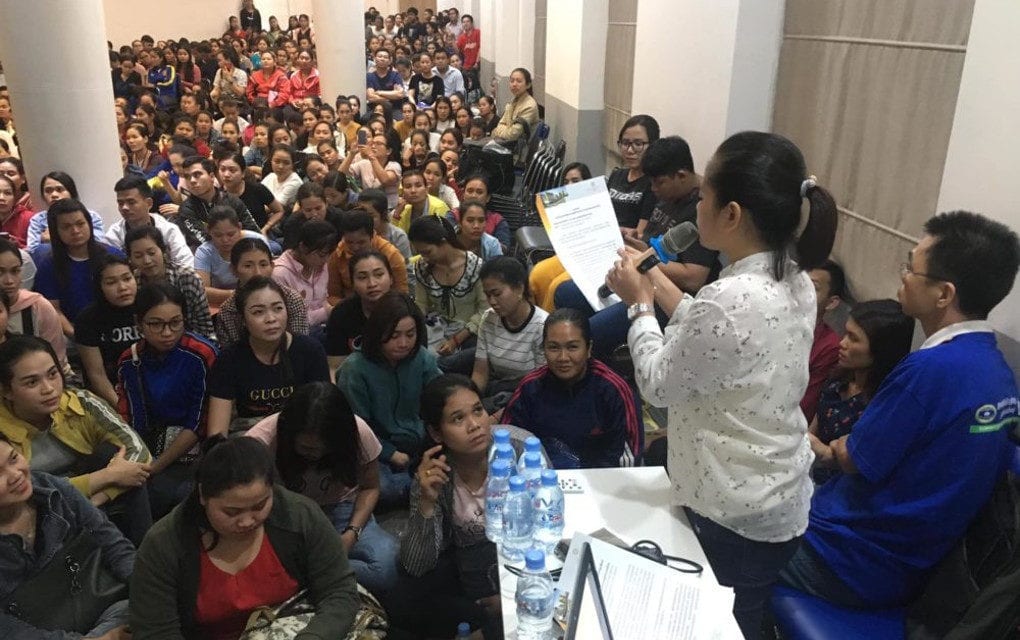 On the brink of her arrest, Sithar said she felt the union had strengthened its commitment to standing up to the company, as remaining employees had experienced their work becoming harder since more than 1,300 of their peers were fired, and now they were allegedly being threatened by management in meetings discussing the strike.
Sithar said on Monday afternoon that she had "hope and confidence" that the union would continue striking if she was arrested. Less than an hour later that day, more than a dozen strikers were rounded up by police.
"I will have to show up, and I believe they will arrest me also, [but] the most important thing is the members' courage," she told VOD. "We already knew from the start that they would use these tactics to intimidate us. [Members] understand that if the arrests stop the strike, there will be no solution, so the strike must continue."