A Cambodian activist monk, who is a U.N. registered refugee, was arrested in Thailand Wednesday evening and is being detained at the Thai immigration office as of Thursday morning.
The monk, Bor Bet, said he was arrested on December 1 and kept at a police station in Samut Prakan province, with a lawyer assisting the monk confirming that he had been moved to an immigration office.
The monk said in an audio message to VOD that he was a registered refugee in Thailand and was currently being helped by lawyers and the U.N. Office of the High Commissioner for Refugees. He feared being imprisoned on returning to Cambodia.
"If they send me back to Cambodia, I may have to be in jail like other refugees," he said. "Because I am a monk who actively criticizes the government and protects the forest, especially because I always criticize the Prime Minister Samdech Hun Sen, regarding his leadership."
Bet urged Thai authorities to respect his refugee status. He asked his supporters to remain resilient and said he had not lost hope.
"I know my friends are worried about me but do not worry, I am still strong. I am not concerned about this, as there are too many people facing this," he said.
"I will still continue because it's for a democratic society. I need a democratic society in Cambodia."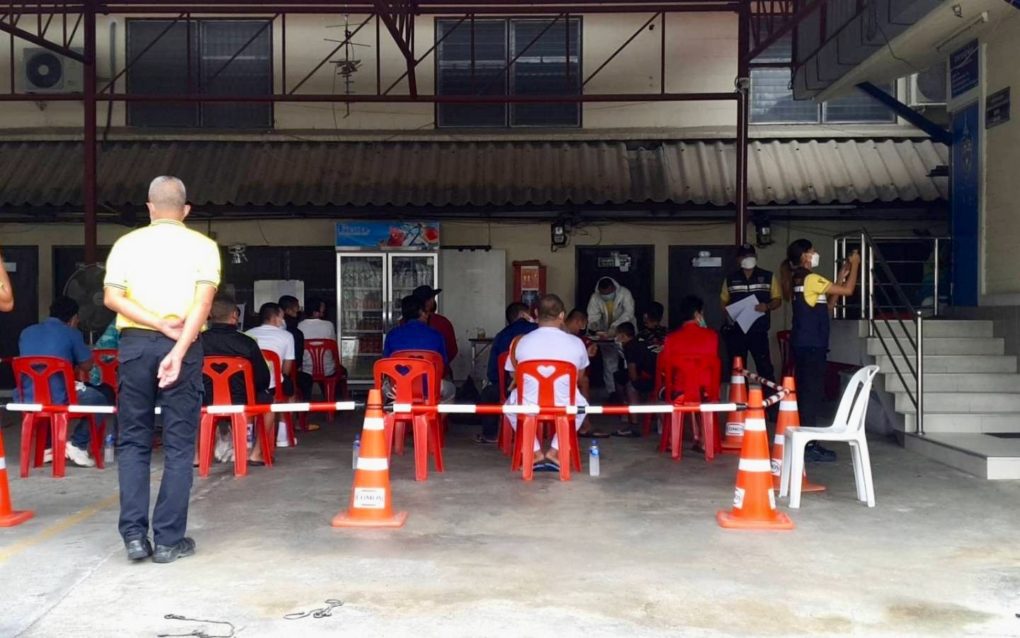 Photos sent to VOD show the monk undressing from his orange robes into white pajamas and an orange sweater, and others show him seated at the Immigration Bureau on Thursday morning.
The monk's detention follows the extradition of at least three CNRP activists from Thailand in November, a move strongly criticized by the UNHCR.
"We are extremely alarmed by this trend of forcibly returning refugees to Cambodia, where they face a serious risk of persecution," said Gillian Triggs, UNHCR's assistant high commissioner for protection, in a statement released last week.
Phil Robertson, deputy Asia director for Human Rights Watch, said the Thai government had repeatedly assured Bangkok-based diplomats and U.N. agencies that it would not deport Cambodian refugees, but had continued to send back Cambodians.
"Thailand is quite clearly abandoning any respect for the principle of refugee rights in a way that is shocking, and needs to [be] globally condemned," he said in an email. "More than anything, this whole ugly business shows there is really little difference between PM Hun Sen and the Thai army authoritarians in Bangkok when it comes to wholesale abuse of human rights."
Foreign Affairs Ministry spokesperson Kuy Kuong said he did not have information about the case.
The monk, Bet, is an outspoken critic of the government and left the country in 2020 fearing imminent arrest, according to Voice of America. He and another monk, Sim Sovandy, hid at a remote pagoda in Oddar Meanchey province, after which the chief monk told them their arrest was imminent. They then crossed the border into Thailand.
"If I stayed in the country, my fortune would not be different from that of Venerable Koet Saray who joined the protest to support and demand the release of Rong Chhun," he told VOA.
"I don't want to be arrested and, especially, I don't want to be defrocked."
Bet is referring to Khmer Thavrak member and activist monk Saray, who was imprisoned and defrocked for his participation in protests against the jailing of Rong Chhun last year. Saray and Chhun were released in early November along with two dozen other activists.