One forestry activist was beaten and another died after he was injured in a motorbike crash while both had been investigating illegal timber transportation in two separate incidents in which the activists had attempted to confront those they accused of forestry crimes.
Environmental activist Heng Sros said on Friday that Sen Sothea, a forestry activist in Stung Treng province, died after the two men crashed their motorbike Thursday evening while investigating a company they believed to be behind forest clearing in Prey Lang Wildlife Sanctuary.
Sros said that he and Sen Sothea, 46, had traveled to Boeng Char commune in Kratie province's Sambor district to investigate timber transporting near the Think Biotech concession, which also stretches into Stung Treng province on the eastern border of the Prey Lang sanctuary.
Sros said he and Sen Sothea were threatened by guards from Think Biotech and they decided to retreat.
"We started taking photos for about half an hour and suddenly, the head of the company's security guards came and threatened us to leave from that area and go to another place," Sros said. "They did not allow us to get close to the company and they did not allow us to be in the path that timber was being transported."
"They threatened that if we did not leave, they would bring more security guards and round us up and mistreat us by all means. So, we decided to drive the motorbike to escape from them and find a safe place," Sros said.
As they were leaving the area on the same motorbike, Sros said the pair hit a hole in the road causing them to crash. Sen Sothea, who was driving, was seriously injured. He died later on Thursday while he was transported to the Sambor District Referral Hospital. Sros said the two had drank a small amount of locally made wine before they were confronted by guards. Sros said Sen Sothea was survived by his wife and two children in Stung Treng province.
Lu Chu Chang, director of Think Biotech and its sister company Angkor Plywood, said he learned of the incident on Friday morning. He said he had attempted to contact commune authorities to find out what happened, but had not received information from them.
Forest monitoring group Prey Lang Community Network said in a statement that Sen Sothea had been a participant and core group member since 2005 and had regularly investigated and reported illegal forest encroachment and other forestry crimes.
Think Biotech and Angkor Plywood have been frequently accused of forest clearing and road building within the 430,000-hectare Prey Lang Wildlife Sanctuary. The sanctuary, which spans Kratie, Stung Treng, Preah Vihear and Kampong Thom provinces, lost at least 7,500 hectares of forest cover last year, according to satellite data.
Soeng Senkaruna, spokesperson for human rights group Adhoc, urged authorities to investigate the case to determine if there was a threat made by the company's guards against the two activists.
"Even though he died related to a motorbike accident, it is related to the [alleged] threat. This threat made him leave the place where they were investigating forestry crimes in that area," Senkaruna said. "Whether there is a threat or not, authorities should clarify it and if there is a threat against them, [authorities] should take action against those who threatened them."
Bun Chhoeun, Sambor district's police chief, told VOD that he assigned local officers to investigate the allegation.
"Just wait for the commune police administration to investigate and if we find it is true, I will get approval from my superiors and might take action," Chhoeun said.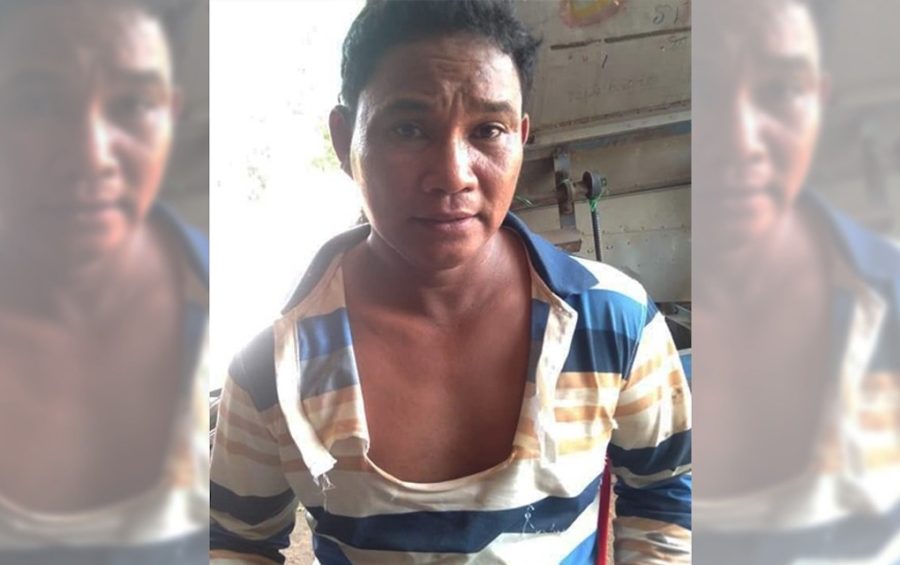 In a separate case, Chhorn Phalla, a forestry activist in his early 40s from Lumphat district's Seda commune, said on Thursday that Ratanakiri officials had consistently ignored his complaints about forestry crimes, and he was beaten by villagers last week over his accusations.
During a press conference organized by Adhoc in Phnom Penh on Thursday, Phalla said he had filed eight complaints in about four years to the Ratanakiri Provincial Court, accusing provincial officials and other residents of condoning and benefiting from forestry crimes.
At a public forum in Seda commune on July 8, the activist told attendees that authorities were ignoring his legal complaints. Then, Phalla was beaten until he lost consciousness by individuals who he said he had filed complaints against.
After the alleged assault, the activist said he asked Lumphat district governor Nou The for help, but The told him to stop filing complaints against provincial authorities.
"District governor Nou The, he threatened me. He said that if I still protest over forestry crimes, he will arrest and imprison me," Phalla said.
When contacted by VOD on Thursday, The said he would not comment on the case over the phone.
"I don't have a habit of talking through the phone," he said. "As a request, please gather four, 10 or 20 journalists to visit Seda commune to hold a press conference with people. Hold a press conference like Phalla and come to hear the real words from people that tell the truth."
Ratanakiri Provincial Court spokesperson Keo Pisoth could not be reached for comment.
Phalla also appealed to national authorities to stop forestry crimes throughout the province and said he would submit a report about the attack to officials once he recovered from his injuries.
"I would like Samdech [Prime Minister Hun Sen] to help find justice for us," Phalla told reporters on Thursday. "[I invite] all ministries to visit and inspect directly at the site, and if Samdech has heard [my complaint], I can hand over documents directly to Samdech because I am a victim. I am a protector [of forests] with him."
At the press conference, Adhoc's human rights officer Ny Sokha said it is a crime for public officials to threaten citizens who make complaints, and he worried the governor's actions could prevent individuals from trying to protect Cambodia's natural resources.
According to the Criminal Code, any intimidation or threat that is meant to persuade someone not to file a complaint is punishable by up to three years in prison and a fine of up to 6 million riel ($1,500), while an "effective" threat is punishable by up to five years in prison and a fine of up to 10 million riel ($2,500).
"If there is no action, I think that from now on, those human rights protectors, forestry protectors, state property protectors, natural resource protectors might no longer dare to act because when they come out, they are abused and authorities do not find justice for them," Sokha said. "This has a bad influence [on activism]. So, I think the government might not ignore [this case]."
Sokha said Phalla and seven other activists from Ratanakiri were staying outside their village, Samut Krom, for fear of possible repercussions.
Government spokesperson Phay Siphan said he was not familiar with Phalla's case, but he encouraged the activist to contact Environment Minister Say Samal.
"[Samal] is very welcoming of help to protect the forests," Siphan said. "The government as well as the Environment Ministry are always welcoming of such things."
Ministry spokesperson Neth Pheaktra did not respond to requests for comment.
Additional reporting by Danielle Keeton-Olsen
(Translated and edited from the original articles on VOD Khmer)