Prime Minister Hun Sen on Friday linked his decision to let a luxury cruise ship dock in Cambodia, after it had been turned away by other nations due to coronavirus fears, with the nation's commitment to human rights, just days after the E.U. withdrew trade benefits over rights violations.

While welcoming disembarking passengers of Holland America Line's Westerdam at the Sihanoukville port, Hun Sen addressed his speech to the Cambodian people, explaining that he had decided to allow the ship to dock to ensure the passengers' survival and prevent further discrimination against them.

"How can we talk about respect of human rights if the right to survive has not been respected?" the prime minister said.

"Cambodia considers respect for human rights as the main thing, and firstly, we have to respect the right to survive for the more than 2,000 people on this ship," he said.

"Now, Cambodians have done work to respect human rights, which is the right to survive, the right not to be discriminated against and the right to safely return back to one's country," he added.

Earlier this week, Hun Sen said that fear, not the novel coronavirus was the "real disease," and noted that Cambodia would allow entry to those that others denied.

The first few hundred Westerdam passengers left the ship on Friday and flew from Sihanoukville to Phnom Penh, according to Preah Sihanouk provincial hall spokesman Kheang Phearum.

Holland America said in a statement that passengers would disembark and travel home over several days, after the ship docked on Thursday.

Twenty guests and crew who were screened for coronavirus "out of an abundance of caution" tested negative, the cruise line said.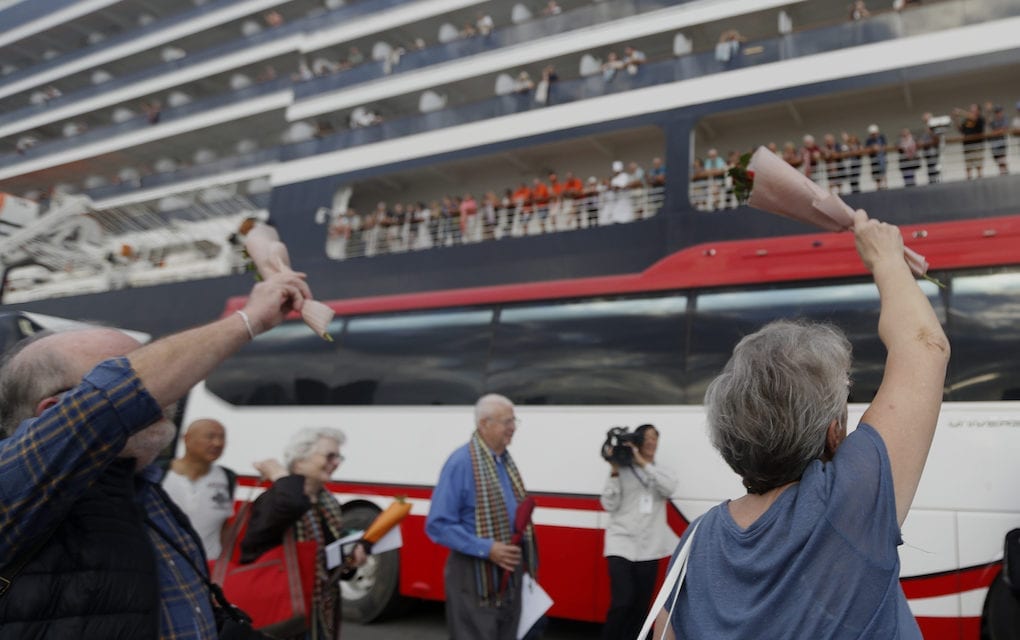 Health Ministry spokeswoman Or Vandine said that each of the 20 people tested had a "very mild health-related problem," either flu, diarrhea or a gastrointestinal issue.

Fewer than 100 people have been tested for novel coronavirus (Sars-CoV-2) in Cambodia since January 10, including the 20 people aboard the ship who were tested on Thursday, Vandine said.

Only one person, a Chinese man, has been confirmed to have tested positive in Cambodia, and he recovered and left the country this week.

The new viral strain has spread to more than 20 nations, infected tens of thousands and killed more than 1,000 globally, the majority in China, where novel coronavirus was first detected.

The Westerdam, which departed Hong Kong on February 1, and the 2,257 people onboard were earlier denied entry into the Philippines, Taiwan, Japan, South Korea and Thailand over concerns that passengers could be infected with the virus.

As they made port on Friday morning, travelers were greeted with a krama and a brochure advertising local tourist attractions, Tourism Ministry spokesman Yim Nat said.

On Wednesday, the European Commission partially withdrew Cambodia's duty-free trade access to the European market over "serious and systematic" human rights violations by Cambodia.

In its published delegated regulation, the Commission said Cambodia had taken a "series of repressive actions" against the outlawed opposition CNRP and curtailed "political participation and electoral rights in the country."

The CNRP was dissolved in 2017 two months after party president Kem Sokha was arrested and jailed on charges of conspiring with a foreign power. His trial is ongoing.

According to the Commission, Cambodia had made "no significant progress" in regards to upholding civil and political rights in the country since the E.U. launched its formal EBA review process in February 2019.

The Foreign Affairs Ministry responded that the E.U.'s decision was "politically driven" and "devoid of objectivity."

Observers on Friday said the welcoming of the Westerdam appeared to be more about optics than altruism.

Independent analyst Meas Nee said Hun Sen hoped to present Cambodia's humanitarian efforts, and added that it was a convenient time for the country to gain positive international attention.

The prime minister's decision to allow the ship to dock was partly to seek political support on the world stage, since Cambodia is under Western pressure, and to show that the nation "does not have a very bad heart, as the international community has seen," Nee said.

The commentator said he hoped that after helping others the government would also show more love for its own people.

"We don't want to see that with neighbors like the international community we act sweet, but in our own house, we treat our own children badly and silence them," Nee said.

"It is not acceptable for the Cambodian people, who want to see leaders who show love to other nationalities, but they should also show love to our own people and do whatever it takes to find national unity and solve the current political crisis," he added.

Simply amazing… Video from my mom, who has been stuck on the Westerdam ship, of the Prime Minister of Cambodia greeting each passenger as they get off the ship and giving them flowers. So thankful for the officials who let them in and are helping to get them home 💙 pic.twitter.com/yAPfszfjcz

— Jordan (@JordanJones33) February 14, 2020
Political analyst Kim Sok said he feared that Hun Sen's decision was ill-informed and could put Cambodians' health at risk.

"What he is doing is trying to restore his image and to attract the attention from the world when there are multiple forces pressuring him from everywhere," Sok told VOD.

Phil Robertson, Human Rights Watch's deputy Asia director, said that Cambodia made a choice that other countries should have made, in order to ensure the passengers on the ship received appropriate medical screenings. But he also noted that this act of assistance did not require a lot of financial investment from Cambodia.

"Hun Sen is trying to indicate how he wants this story reported, that's all," Robertson said in an email. "Of course the cruise ship company is paying all the costs — that was a given from the start when dealing with Cambodia."

Additional reporting by Danielle Keeton-Olsen and Matt Surrusco