A day after having his court restrictions relaxed, opposition leader Kem Sokha on Monday met with the French and U.S. ambassadors at his home, though he refrained from speaking to journalists because he was unclear whether it would violate his ban on participating in politics.
Sokha was seen in public for the first time since he was arrested in September 2017 for allegedly working with the U.S. to overthrow the government. He was charged with treason and faces up to 30 years in jail.
The CNRP president, who was previously limited to staying within a 1 km radius around his house, can now travel around the country as long as he heeds summonses related to his ongoing case and does not participate in political activities.
In the morning, Sokha met French Ambassador Eva Nguyen Binh, before later meeting U.S. Ambassador W. Patrick Murphy around 3 p.m.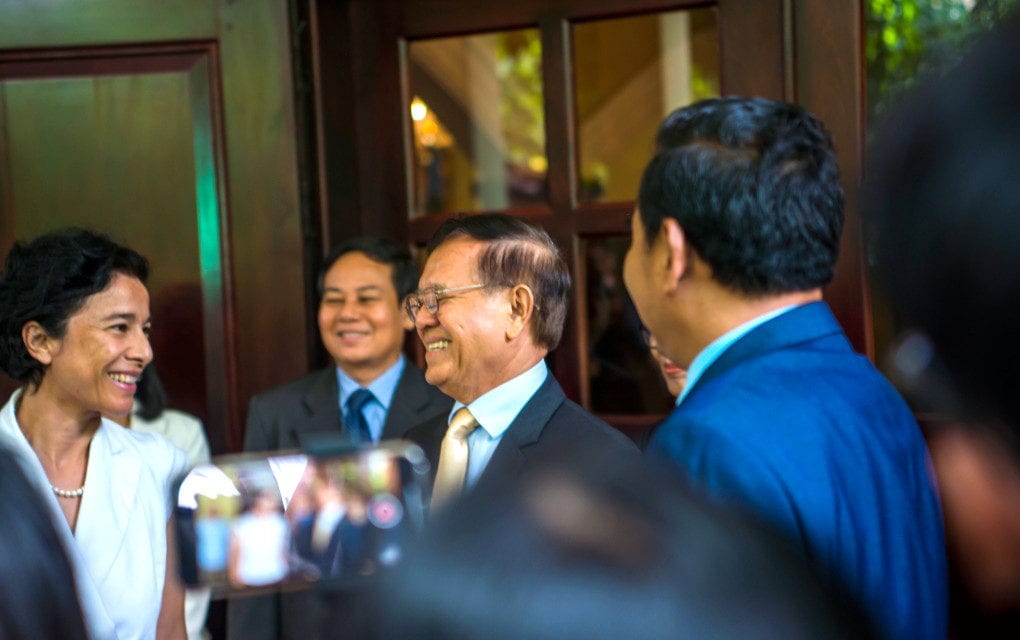 Muth Chantha, an adviser to Sokha, said after the morning meeting that Nguyen Binh and Sokha had discussed both personal matters and democracy.
In Khmer, Chantha said the pair only spoke about his health, "in a respectful and proper manner."
But in response to a question from a foreign journalist, he said, in English, that the talks also discussed "building democracy."
"We only discussed about [Nguyen Binh] paying the visit, discussed his health, his personal situation, and exchanged some views on how they should move forward toward building democracy," Chantha said.
Asked what they could do to build democracy, he said: "There's a long way to go."
Following his afternoon meeting, Murphy, who began his term as ambassador in August, said it was a joy to see Sokha, who he had previously met a couple years ago.
"The move that was made by authorities yesterday is a step forward, and we have acknowledged that, and I have acknowledged that with government authorities," Murphy said.
"However, we think it's very important to see more. And our advice as a friend of the Kingdom of Cambodia is that authorities find a way to restore Mr. Kem Sokha's entire freedoms and liberties, to drop the charges against him."
Sokha, who stood beside Murphy during his comments, apologized to the gathered journalists that he would not be able to give a comment himself.
"Unfortunately and regrettably, I have been prohibited from taking political action and speaking about politics, and I do not know what message is not political," Sokha said.
The meetings came as the E.U. was due to submit to the Cambodian government this week its assessment over suspending duty-free trade with the country.
The bloc — Cambodia's largest export market — has since February been reviewing its "Everything But Arms" deal over political and human rights concerns. A final decision is due in three months.
Sokha's exiled CNRP co-founder, Sam Rainsy, vowed and failed to return to the country on Saturday, and instead landed in Malaysia for a series of meetings there.
During commune elections in June 2017, the CNRP won about 44 percent of the vote, compared to 51 percent for the ruling party. The party was dissolved in November that year, two months after Sokha's arrest.
Clarification: The E.U. is due to submit its EBA findings to the government this week.