With a crowd of photographers stepping over one another to get photos of actors in gaudy outfits, and servers darting around with plates of hors d'oeuvres, it was a familiar scene for film festivals the world over — aside from the distinctly Cambodian architecture of the late Vann Molyvann's Chaktomuk Conference Hall rising up like a paper fan behind the red carpet.
Last night was the opening night of the 11th annual Cambodian International Film Festival, and the first one since the Covid pandemic began in 2019. After two years of waiting, expectations were high. Around 170 separate films produced in Cambodia and abroad are going to be played for free at various theaters around Phnom Penh. At the opening ceremony, the mood was electric.
"After two years of Covid we can see the thirst of the people for content," said Cedric Eloy, the director of the festival. He remarked that the opening had never been so well-attended, except possibly in 2015, when Angelina Jolie came. Many people, even with an invitation, were unable to find a seat.
"For two years we were separated; it's good to reconnect," said Polen Ly, an award-winning short film director whose work was prominently featured during the opening ceremony.
The red carpet reception featured actors, documentarians and short film directors, as well as government officials, musicians and royals. The themes chosen for this year's festival are Resilience and Revival, and the opening ceremony hit those ideas home. It is also highlighting 70 years of Cambodia-Australia relations.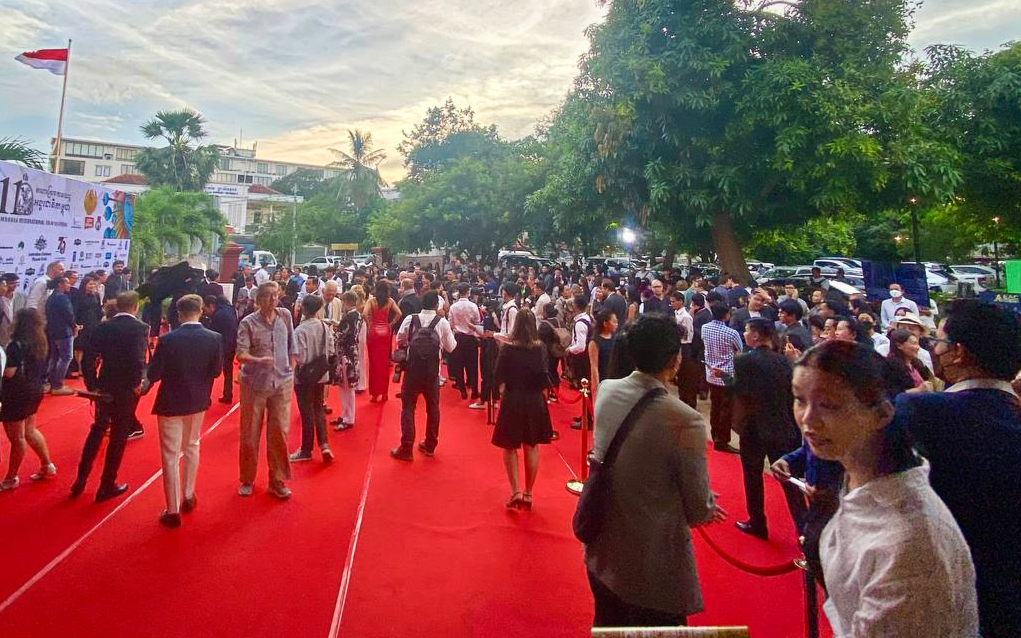 The audience laughed at a snarky comedic short film made just for the film festival, in which a sarcastic guardian spirit complains about the annoying smartphone addiction of the family she watches over. At a different point, a live performance by the Phare circus featured a highly choreographed tussle between two troupes of acrobats: one dressed as a film crew and another in hazmat suits. As they flipped, jumped, rolled, and sprayed each other with comically oversized bottles of hand sanitizer, a Khmer language hip hop track reverberated its electronic bassline around the historic theater — a take on the struggle Cambodian filmmakers endured during the pandemic.
The festival is showing a large selection of Khmer films, the most lauded being Neang Kavich's White Building. But there are many less prominent films by hopeful up and coming directors with their own ideas about Cambodian social issues.
One young filmmaker at the festival, Chanrado Sok, raised funds from the Cambodian community in France to make a short film called Somleng Reatrey (Sound of the Night). The film, inspired by his father, is about a late night vendor who wanders Phnom Penh at night with a cart selling hot noodles and meets shady characters along the way. When asked why he chose such a topic for his second short film, he said "what you never see, he sees."
Not only does this festival feature Khmer and foreign films, it also has a special spotlight for films from an often overlooked third category: documentaries by indigenous Cambodians who belong to minority groups. One of those films was "Tasty Drops," a documentary about traditional winemaking, with most of the dialogue being in the Tampoun language spoken mostly in the southern mountains of the sparsely populated Ratanakiri province.
Several programs have been launched to train Tampoun, Jarai and other indigenous young people to make their own films.
"We [Khmer people in Cambodia] have so many advantages," said Sum Sithen, executive director of the Sunflower Film Organization, which sponsors a three-month program to teach indigenous youth to make documentary films about their cultures and issues. "We [have] learned how to make films and document our issues … but not them."
Miriam Arthur, chairwoman of the Oscars' selection committee for Cambodia, commented that Cambodian films are "definitely improving," but noted that there are still budgetary problems which stifle Cambodian cinema.
"Cambodia still has not recognized the potential that a film industry can bring to the economy," she said. "Once investors realize that if they open their pockets, they can make a profit, the film industry will grow by leaps and bounds."
The various films and events associated with the festival will be viewable for free in different theaters around the city until July 3.