On a tour of Siem Reap's Angkor temple complex last month, guide Puy Lekh said the ancient ruins were "very quiet."

Despite February being a peak travel month in Cambodia, Lekh said there were fewer camera-wielding tourists than he usually sees wandering around the Angkor Archaeological Park. Several guests had canceled tours with his Asia Private Guide Service within the first two weeks of the month.

"Most of my guests are Western," he said. "Some of them are concerned about this [Covid-19], but I don't know why because in Cambodia we have [had] just one case."

While Lekh mostly guides Western tourists, about 40 percent of the 2.2 million visitors to the temple park last year were from China, the nation with the most visitors to the complex in at least the last four years, according to figures from state-run Angkor Enterprise.

But the number of Chinese visitors to Cambodia has dropped following the global outbreak of the respiratory disease Covid-19, which was first detected in China in late December.

Cambodia's total tourism revenue may take a multimillion-dollar hit, with the Asian Development Bank estimating a loss of $345.7 million in the best-case scenario, and $856.5 million in the worst case due to Covid-19 impacts.

Even before the virus started forcing people to cancel their travel plans this year, Chinese tourist numbers were declining. Visitors from China to Angkor park dropped by about 22 percent from 2018 to 2019, while overall visitors were down nearly 15 percent.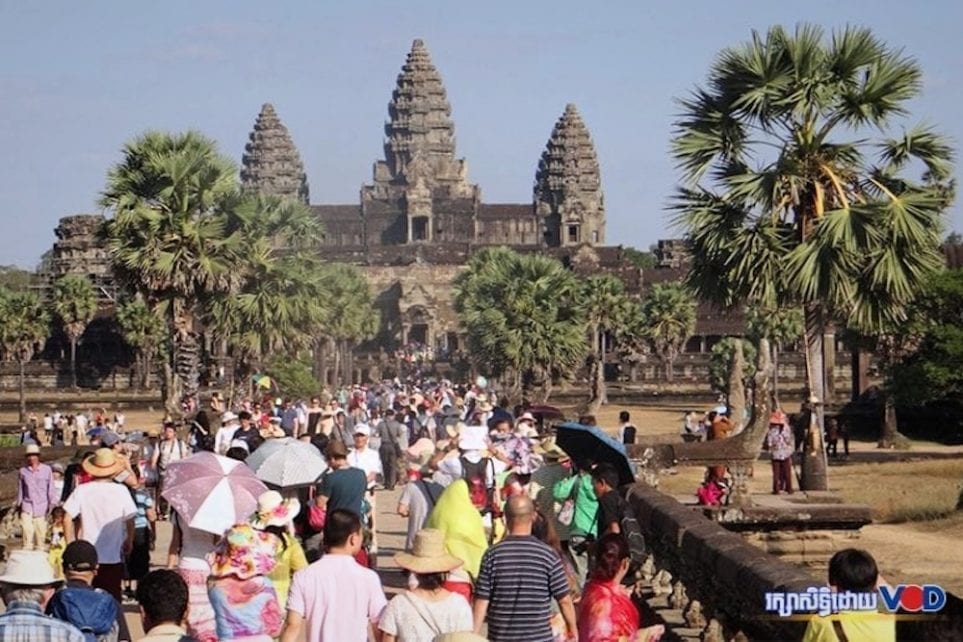 In recent years, Cambodia aimed and succeeded at wooing Chinese travelers, but some tourism professionals say that wasn't the best strategy, especially since Cambodia could benefit from expanding its tourist targets and its local attractions.

"Any destination which fails to diversify its tourism source markets is heading for trouble," according to David Beirman, a lecturer on tourism and risks at the University of Technology-Sydney.

"If it had not been COVID-19, there may have been other factors which could have burst the China tourism bubble," he said in an email.

Cambodia and other Asia-Pacific countries have focused too heavily on the Chinese tourism market, which started leveling off even before the global outbreak, Beirman said.

Now, travel restrictions imposed by China, and other nations, in an effort to contain the virus were contributing to the already declining number of outbound Chinese tourists, he added.

Covid-19 has spread to more than 80 countries in recent months, infecting an estimated 99,000 people, more than 55,000 of whom have recovered, and killing about 3,400, according to data from the U.S., E.U., China and World Health Organization (WHO) compiled by Johns Hopkins University.

The viral strain has put China on lockdown and driven several Asian nations to restrict entry to travelers, particularly from mainland China, where the majority of infections and deaths have been confirmed.

Cambodia's one confirmed case of Covid-19, a Chinese man, recovered and left the country in February, though health experts suspect Cambodia may be harboring undetected cases.

According to Beirman, some regional markets are trying to encourage domestic tourism in order to lessen the virus's impact. Prime Minister Hun Sen recently encouraged Cambodians to spend their holidays inside the country.

Beirman said considering alternative tourism sectors, like volunteering and sustainable tourism, could attract more visitors to the nation, and encourage tourists to travel outside Siem Reap.

"Too many people think Cambodia [equals] Angkor and the killing fields," he said.
Fewer Visitors to Temple Town
Siem Reap is seen as a must-visit destination for Southeast Asia visitors for its Unesco World Heritage-listed Angkor Wat and surrounding temples, but the city started seeing signs of a slowdown last year, including fewer tourists, decreasing Angkor park ticket sales and a shuttered hotel.

Covid-19's spread has delivered a further shock to Siem Reap's tourism industry.

The number of airline passengers arriving at Siem Reap International Airport, most of whom are traveling from other countries, was down 12 percent in January compared to the same month last year, according to Khek Norinda, a spokesman for Cambodia Airports.
In February, Siem Reap arrivals plummeted by 60 percent compared to last year, and 41 percent of scheduled flights to the airport were canceled, Norinda said.
Chhay Sivlin, president of the Cambodia Association of Travel Agents, said that Siem Reap-based members of her group have been reporting tour cancellations and fewer clients.
More cancellations may be on the horizon. On Thursday, four people in Siem Reap were quarantined and 40 others told to isolate themselves after they came into contact with a Japanese national who tested positive for Covid-19 after departing the country from the city's airport earlier this week.
Meanwhile, in the first two months of this year, ticket sales to Angkor Archaeological Park, which draws most tourists to Siem Reap, took a sharp dive from the previous year, dropping 18 percent in January and by more than half in February.
Last year, park ticket sales fell behind 2018 sales in all 12 months, according to Angkor Enterprise, which manages park ticket sales.
Edward Gibbons, head of business development for Siem Reap-based About Asia Travel, said his company did not experience a downturn last year, which he attributed to its focus on the luxury market.
But he said Cambodia's tourism industry could take steps to draw tourists who would visit multiple destinations throughout the country after arriving in Siem Reap.
Flights and logistics were improving, but the Tourism Ministry and sector would benefit from cooperating more and "ensuring the industry is not just focused on bringing tourists in from any one particular region," Gibbons said in an email.
Targeting Chinese Tourists
Cambodia has focused on attracting Chinese tourists in recent years through its "China Ready" tourism campaign, which was announced in 2016. The government surpassed its 2020 goal of welcoming 2 million Chinese visitors annually two years earlier than planned, according to Tourism Ministry data.
Chinese visitors have been the largest group of international arrivals in the last four years, driving Cambodia's 10 percent growth in arrivals in the first nine months of last year. However, Chinese visitors are not necessarily tourists: Nearly half — 42 percent — of Chinese in the first half of 2019 came for business purposes, compared to a quarter in 2018, according to a World Bank report from November.
Even though overall Chinese arrivals rose in the first nine months of last year, Angkor park ticket sales indicate that Chinese travelers are not likely coming for Siem Reap's temples. Apart from January, the number of Chinese visitors to Angkor park last year fell below 2018 rates for every month of the year, according to Angkor Enterprise data.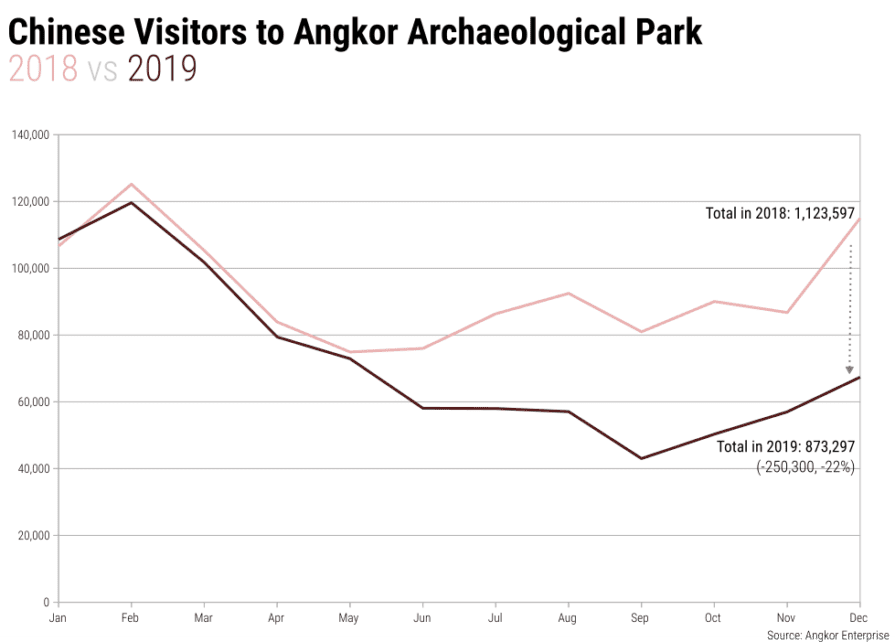 In Siem Reap, declining visitors has had a ripple effect on a range of businesses and social enterprises in the city.
Kenta Aoki, co-founder of Salasusu, a handicraft manufacturer that employs and trains young Cambodian women, said that his business had been doubly hit by the impact of novel coronavirus. Salasusu sells handbags, shoes and other goods in stores throughout Siem Reap, which are often purchased by Chinese tourists, and also markets tours of their factory to mostly Japanese groups.
Aoki said he estimated a 10 percent drop in sales in December and January compared to typical months at their outlets in Siem Reap's Pub Street and Old Market.
Then, in one week in February, three groups, all from Japan, cancelled tours of their factory outside the city, he said.
Aoki said he realized last year that Siem Reap tourism rates, particularly among Japanese tourists, are not sufficient to grow his business. Cambodia received fewer than 150,000 Japanese tourists in the first nine months of last year, but the country aims to attract 300,000 Japanese visitors this year.
Aoki said he's trying to expand into other markets, currently selling bags online in Japan and planning to sell to other international buyers.
"Actually so far, Japanese tourists are not increasing," he said. "So it's not really a sustainable market to rely on the tourists at this time."
Siem Reap — 'Most Popular, Most Visited Province'
In a five-hour speech last week, Prime Minister Hun Sen announced a range of initiatives aimed at combating the economic consequences of the viral outbreak, including offering a four-month tax break to Siem Reap hotels and guesthouses to help offset losses due to decreased visitors.
Angkor Archaeological Park is also offering foreign visitors more days in the temple complex for the same price, selling two-day passes for the price of one day, five-day passes for the price of three days, and 10-day passes for the price of seven days.
Sivlin, president of the travel agents association, praised the holiday from the 13 percent tax on guesthouses and hotels, since these businesses carry the largest investment burden. She said the break for hotels would also help travel agents and tour operators, who would benefit if discounted hotels could bring more visitors to Siem Reap and potentially use cheaper accommodation prices as part of their sale to guests.
"Siem Reap is by far the most popular and most visited province in Cambodia by tourists," she said.
The downside was the city has more tourism suppliers — tour companies, restaurants and other venues catering to tourists — than anywhere else in the country, and they take the hardest hit in a tourism slump, according to Sivlin.
The tourism sector could not rely solely on Angkor park to draw tourists, she said, adding that her association has requested that the Tourism Ministry help businesses by arranging more activities at existing tourist attractions, as well as cleaning up the city.
With visits to the temple complex waning last year and Chinese tourism at a virus-induced standstill, Cambodia's goal of attracting 7 million international arrivals by the end of the year is in jeopardy.
"Seeing how big an impact the coronavirus has [had] since its first outbreak, I would anticipate the effect of it on tourism to last up to a year," Sivlin said. "The industry will require quite an ample [amount] of time to recuperate."