In mid-October 1996, Brother Richie Fernando caught Pim Sarom gambling again. Sarom was playing cards with a few other students of the Banteay Prieb vocational school for people with disabilities located just outside Phnom Penh city limits.
Richie was a 26-year-old Filipino Catholic seminarian who had been serving as a pastoral caregiver at the Jesuit-run school for about a year and a half. In that time, Richie played volleyball, basketball and guitar with the Cambodian students, many ex-soldiers who had lost limbs to landmines. He brought them to the hospital when they were ill or needed to be fit for a prosthetic. He shared meals with them, gave clothes to them and learned the Khmer language, recall current and former staff at Banteay Prieb.
Importantly, Richie didn't discriminate against or look down on the young men at the school, says Men Yuth, a former teacher who knew him. Richie treated them as friends, even brothers.
He was beloved by students, staff and other missionaries of the Jesuit order — known for their focus on service to others. At Banteay Prieb, Richie had found his calling.
Sarom was a Cambodian ex-soldier, around 30 years of age, who lost his left leg to a landmine while patrolling the Thai border in Battambang province when he was in his early 20s. He was drafted into the military alongside many young men his age in 1984, after surviving the Khmer Rouge regime as a child and only attending school up to grade 4. His former welding instructor at Banteay Prieb, Chrek Vuthda, says Sarom was a clever student.
But he was also repeatedly reprimanded for betting. This time Sarom and three other students living in the school dormitories in Kandal province had gambled with their weekly food allowance of 10,000 riel ($2.50) each.
A few days earlier, Richie had written in a letter to a friend, then-Jesuit seminarian Totet Banaynal, that "Sarom" was among the students who were "tricky and not so easy" but still had a place in his heart.
The day Richie found Sarom and the others playing cards, Richie had decided that Sarom needed to leave Banteay Prieb, according to then-school director Phongphand Phokthavi, who is today a Jesuit priest known as Father Jub.
Sarom's behavior had become too negative an influence on other students, who were meant to be living in a community of brotherly reconciliation.
The following morning Sarom was called to a meeting with Richie, Father Jub, the other school director and two student leaders.
Sarom was told he could receive his graduation certificate but would have to leave the school. He seemed to accept the decision. But then Sarom did something no one seemed to expect. He stood up, and from his trousers, he pulled a hand grenade.
People in the room were shouting. Nearly everyone ran for their lives, but not Richie. He responded in a way that some say did not surprise them. As others ran from Sarom, Richie got closer. He sacrificed himself.
Twenty-five years after Richie's death, Banteay Prieb vocational school has closed. The wooden house where he stayed, a memorial monument holding his blood and the floor tiles marked by the grenade blast that killed him have been disassembled, moved and reconstructed.
But those who knew Richie, and those who have known him since Jesuits in the Philippines took up his cause for sainthood, still remember him for his acts of kindness and service to others. Especially how Richie's ultimate sacrifice likely saved more than a dozen people.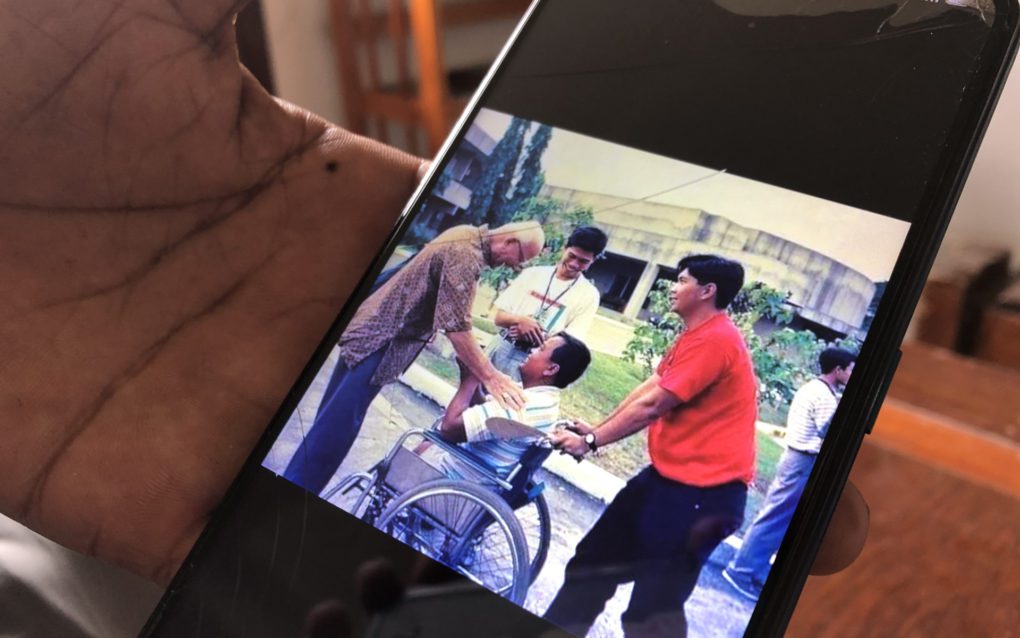 'The Saddest Day'
Banteay Prieb vocational school opened in 1991 with five men from the nearby village in Kandal province being taught simple skills like how to measure and use a drill, says Father Jub, a school founder. The next cohort was about 25 students, mostly ex-soldiers from the recently warring factions, including the Khmer Rouge, Khmer People's National Liberation Front and the new Cambodian government. They studied either electrical, carpentry or mechanics and lived together, six to 10 men to a house, as part of a peace and reconciliation process. The school was built on government land about 25 km outside central Phnom Penh as a partnership between the Jesuit mission in Cambodia and the Social Affairs Ministry.
Richie arrived at the school in May 1995. Jub remembers him as a sincere, energetic seminarian who spent most of his time with the students.
"He was very dedicated to his caring service," Jub says.
On the evening of October 16, 1996, Jub was having dinner when Richie walked in quite upset and told him that he had caught Sarom gambling again. They needed to dismiss him from the school.
Richie told Jub that Sarom's behavior was harmful to other students. Jub asked Richie if he was confident in his decision. Richie was not happy about it but he said he was sure. Sarom had received many warnings already. So they planned to have a meeting the next morning with Sarom and inform him of his dismissal.
I know where my heart is. It is with Jesus Christ, who gave all for the poor, the sick, the orphan.
On the morning of October 17, Sarom was in Chrek Vuthda's welding class when someone came in to call Sarom to the meeting, Vuthda tells VOD.
He and another instructor, Anucha Vapeesa, were teaching the class how to build bicycles.
"Sarom said goodbye to me," Vuthda says. He thought it was strange for the young man to say goodbye when he was just going to a meeting in the same building. But Vuthda didn't think too much of it at the time.
During the meeting, Jub says Top Tith, the other school director, explained to Sarom why he had to leave. Sarom was quiet and accepting.
But Chim Phan, a student at the time who attended the meeting and remains friends with Sarom today, says he could tell Sarom was angry with the school directors. Phan wasn't sure which one specifically.
When Tith told Sarom they would not give him money for transportation home, Sarom rose from his seat.
"As he stands up I hear everyone say 'no, no, don't, don't,'" Jub recalls.
Thinking Sarom had pulled out a gun, Jub wrapped his hand over Sarom's fingers so he couldn't raise the assumed weapon. Then, Jub realized Sarom was actually holding a hand grenade, slightly smaller than a tennis ball, he says.
"I just feel like everything is quiet and everyone is running out of the room," Jub tells VOD.
The ex-school director says he felt as if he was alone with Sarom, who was just in front of him.
But one disabled student in the meeting was unable to run so he hid under a couch and saw everything that happened, according to Sister Denise Coghlan, another of the school's founders, in an interview in a 1999 Jesuit-produced documentary about Richie.
"Nobody knew where Richie was at that stage," she adds.
Jub thought to himself, "If I let go of Sarom's hands and the grenade, I can run and hide."
"So I let go and I ran," he recalls. The nearest door of the nearest classroom was diagonally across the corridor from where they were but it was shut so Jub entered through a second door further away and closed it behind him.
The classroom Jub entered was Men Yuth's electrical class where he and another teacher were instructing about a dozen students.
Yuth says Jub didn't say anything when he came into the classroom. Jub locked the other door that had been shut, preventing Sarom from bringing the grenade near more people.
Phan, now 55, says when he saw the grenade, he also ran from the room. But Brother Richie followed Sarom.
Richie apparently had gotten up from his chair, followed Sarom down the corridor and grabbed the man from behind by his arms, Coghlan says in the film.
Some said they heard an exchange between Sarom and Richie, but Jub says he couldn't make out any words. He just heard a struggle from behind the door.
As Richie grasped Sarom, the student allegedly told Richie: "Let me go, let me go teacher, I don't want to kill you," Coghlan says. But Richie held him tight, and Sarom dropped the grenade—the pin had already been pulled.
And then everyone at Banteay Prieb that day heard the deafening boom.
Vuthda, Sarom's welding teacher, says he heard the explosion about 30 minutes after Sarom had left his classroom.
Electrical teacher Yuth heard the loud bang too. "I was sure this was a grenade explosion because at the time grenades and guns were everywhere," he says.
Jub says he could "see the flash of light underneath the door."
Sister Coghlan says Richie fell to the ground still embracing Sarom.
"If Richie hadn't held the student, the student could have thrown the grenade into a classroom full of students who couldn't escape because there were bars on the window. He could have killed other people," she says in the film.
When Jub left the classroom, he saw Sarom lying on the ground and Richie lying near him, almost on top of Sarom's leg.
Jub ran out to get a vehicle to bring them to the hospital, but by the time he came back Sarom was not there. Jub and others put Richie in the back of a pickup truck and rushed him to Calmette Hospital in Phnom Penh. But Jub says he knew Richie was already dead. On the way to the hospital, teacher Anucha rode in the back with Richie's body and shook his head saying that Richie was gone.
"I just keep hoping and keep driving to the hospital," Jub recalls.
"Richie must have taken all the shrapnel, that blocked it from hitting Sarom. Because Richie's quite a big person, much bigger and taller than Sarom," he adds.
While Jub was getting the truck and tending to Richie, Yuth says he followed Sarom as he went down the hallway toward the bicycles parked outside.
Yuth caught up to Sarom and stopped him, but another teacher yelled, incorrectly, that Sarom had another grenade so Yuth let him go.
Sarom rode a bicycle to the local police station and turned himself in.
Let me go, let me go teacher, I don't want to kill you.
Some students had wanted to chase down Sarom and deliver their own punishment, but staff pacified them.
"At that time, a new student was there for just a few days," Yuth says. "He said if he saw Sarom he would beat him to death."
The whole incident in the school was less than five minutes long, Jub says.
In the film, Coghlan describes October 17, 1996 as the "saddest day at Banteay Prieb so far."
The blast that killed Richie sent Sarom to prison for about 10 years of a 12-year sentence, and left pockmarks and a patch of blood on the tile floor for a few days.
When the blood dried, Jub says he scrapped it up with a knife and some cloth, and placed the bloodied cloth in an urn.
The marked tiles were pulled up and last year brought to a chapel in Banteay Meanchey province. The building where the explosion occurred was demolished in March this year to make way for a planned government rehabilitation center for people with disabilities.
The tiles are covered in glass "as a memory of that day," Jub says.
The bloodied cloth is entombed in a stone monument built by Banteay Prieb students for Richie. The monument was moved about 8 km from the original Banteay Prieb location in 2020 after the school shut, along with two wooden houses, one of which was where Richie stayed.
Where Richie's Heart Was
In late September, Yuth, the electrical teacher, who is now 52 and the outreach manager at Banteay Prieb, shows reporters the humble room where Richie slept in the men's dormitory, which still has the same wardrobe from 25 years ago.
Father Totet Banaynal, Richie's friend, later says the wardrobe once held just a handful of shirts and trousers, since Richie often gave away his clothing to students and others who needed them. "It was easy for him to give things away that were his," Totet says.
The priest, who had also worked at Banteay Prieb, says Richie had expressed interest in going to Cambodia after helping Totet organize transportation for some Banteay Prieb students who he had brought to Manila during the 1995 World Youth Day events and visit by Pope John Paul II.
"He found out that their life was very difficult, and at that time he said I would like to serve them," Totet says.
Richie's hundreds of letters to Totet, who knew Richie from their Jesuit seminary in the Philippines, remain as a record of Richie's dedication to serving others.
"I know where my heart is. It is with Jesus Christ, who gave all for the poor, the sick, the orphan," Richie wrote in his last letter to Totet a few days before he died.
"I am confident that God never forgets his people: our disabled brothers and sisters. And I am glad that God has been using me to make sure that our brothers and sisters know this fact," Richie wrote. "I am convinced that this is my vocation."
'One Very Good Person'
Thinking back, Father Jub says he and the others could have handled the situation with Sarom differently. But when he pulled out the grenade, they panicked.
"If we just continued to talk with him, I think he wouldn't have used that hand grenade," Jub says.
Richie's death made Jub reflect on the mission of Banteay Prieb. He questioned whether the people with disabilities who the school intended to serve, like Sarom, saw the value in it.
He cried alone and felt numb. Although he says he doesn't blame himself for Richie's death, he thinks back to what else he could have done with Sarom in that brief moment.
"If I didn't open his hand, I could have pulled him out of the school and thrown the grenade in a field," Jub says. "It's like a mark in my life."
Jub worked at Banteay Prieb for another year after Richie's death, but the Thai Jesuit decided to leave the school when he realized he felt he couldn't trust the students anymore.
"If I don't trust them, I shouldn't be here," Jub recalls thinking. He left Cambodia at the end of 1997.
It was easy for him to give things away that were his.
In 2008, he returned to the country and was ordained as a priest the following year. Jub says he hasn't talked to anyone about Richie's death since that day.
"We lost one very good person," he says.
Sarom, who was released from prison following a pardon request from Richie's parents to the late King Norodom Sihanouk, has expressed remorse, says Sister Coghlan, who had visited Sarom in prison. Jub recalls a similar prison visit.
"He was so solemn and he [did] not speak much, he just said, 'I'm sorry, I'm sorry,'" Jub tells VOD. "I can see that he also got hurt by this incident."
Jub says he is not sure why Sarom brought the grenade to the meeting — perhaps to make a threat or try to get what he wanted — but he doesn't think he wanted to kill anyone.
During that time, people didn't have much education and when conflict arose, many were quick to use violence rather than words, says Yuth. Most people with disabilities who lost limbs also faced discrimination, he adds.
"Sarom didn't intend to kill people. He just wanted to scare them," according to Yuth. "In a moment, it just happened."
An Ex-Soldier's Story
In late September, Sarom sits outside his home in Kandal's Prek Ambil commune with his friend and neighbor Phan, the former student and teacher at Banteay Prieb. Sarom and Phan briefly recall Richie being friendly and having a good connection with the Cambodian students, but Sarom declines to speak further about Richie.
"It's difficult to talk about this because it's a sad story about Brother Richie," Sarom says. "I don't want to remember an old story."
Instead, he speaks about his life before and after Richie's death.
Sarom was the youngest of five siblings and joined the military like his two older brothers after the Khmer Rouge was ousted in 1979.
"I was afraid of getting injured or dying but this was the government's order," he says.
After he was injured, he moved back to his hometown in Kandal.
In 1993, Sarom says he voted in the nation's historic elections. "I felt more safe because the country had a king and the people had the power."
He went to Banteay Prieb in 1996, after a friend who attended the vocational school told him about it.
Asked about his memories of Banteay Prieb, Sarom just says, "It's normal and happy because they support our food and accommodations."
After he was released from prison following Richie's death, Sarom says he lived with his older sister.
Despite his vocational training, he never worked as a welder. His vision is poor, he says, and he never had money to start his own business.
He married in 2005 but his wife died about 10 years later. He lives in her house and his adult step-sons support him and his adopted daughter. He also receives about $150 a month in disabled veterans' benefits from the government. Years ago, he received just 10,000 riel a month.
'What Would Richie Do?'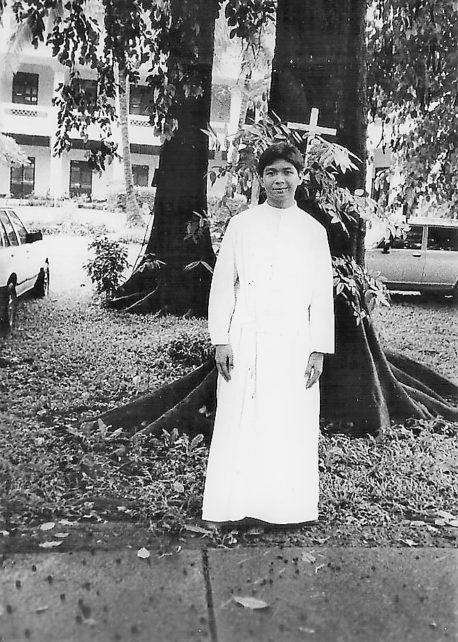 Since Richie's death, the Philippine Jesuit Province has taken up the task of advocating for Richie's canonization. If the Catholic Church makes him a saint, Richie would be only the third saint from the Philippines and the first Filipino saint born in the 20th century.
On Friday, Richie's eldest brother Raymond Fernando says he's glad many people have such fond memories of Richie.
"Even after 25 years, people still remember him," Raymond says. "That makes us happy, that he's not forgotten."
He says a service trip when Richie was in high school inspired him to serve people and led him on the path to priesthood. In university, Richie's calling was intense, Raymond adds.
When Richie told his family he would be going to Cambodia, they worried. Cambodia had recently come out of years of war and landmine casualties were regularly in the news.
Richie told his family not to worry; he did not want to burden them.
"He would always tell us that he loved the Cambodians, he was always willing to serve the Cambodians," Raymond says. "He was happy to serve the people he loved."
Their father, who died a few years ago, wrote the request for Sarom's pardon a year or two after Richie's death. Sarom was released from prison some years later.
"If you hold on to something, not forgiving a person, it will take a toll on you," Raymond says. "For us, it's part of our healing process, and for Sarom, maybe it's part of the healing process as well."
"I say what would Richie do? He would forgive."
Correction: The article has been updated to note that the floor tiles marked by the grenade blast that killed Brother Richie Fernando in 1996 were brought to Banteay Meanchey province in 2020, not at least five years ago as reported previously.