Chhorn Chanvireak has trained l'bokator pupils both at a pagoda and via online videos.
In his 30s, Chanvireak is among the few young trainers of the ancient Cambodian martial art, and dreams of taking the craft to the world. In that, he is not alone. As Chanvireak produces clips to post online, an old master's wife is compiling her late husband's writings, hoping to see them published as a book; pagodas are opening their gates to the idea of giving the community a space to practice the spirituality-infused martial art; and officials are looking both to getting world-heritage status for l'bokator and pushing a modernized version as an Olympic sport.
L'bokator, an ancient martial art thought to be the oldest still practiced in Cambodia, includes weaponry alongside hand-to-hand combat. The techniques were used in war, but the martial art also dwindled amid the civil conflicts of the 20th century, as trained athletes were considered part of the country's elite and killed. Post-Khmer Rouge, l'bokator had all but disappeared, with only a few thin strands, in the form of surviving masters, connecting the tradition's past and present.
Born to a rice-farming family in Svay Rieng province, Chanvireak says he always felt he had a natural talent for l'bokator. His family had practiced the martial art down to his grandfather, but he never got the chance to learn from him, he says.
At the age of 18, Chanvireak began searching for old masters who could train him in l'bokator — which is also written as bokator or labokator. But they were hard to find, and even the few he came across were typically reluctant to teach, he says.
Chanvireak says he soaked up as much as he could from short sessions during that time, when he was a university student living at a Phnom Penh pagoda. He quickly picked up the martial art — especially its spiritual elements — and now has two training schools in the capital, including at Wat Than pagoda.
"This martial art is my life. I will continue to disseminate till the day of my death," he says.
Since the Covid-19 outbreak, gathering students for training has become a challenge, and Chanvireak has turned to creating video clips to meet the demands of those who want to train by themselves both locally and overseas. He has had many Cambodians living in South Korea and Japan express interest. Videos are made available through a code for a fee, he says.
"The aim and concept is that, firstly, I want the martial art to reach more broadly," he says. "Some people want to meet the teacher, but they have no chance to train directly so we've created this online program."
Once in-person trainings resume, Chanvireak's goal is to open 25 martial schools across the country's provinces. The plan runs parallel to a similar proposal by the Kun Bokator Federation to spread the sport more widely through Cambodia.
He also plans to write "at least 10" books on what he's learned from older masters, with 100 to 1,000 techniques in each book using two short staffs in both hands, a single long staff, a short knife, sword and other fighting methods.
"I will not back down with my will and goal. What I worry about is that I am afraid of dying before compiling the martial arts books," he says.
Uon Sopheak, 54, is compiling a book of her own in Siem Reap province. Her husband, Ros Serey, 66, was one of the last remaining old masters until he passed away just last month.
She is working with her late husband's senior students to try to keep his school, the Sala Kun L'bokator Angkor Meanrith, going and free of charge. She also has reams of written documents that her husband had produced but never got around to turning into a book.
"[The aim] is to promote our culture and don't let it be lost," Sopheak says. "Cambodia's young generation has to protect [this martial art]."
She and the students will work together on the book. And when Covid-19 restrictions lift, she will lead the students to perform at hotels and temples, she says.
"I lost my husband, but the students will try to move forward in order to preserve this martial art together."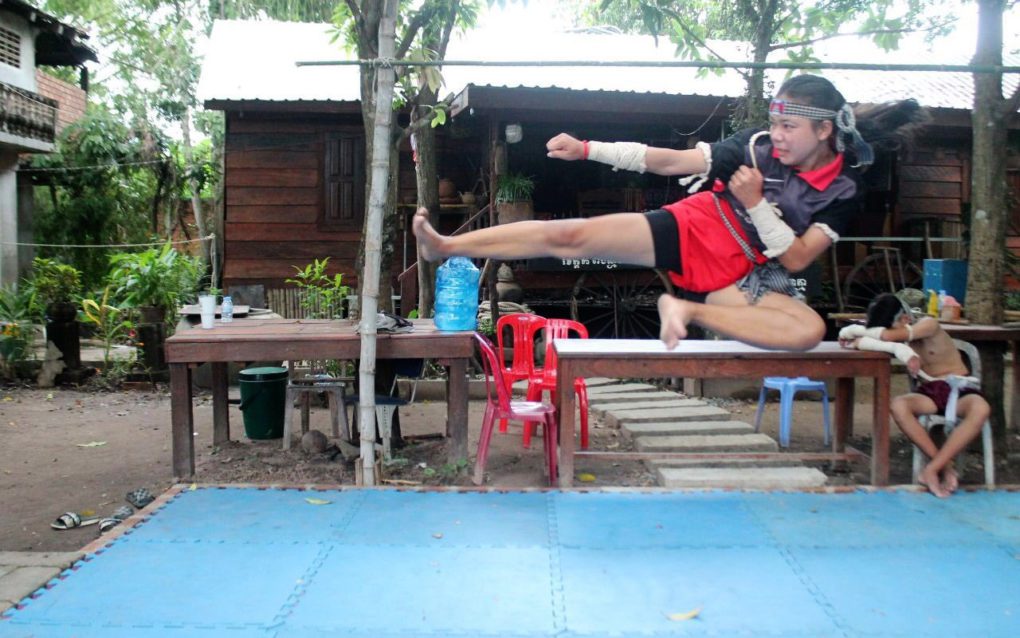 Efforts to grow l'bokator are also happening through official channels, notably the Labokator Association, National Olympic Committee and Ministry of Culture and Fine Arts.
Vath Chamroeun, who is both president of the National Olympic Committee of Cambodia and the general secretary of the Kun Bokator Federation, says l'bokator is already set to be part of the 2023 Southeast Asian games.
To push the sport to another level internationally, efforts to become an Olympic sport are the only way, he says. In order to be recognized by the International Olympic Committee, Cambodia needs support from at least 75 countries.
Cambodia will start by inviting support from countries in the region, create training schools in foreign countries, and organize international competitions, Chamroeun says.
"If the IOC recognizes it, it means that it is a great honor," he says. "It is a recognition of the intellectual rights of our Cambodian people on the international stage."
Internationally recognition will also help protect the sport locally, he says. "We together have to dig up and preserve it, strongly develop it together in order to repay our ancestors."
The association also has plans to extend training across local communities, including the creation of clubs at pagodas across the country. He notes that l'bokator is already part of the school curriculum.
Meanwhile, the Culture Ministry and is working to get Unesco world intangible heritage status for l'bokator.
Siyonn Sophearith, director of the ministry's department of techniques and fine art, says Cambodia's applications have been twice denied, but it had reapplied for a third time in March. He says he cannot disclose what adjustments were made to the application. The results of the evaluation will be clear next year.
However, the Unesco listing would be just a part of protecting the heritage, he says. "The main aim is to conserve and preserve it by ourselves, by each country, by villagers. They need to look after it by themselves. This is the important point," Sophearith says.
He says pushing l'bokator as a sport — especially with the involvement of old masters — helps promote the tradition, but cautions against too much commercialization, which could affect the heritage value.
"Intangible cultural heritage stays with communities, people. … If people want to promote the values, that is all right."
Long Ponnasirivath, spokesman of the Culture Ministry, says raising the tradition's profile will help with the Unesco application.
"The aim of promoting without considering business or commercial interests is a good thing," he says. "It has the value of the past knowledge that was left behind by our ancestors."
Om Yom, one among a few remaining old masters, says he continues to spend his time teaching the younger generation, dreaming of l'bokator becoming known around the world and recognized by Unesco.
"I still imagine that it will be able to enter the world heritage list soon," he says.
Yom says there are two streams to building up l'bokator: The first is as a conservative martial art, strictly following traditions; the second is a modernized sport, with referees, scores and judges. In the sport, the martial art's more dangerous moves are banned.
He thinks the best way to promote l'bokator is through the country's schools. He has trained around 100 entry-level trainers in Kampong Chhnang for them to spread across the country to teach. But the plan has been delayed by Covid-19, he says.
Theoung Chantra, chief monk of Pachha pagoda in Kratie province, says he would be happy to have a l'bokator martial arts training school in his pagoda, especially as he has plenty of space on his compound.
There are already connections to culture, arts and traditional music, with his pagoda hosting pinpeat orchestral music practices.
"For me, it's OK. I'd happily support it. It is our tradition and culture," Chantra says. "We have to think that the training is both for our health as well as to preserve our ancient heritage."
Pen Phearun, chief monk of Prey Cha pagoda in Kampong Cham province's Choeung Prey district, says he is also open to l'bokator trainings, but his pagoda is too small.
"It could affect [religious practices], but religion belongs to the state and [l'bokator] is national culture," he says.
Chanvireak, who teaches l'bokator online and Wat Than, says that although he uses technology to teach, he is among those who prefer to see tradition preserved.
He emphasizes that the martial art has deep spiritual links, and that Khmer spiritual practice is a key element of training in l'bokator.
"A pagoda is quiet and there is not much disturbance. It's a good environment and a big space," he says.
He adds that in the past, before Cambodia had proper schools, the pagoda was the center of knowledge, including art and martial arts.
"Everything came out of the pagoda including literature and magic. So, it is in line with the code of formulas and the ancient training," he says.
What he calls "magic" — the spiritual, supernatural understandings of the martial art — should continue to be a part of l'bokator into the future, he says.
"If you know the martial art and you don't know magic, it amounts to zero," he says, emphasizing the need for both belief and daily practice. "Martial art and magic have a connection, and it can't be missed by anyone."