This year's election was marked by a tidal wave of support for the ruling party. As preliminary results come in, just four out of the country's 1,652 communes voted in opposition commune chiefs, all from the Candlelight Party.
A look at numbers pulled from the NEC's website show the CPP, known for its angel logo, surging across the board.
The CPP received at least 62% of the votes in all 25 provinces. Before the opposition CNRP was dissolved in 2017, the CPP's maximum provincial vote share, in Mondulkiri, was just 68%.
Overall, the ruling party won around 73% of the vote, and was especially strong in the northeast and southwest.
The 2022 election appeared to show rising support for the CPP continuing on from 2018, when the main opposition CNRP was disqualified from running.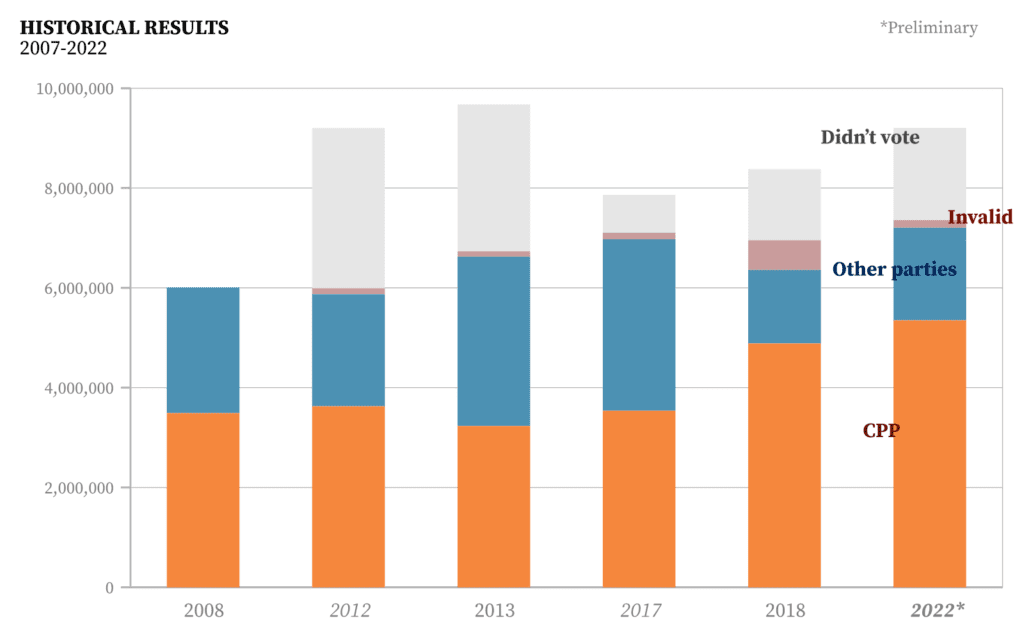 Several provinces have shifted dramatically in support for the ruling party since the last commune election in 2017. Phnom Penh voters cast 45% of ballots for the CPP in 2017, a figure that rose to 77% this year. Battambang's support for the ruling party also grew from 46% in 2017 to 76% this election.
Pursat province showed the strongest support for the ruling party this time, with 85% of voters choosing CPP.
In Phnom Penh, whose urban areas were traditionally considered an opposition stronghold, the number of people who voted for the ruling party more than doubled in some communes compared to 2017.
Earlier this week, commentators spoke of voter confusion around exactly who the opposition was — the Candlelight Party, rebranded from the Sam Rainsy Party, really only reemerged as a political force a couple months before election day — as well as its lack of resources and ability. Opposition parties have pointed to authorities' persistent pressure against candidates, electoral monitors and supporters, as well as potential irregularities at polling places.
Correction: A previous version of the "Historical Results" chart mislabeled 2008 as 2007.