The numbers of visitors to and overall ticket revenues from Angkor Archaeological Park has dropped by about 14 percent in the first 11 months of this year compared to the same period in 2018, the park's state-run operator said on Sunday.
At the same time, Cambodia's largest group of international visitors to the park, Chinese tourists, declined 44 percent in October compared to the year prior, or by some 19 percent to about 750,000 arrivals year-on-year for January to October, according to figures from operator Angkor Enterprise.
Ticket sales to Angkor park — home of the Unesco World Heritage-listed Angkor Wat, the nation's most famous tourist attraction — from January to November this year totaled under $90 million, down from more than $104 million in the same period in 2018, Angkor Enterprise said.
The number of foreign tourists declined from more than 2.3 million to just under 2 million in the same 11-month span.
In November, ticket revenues were about $8.8 million, down 16 percent from the same month last year. The number of visitors dropped from 233,125 in November 2018 to 193,260 in November this year, a decline of about 17 percent.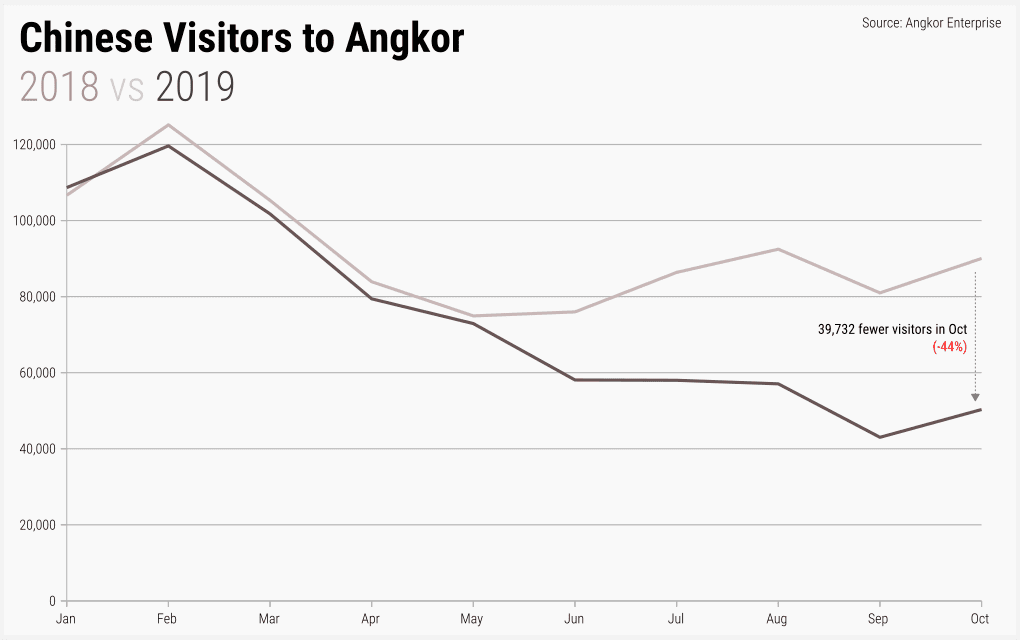 According to the World Bank's latest Economic Update for Cambodia, which was released in November, the number of visitors to Siem Reap has started to decline since early this year for the first time since the 2008-2009 global financial crisis.
"By mid-2019, tourist arrivals to Siem Reap … dipped by 5.5 percent [year-to-year], although total tourist arrivals by air to the three main airports grew by 17.4 percent (total international arrivals to the country grew by 11.2 percent)," the World Bank said.
In the first six months of this year, nearly 1.3 million out of more than 3.3 million total international tourists to the country were Chinese — a 39 percent share, according to Tourism Ministry statistics. By comparison, European and American visitors combined made up less than 17 percent of the total.
From January to June 2018, Chinese tourists accounted for 31 percent of foreign visitors.
Tourism Minister Thorng Khon said in an interview with television station CNC, which was posted on the ministry's Facebook page in September, that the China-U.S. trade war and sales of poor-quality souvenirs had contributed to fewer international tourists visiting Siem Reap.
About a third of the 6.2 million international tourists who visited Cambodia in 2018 were from China, according to ministry figures. Chinese arrivals rose 67 percent, from 1.2 million in 2017 to more than 2 million in 2018.
Tourism Ministry officials in September also announced that it was considering new initiatives to draw visitors to the Angkor temple complex, including lighting up the world-famous Angkor Wat at night, in response to declining ticket sales at the park.
(Translated and edited from the original article on VOD Khmer)