Hok Sothea started selling food in Angkor Archaeological Park in 1998, based out of a small stall right in front of Angkor Wat.
For around 20 years, she largely followed the same routine: She opened her wooden stall at 6:30 a.m. and sold grilled chickens, fish, papaya salad, drinks and other foods all day until tourists left the site surrounding Trapeang Ses pond at 9 p.m.
Now, however, retail inside the archaeological park has undergone renovation: Sothea has been relocated to a new shopping center nearby, and the old rows of wooden shacks around the park have been torn down.
"It's nice and clean here but it's just that I was selling at the old place for more than 20 years and all my clients could find me easily," she said last month. "I didn't have to make signs, it was very easy to find. … The old place was very big."
Apsara Authority spokesperson Long Kosal did not reply to repeated questions about details of renovations in the park, only saying that all stall owners were happy and had accepted the order to relocate.
"According to the information I've received, they are all happy and in good order," Kosal said.
Siem Reap provincial tourism department director Ngov Seng Kak said he was busy and declined to comment.
The new retail center currently houses around 100 shops, according to sellers, who hawk goods ranging from souvenirs — like clothes, krama, paintings and sculptures — to coffee, drinks and various foods.
The largely concrete structures provide a striking contrast to the old wooden shacks. The old eating area around the pond was made up of spacious, improvised open spaces surrounded by nature and shadows from foliage. Many wooden restaurants had mats laid out on the dirt and grass out back, with seating areas inside. Some sellers described the old area as "anarchy." The new center has clean, tiled walkways leading to tiled, fluorescent-lit shops.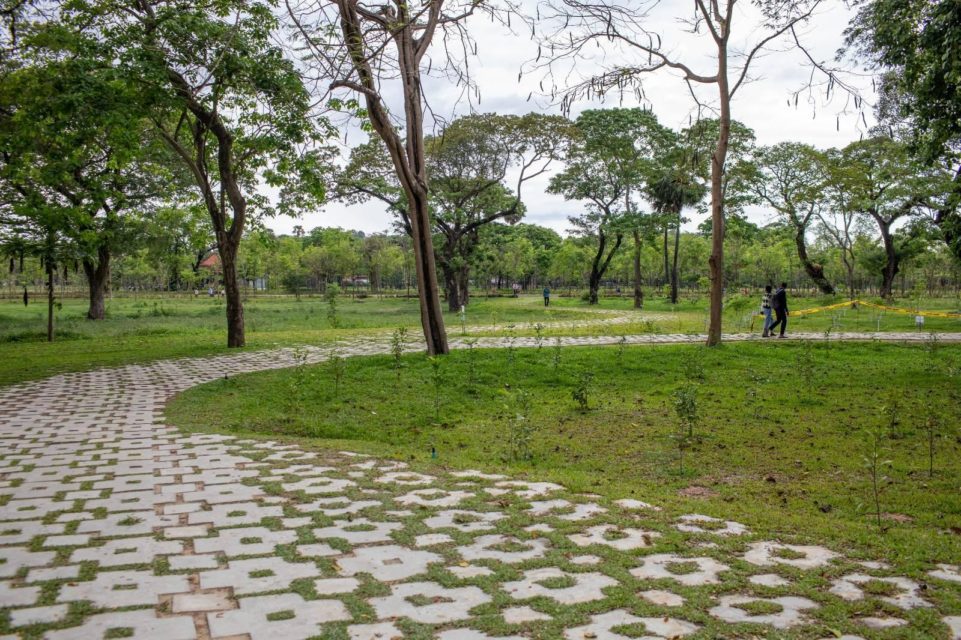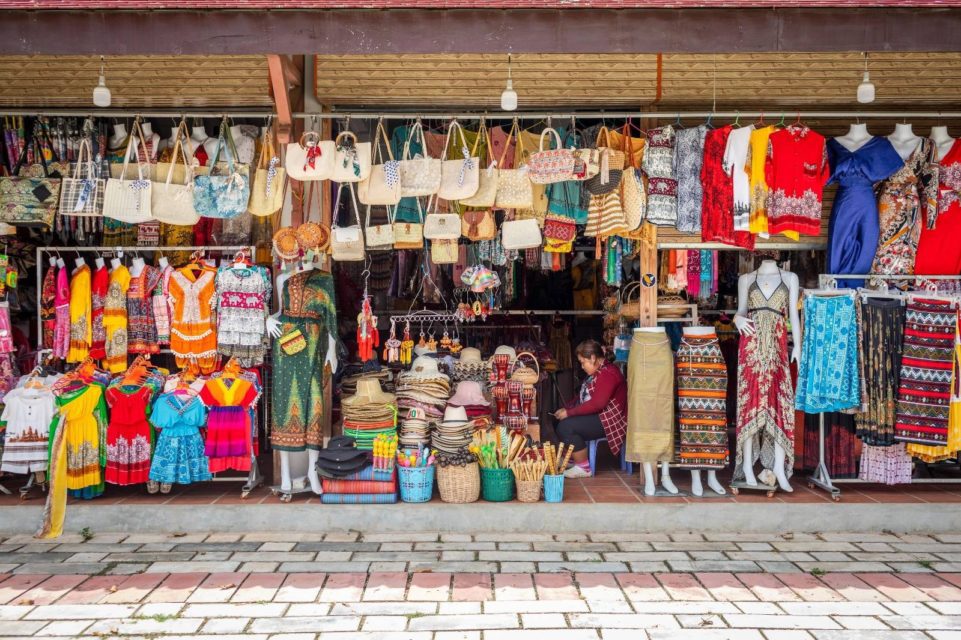 For Sothea, it's been a hard two years anyway as tourist numbers plunged across the world amid the Covid-19 pandemic. She used to sell around 30-50 grilled chickens on a typical day, but these days she barely sells one, and makes up for the loss in income by working on farms.
She is nevertheless concerned that the new location is a little farther from Angkor Wat and harder to access, and returning customers might not know that she has moved and may not be able to find her.
"Shopping in the old place was different because motorbikes could reach the shop there," Sothea said.
There are stricter rules at the new retail center, she added: She can only sell what she is permitted to by the Apsara Authority, and she can only give discounts in the evening. Sothea said they don't need to pay a fee to rent the space for five years, but she didn't know the rate after that, saying they would have to negotiate a rate.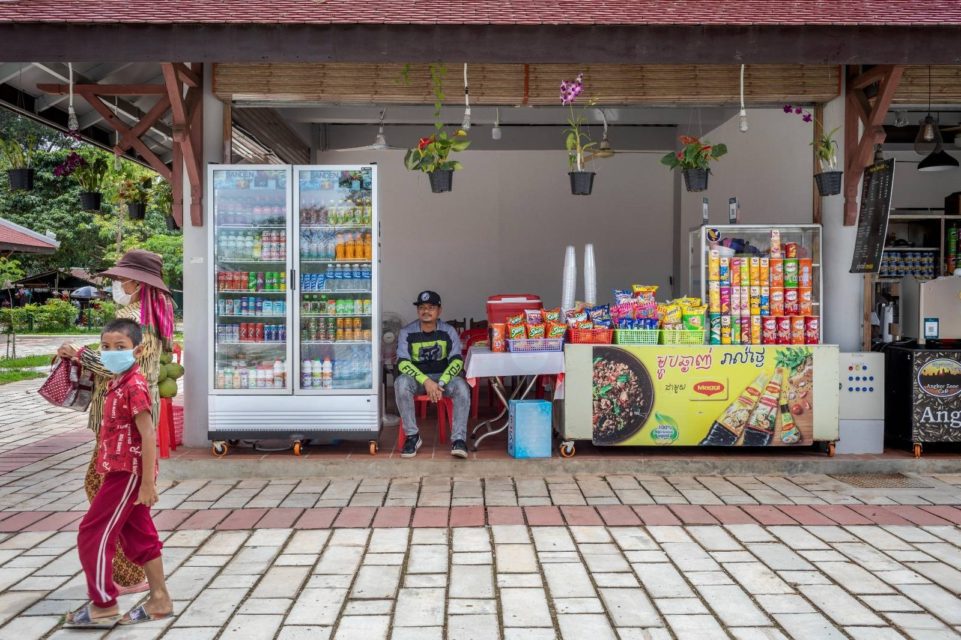 Another seller, Ket Sarith, said he was concerned about the smaller floor space. He used to have around 10 meters by 20-30 meters and staff to help him, but in the new location he has only 5 meters by 5 meters.
He also cooked food in the old location, but now he officially only sells drinks, coffee, chips and cookies. He has set up a small table, and gets neighboring shops to help cook food for his customers instead, he said.
"The place now is so small, and I'm alone," Sarith said. "Imagine if there are big groups coming like before, I don't have enough seats for them."
For the sellers, the move has been in some ways a jarring change in environment, requiring adaptations and a new mindset.
"I know I'm not happy with the space as before it was big and had more freedom. But it's just that there is not enough space," Sarith said. "I have nothing against the authority trying to develop the park and make things look more neat and organized because I agree that before it was anarchy."
Despite the challenges, Sarith said he understood that the goal was an improvement in aesthetics.
"For the sellers, they used to sell everywhere on the street, in front of the temples, and in the temples, and they used to pull tourists' shirts in order to get their attention and buy their things. It didn't look good."