About 30 people gathered in front of Prime Minister Hun Sen's Phnom Penh residence on Thursday seeking his help to secure titles for land on Boeng Tamok, one of Phnom Penh's "last lakes," which in recent years has been divvied up for development on reclaimed land.
But a local official on Friday said the villagers had no legitimate claims to the land though some may have lived there for a long time.
Many in Samraong Tboung village in Prek Pnov district's Samraong commune have asked district authorities to issue them land titles and residence certifications so they can build proper homes, but officials have not done so, said Phorn Sokhum, a village representative.
"We have to come to see Samdech [Hun Sen] so that he can help his own children," she said, using an honorific for the premier. "On this issue, only Samdech can help his children because authorities cannot help us, but they can claim our land."
Protesters handed a petition to an official from the prime minister's cabinet, before capital security guards pushed them away from Hun Sen's house to nearby Wat Botum plaza.
Sokhum said villagers wanted Prek Pnov authorities to check whether the land they were claiming was included in government sub-decrees allocating hundreds of hectares of reclaimed lake to state and private development projects.
If the land was already allocated, she said officials should cut out portions and "give it to the people, but they have never come to check."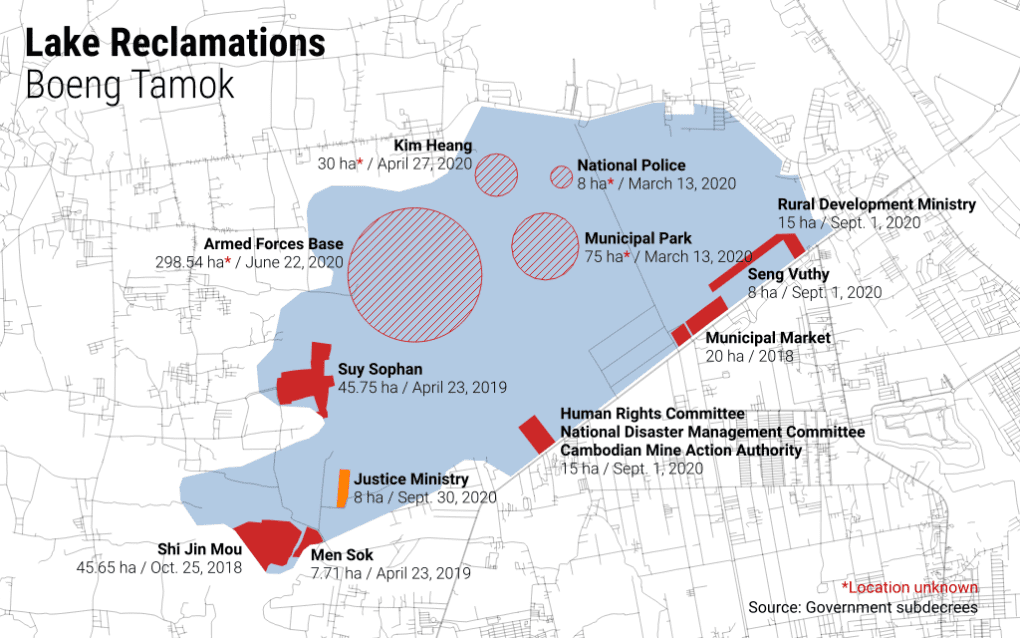 Boeng Tamok, a natural lake in the northwest of Phnom Penh that is key for flood protection, is slated to lose more than 500 hectares, or about 16 percent, to in-filling, government sub-decrees show.
Nearly 300 hectares from the lake have been allocated to the Defense Ministry to build a Royal Cambodian Armed Forces long-term strategic command base, with other reclaimed parcels set aside for private developers, government ministries and a municipal park and market.
Sokhum said her community's land was not near the 20 hectares of the lake set aside for the relocated Daemko market, but villagers were nonetheless entangled in a dispute with the government over land.
"When we have tried to build our houses, authorities come to demolish them many times," she said. "When we are not together at home, they come to demolish."
Samraong commune chief Yin Im said on Friday that the land illegitimately claimed by villagers was part of the more than 3,000-hectare lake, and had been already allocated by the government.
He said people were living near the planned location of the new military base on about 300 hectares, which was granted to the Defense Ministry in June. Some people were buying land from others who did not really own it in the first place, he claimed, suggesting illegal land sales.
"It is just that they have been living there for a long time. They do not think that they are wrong … but the law cannot allow it, so they go to the district to ask [officials] to make land titles," the commune chief said.
The district government and City Hall were working to solve the villagers' problem, he added.
Prek Pnov's governor could not be reached on Friday, and City Hall spokesperson Met Measpheakdey said he was too busy to speak with a reporter.