Ouk Chansomavattey, a 56-year-old street vendor in Phnom Penh, says she had hoped that government officials would set a good example when it came to Covid-19.
She always washes her hands, and encourages others to do the same. She fears that if the disease finally gains a foothold in the country, Cambodia's run of having been largely spared — there have been no official deaths from Covid-19 — would come to an end.
"Our country is too small," she says. "Please tighten up restrictions."
For now, the run officially continues. Hundreds of people have been tested since Wednesday after a visiting Hungarian foreign minister was found to have the disease after he left Cambodia. All the tests as of Friday morning have come back negative, according to the Health Ministry.
Richard Coker, a Bangkok-based emeritus professor of public health for the London School of Hygiene and Tropical Medicine, says Cambodia, like its neighbors, remains a mystery.
"It just doesn't make sense. You look at Sihanoukville — it's basically a Chinese city," Coker says, explaining that it has had ample opportunity to have the virus take root.
"It has to be endemic," he says, but adds that it's likely we will never know. "To really understand it you really need data. It's too bad we can't interrogate the data."
Cambodia appears to be in a similar situation to Thailand, which seems to have "done a pretty good job" in responding to Covid-19, but where transparency is lacking when it comes to epidemiology, Coker says.
"We really don't know what's going on."
In Cambodia, a sense of caution and skepticism persists despite health authorities reporting success in keeping Covid-19 numbers down, as government officials have ignored safety precautions, a foreign delegation was allowed to skip quarantine, and the country's testing regime remains opaque.
Chansomavattey, the street vendor, offers advice to government officials.
"Don't forget to wear a mask," she says. At the signing ceremony with Hungarian Foreign Minister Peter Szijjarto this week, most Cambodian officials were photographed without masks, with some saying they were discouraged from wearing one.
"Do not ban them from meeting, but have them wear masks because people are just hearing about this, and they feel scared," Chansomavattey says. "Those who are scared the most are the poor, because they do not have money and are in debt. If they are infected, it will affect their work and business."
The Hungarian delegation arrived and left on Tuesday, despite a Health Ministry measure from August requiring that all diplomats be tested on arrival and wait 24 hours for the result at a hotel or other compliant facility.
Ly Sothea, 25, a motorbike repairman, says he thinks the government acted carelessly.
"This disease doesn't discriminate between the rich and poor," he says. "It can affect the national economy. … There needs to be more restrictions — conduct more tests as a precaution."
Im Samean, 40, a book seller, says she doesn't want Cambodia to become like other countries.
"Other countries have a high death toll," Samean says. "Even though Cambodia does not have any deaths, we need to protect it."
Some researchers, however, have been skeptical about whether Cambodia really has avoided the disease.
In February, correlating air travel from China's Wuhan, where the virus originated, with reported Covid-19 cases, researchers listed Cambodia among countries that were likely to have "underdetected internationally imported cases."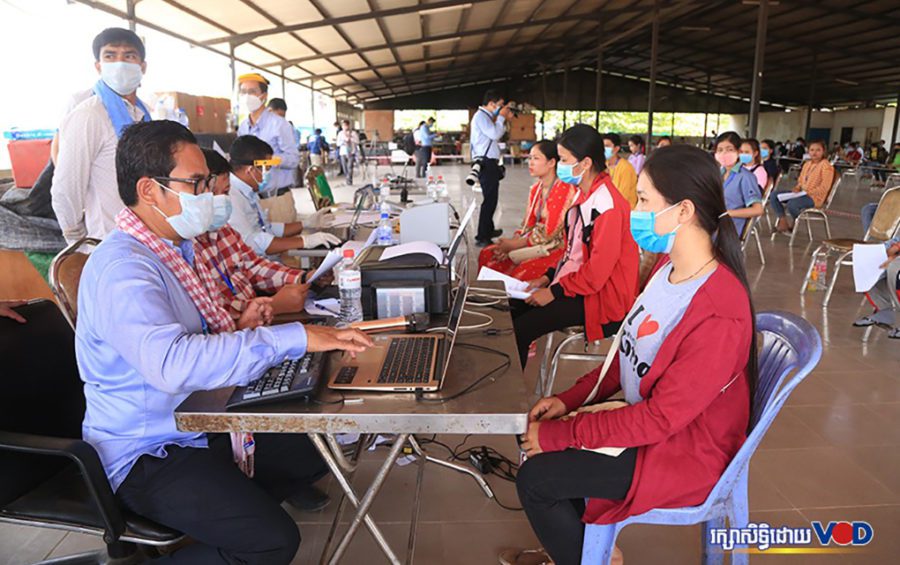 Gregory Gray, an infectious disease epidemiologist and professor at Duke University, said on Thursday that cases were likely still being missed.
"As the virus is highly infectious I suspect SARS-CoV-2 infections are being missed. This could be due to lack of surveillance, laboratory testing or both," he says in an email, using the name of the virus that causes Covid-19.
"As has happened in most countries of the world the subclinical spread of the SARS-CoV-2 virus makes detection and control very difficult. As Cambodia is not known for having a strong public health sector, one would suspect the virus is being transmitted freely among at least some segments of Cambodia's population."
Gray further adds that Szijjarto might not have brought Covid-19 into Cambodia, but rather took it away with him.
"If his infection was acquired in Cambodia then it suggests the SARS-CoV-2 is circulating in Cambodia," he says.
Cambodia has just six active cases of Covid-19, recording a total 292 positive coronavirus cases since January, but many countries are experiencing a rise in infections, with John Hopkins University recording more than 11,000 deaths globally on November 4, the highest daily death toll.
Prior to the Hungarian delegation's arrival, foreign health officials have reported coronavirus cases that appear to have been exported from Cambodia.
China, Vietnam and Malaysia have all reported coronavirus cases since early September in individuals who had recently arrived from Cambodia. After Vietnamese news website VN Express reported that three Vietnamese nationals had tested positive after arriving from Bavet, ministry spokesperson Or Vandine denied that the three could have been infected in Cambodia, state news outlet Agence Kampuchea Presse reported.
Guangdong provincial health authorities reported one case of Covid-19 on October 28 that had arrived from Cambodia, and another five tracing back to Cambodia on October 30. Youk Sambath, secretary of state for the Health Ministry, denied these cases had originated in Cambodia, saying that the ministry had found the individuals' lab results taken in Cambodia and saw that they were negative, according to Fresh News.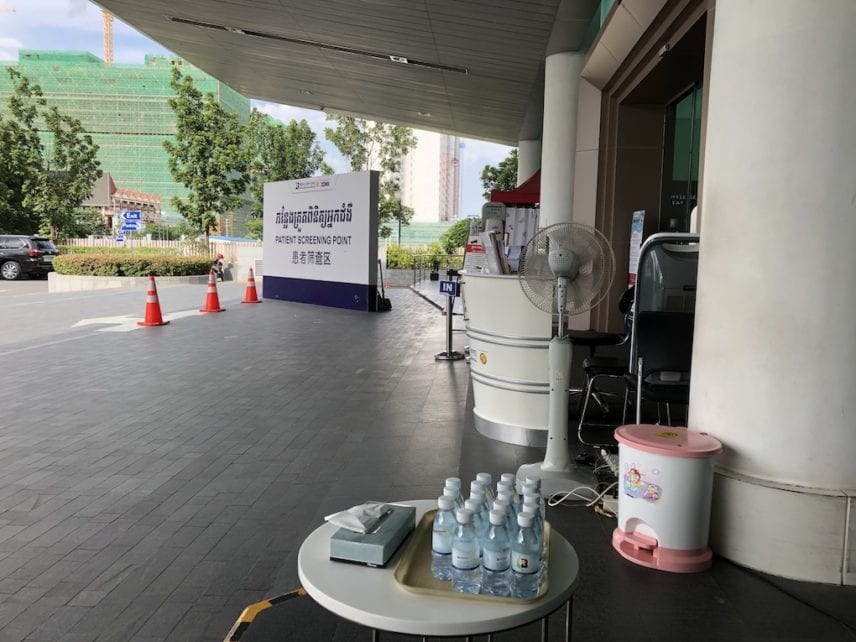 International institutions like the WHO, U.S. Center for Disease Control and Phnom Penh's Pasteur Institute are part of the Health Ministry's Covid-19 response, but say little publicly.
Representatives for the WHO and U.S. CDC in Cambodia did not reply to questions on Thursday.
Pasteur Institute director Laurence Baril said on Thursday that she cannot answer questions about testing data from incoming arrivals because there are other testing centers outside the institute.
"I understand the need for cross checking information but the role of Institut Pasteur du Cambodge is mainly related to laboratory testing and research activities on Covid-19," she says in an email.
Regarding Szijjarto's visit, Baril says it is critical for new arrivals in Cambodia to comply with the preflight health screening, Covid-19 test on arrival, quarantine period and 13th-day test.
"It is an unfortunate event and this is key to stay alert and ready to handle such situation at any moment," she says, and refers further questions regarding the Health Ministry's policy, actions and transparency to the ministry.
Health Ministry spokesperson Or Vandine said on Thursday that 628 people who suspected they were in contact with Szijjarto had tested negative as of the morning.
Testing is continuing, she says, and advises that people wear masks, wash their hands and maintain social distancing to prevent Covid-19 in the country. "If we can do that, we can prevent the spread of Covid together."
A ministry statement on Friday morning said a further 212 suspected contacts of Szijjarto tested negative on Thursday.
Prime Minister Hun Sen, who presided over the signing ceremony with Szijjarto, has posted on Facebook about him, his family and his staff testing negative, and has put himself in quarantine for 14 days. The Foreign Affairs Ministry also said on the social media platform that its officials had been tested and cleared of Covid-19, and would observe a two-week quarantine.
Transparency International Cambodia executive director Pech Pisey did not answer questions on Thursday.
For political analyst Em Sovannara, it's hard not to suspect there are "loopholes" somewhere.
"There must be loopholes [if] Thailand found [Szijjarto's case] but Cambodia could not find it," Sovannara says. "It doesn't paint Cambodia in a good light."
"This is a message for Cambodia to wake up," and maintain vigilance like it did in March and April, he says.
Politicians, meanwhile, should be taking the lead in public health, he says — "be a model for all Cambodians to see."
In a speech at the Interior Ministry on Friday, Interior Minister Sar Kheng also raised the question of whether Szijjarto could have contracted Covid-19 in Cambodia.
"For the visit of the Hungarian foreign minister, after it finished [Thailand] found he had Covid: Do [we] know where the infection came from? Whether it was in Cambodia or in Thailand, or on the plane or in his country?"
Kheng was speaking at an event on governance, where Hun Sen had been scheduled to give an address but could not attend because he was in quarantine.
Kheng said Hun Sen had made the right decision to quarantine himself, and was setting a good example for Cambodians.
"We are civil servants, so a lot of our job is about communication," Kheng said.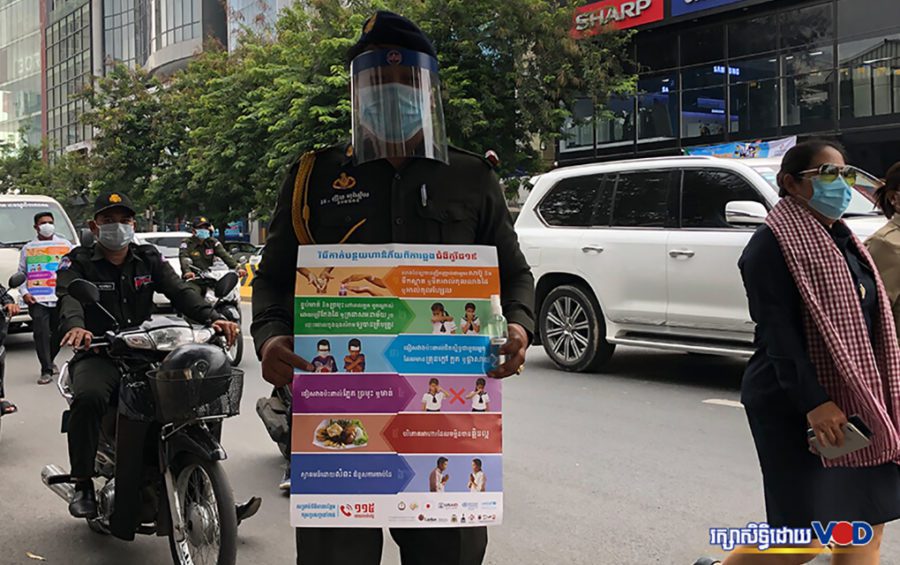 Mark Simmerman, a Thailand-based public health consultant, points to controversy in the neighboring country over diplomats and their families bypassing standard quarantine procedures as a common predicament.
"Broadly, there's been a challenge in Southeast Asia around how to handle dignitaries and expatriates who have diplomatic immunity because they sometimes argue they shouldn't be subjected to a quarantine," Simmerman says.
Chansomavattey, the street vendor, says politicians and dignitaries are the ones who should be setting the bar for proper conduct.
"If they are careless and infect their family members — wives or children — their families could transmit it to other neighbors," she says. "They are the role models, and others will follow."
Additional reporting by Khan Leakhena and Mech Dara
Updated at 2 p.m. with Sar Kheng's speech.