Chhieng Bunnat says her 25 hectares of rice were underwater for three weeks. When floodwaters finally began to recede in the past few days, the rice stalks emerged from the water, and she saw that her entire crop was destroyed.
The grains were rotten — black and squishy, the 42-year-old says.
Bunnat, in Battambang province, was at the center of almost monthlong flooding that heavily hit the country's western provinces.
The latest report released by the National Committee for Disaster Management says 285,000 hectares of rice fields and 97,000 hectares of other crops were flooded in the country, damaging 85,000 and 47,000 hectares of each, respectively.
The report, issued on October 28, also counts 44 deaths due to flooding since September 1.
The waters are now receding, but many farmers, weighed down by heavy debt and years of failed crops, see fear and hopelessness ahead of them.
Bunnat, in Thma Koul district's O'Taki commune, says she knew her crops were doomed. Rice can survive underwater for about 10 days, she says.
Waiting for the flooding to subside, she dreaded her looming loan repayments.
"We are really afraid. One month to the next arrives very fast," Bunnat says. "I feel fear that I won't have money to pay my loan."
She says last year she lost $30,000 due to drought. "It was totally damaged. Completely barren," she says.
This year was the opposite. On October 11, water spilled over nearby reservoirs and drowned her fields. She expects another $20,000 loss, after borrowing $12,000 from the bank.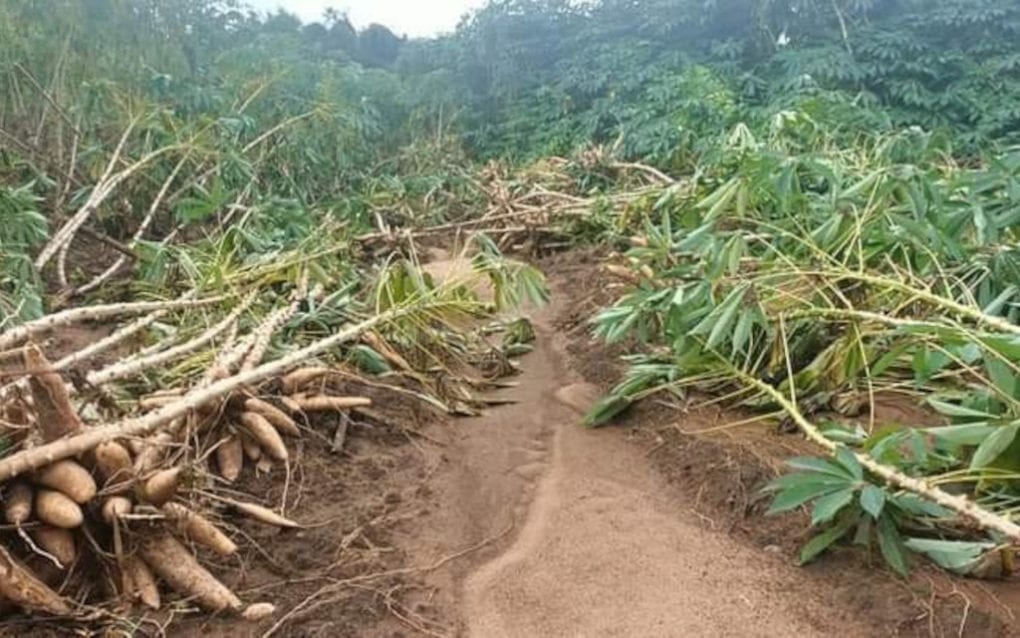 Khheun Romdul, 32, another rice farmer in Battambang, says she will get nothing from the 8.5 hectares she tilled. She says she is likely to give up on rice farming.
"I have cows," Romdul says. "So if I don't have money to pay the bank loan, I may sell them."
She owns 2.5 hectares of her own land, so she will rent it out to others next year, she says.
Cambodia Rice Federation president Song Saran says the overall picture for the industry is not so bleak. Rice exports have been up this year.
"So far, we don't have concerns regarding the quantity of our rice production," Saran says. "We already have a lot of rice in Cambodia."
The exact extent of the flooding damage will need to wait for official figures from the government, he adds.
Climate change is wreaking havoc across the region, disrupting agricultural production in not only Cambodia, but also Vietnam, Thailand and the Philippines, he says. The industry needs to look for ways to adapt, he says.
"We have to study different varieties of crops to adapt to climate change, floodwaters, that can still achieve high production and quality," Saran says. "Everyone has been conducting research to prepare for climate change."
Agricultural exports have been on the rise this year even as other sectors, such as tourism and garments manufacturing, slump due to the global Covid-19 pandemic. A free-trade deal with China has the potential to increase investment into agricultural businesses, while new crops have created opportunity as well as their share of concerns.
Cassava farmers in Banteay Meanchey province also shared stories of struggle on Tuesday. Phal Sopheap, 30, says this was his worst year for his farm.
Last year, there was no rain, causing damage to most of his beans, sesame and cassava on 13 hectares in Malai district.
"It was hard, but not like this year. Because this year is very hard," Sopheap says.
But it is all a part of being a farmer, he says. "Our work is like that. Some years, we get a lot of results. Some years, there are bad natural disasters, and we lose everything."
Koeuy Layhea, 37, in Thmar Pouk district's Kork Kathin commune, says he bought a $10,000 tractor this year to rent to neighboring farmers. His own 2 hectares are mostly hopeless as well, he says, but it's the plight of the whole area's farmers that has spoiled his business.
"There are no cassava fields to till," Layhea says.
Banteay Meanchey provincial agriculture department director Pang Vannasath, however, points out that as floodwaters recede, recovery begins.
Some rice can be saved, and other areas can start growing crops again, Vannasath says. It is also the start of a new season.
"It's dry season now," he says. "Now the water begins to go away, and we begin recovering the rice fields."