Bodies continued to be pulled from the scene of a huge gas explosion in central Phnom Penh into Saturday evening, with two shops destroyed and officers at the scene saying at least four people, including a girl, had died.
Loud explosions and building-high flames could be seen and heard across central Phnom Penh on Saturday afternoon as at least a dozen fire trucks and an ambulance attended the scene on Street 63, and authorities closed nearby roads to traffic.
"We thought it was a bomb," said Kelly Roberts, a 33-year-old civil servant from the U.K. who witnessed the explosion at around 4:30 p.m.
"I stood in shock and looked towards where the explosion had happened and tried to see if I could see anyone hurt, but I couldn't," she said via message. "I was going to go closer to see if there were any injured people when my friend screamed, 'Run, I can smell gas.'"
Roberts had been walking home with two friends and happened to stop to check prices at a coffee shop. It was a "blessing," she said — if they hadn't stopped, they would have been closer to the explosion.
She said she heard a total of at least eight explosions.
Dozens of gas canisters were taken away from the scene as emergency services worked to put out a fire that continued to burn for two hours.
A police officer initially told reporters that two people had died — a man and a girl — and a woman was injured.
Later, around 6 p.m., a firefighter and Daun Penh district security guard chief Kim Vutha raised the estimated death toll to three.
Reporters saw what appeared to be two bodies carried onto an ambulance around 7 p.m., and a police officer, who did not give his name, said four bodies had so far been recovered.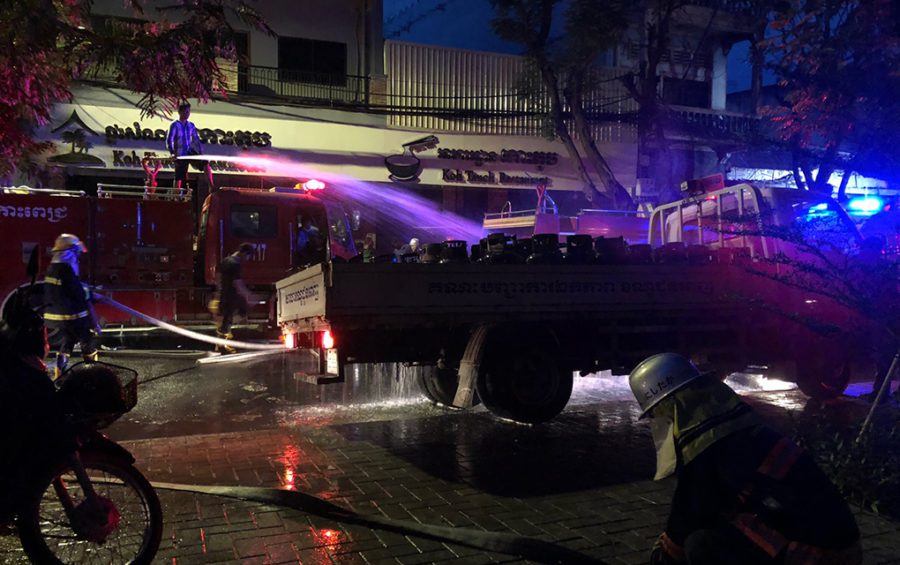 According to a firefighter, two buildings were destroyed: a shop that refilled gas canisters, and the pet-fish store next-door. A neighbor, Sok Riya, 48, told VOD that a family-of-four lived at the gas-refilling shop, which also employed about five to six workers.
Dozens of onlookers gathered around street corners as authorities directed traffic on the surrounding roads. Phnom Penh deputy governor Mean Chanyada was also seen at the site.
In a statement, National Police said sparks from welding were believed to have ignited the gas.
"It was reassuring to see the fast response from the emergency services and the amount of fire engines and ambulances that got to the scene," said Roberts, the U.K. civil servant, adding that she was upset for the families of those injured or killed. "It's just a very sad day for the people of Phnom Penh."
Additional reporting by Sam Oudom