Fledgling political parties in Cambodia are eyeing seats in next year's commune elections, but they admit their chances of winning seats are slim, and their limited resources and experience mean it is a challenge just to put up candidates.
In March, the National Election Committee announced that the country's fifth commune elections would be held on June 5, 2022, now just over 11 months away.
Twelve parties vied for seats in 2017, but the previous race essentially came down to the ruling CPP — in power since the 1980s — and the opposition CNRP, a party formed as an alliance between veteran politicians who had built up support over decades.
Kuch Ly co-founded the Khmer United Party in 2018. The founders originally called it the Kem Ley Party, a nod to a political analyst murdered in broad daylight at the Caltex gas station on the corner of Monivong and Mao Tse Toung boulevards.
The party is a small part of the murdered analyst's legacy, and Ly founded the party with Ley's brother Kem Rithiseth. In contrast to the tens of thousands of Cambodians who marched on Phnom Penh streets for Ley's funeral — an outpouring that hasn't been seen in the country since — Ly admits that his party faces difficulties finding candidates to stand for the upcoming elections.
The goal in 2022 is to win one commune chief seat, he says. He also hopes to win 400 to 500 council seats, by looking at priority provinces around Phnom Penh. He says he also plans to stand for a commune himself, though he can't say where yet.
"We've already prepared for six provinces to be filled with commune council [candidates], among the party's 17 targeted provinces that the Khmer United Party stood for in the 2018 national election," Ly says.
The party won more than 50,000 votes in 2018, or about 0.8 percent of the vote, and zero seats in the National Assembly.
He will try to look for more candidates to stand for his party, but lack of experience as a first-time participant in commune elections is a challenge, he says. And before standing as a candidate, party members need to get on the voter roll, he says.
"Most importantly, the members of every party need to urge their party activists to register," he says. "If they don't have names on the voting list, it will not be possible for them to stand."
We acknowledge that it's difficult, but at least we've started to push for democracy to rise back. In the first step, we have to do it like this, no matter if we win or lose.
The CNRP, formed as a merger in 2012, pushed the CPP to near defeat in the 2013 national election, sparking widespread popular protests alleging voting irregularities. The party won over 5,000 commune seats in 2017, an increase of more than 2,000 for the opposition.
But the wake of the 2017 elections saw co-founder Kem Sokha arrested for alleged treason and the CNRP outlawed by the Supreme Court. One-hundred eighteen of the party's top politicians — many of them tracing their careers back to the 1990s, when the U.N. reintroduced multiparty elections to the country — were banned from politics for five years.
Another minor party president, Kong Monika, whose Khmer Will Party was created soon after the dissolution of CNRP, says his party is trying to organize its structure and prepare candidates for the elections.
Monika's family has a long political legacy. His father, Kong Korm, was foreign minister in the late 1980s and was later a senator with the Sam Rainsy Party. Korm requested "political amnesty" with his son, Kong Bora, in 2019 and joined the Khmer Will Party. Bora instead returned to his job at the Agriculture Ministry.
Kong Sophea, one of Monika's other brothers, was a CNRP lawmaker who was brutally beaten outside the National Assembly in 2015 by a mob, three of whom were Prime Minister Hun Sen's Bodyguard Unit members and later convicted for intentional violence.
With the impact of Covid-19, Monika's party is still in the process of preparations, and he does not have any exact numbers of candidates yet. But he expects he will be done preparing at least a month before the June elections.
"The Khmer Will Party will focus on some important areas … we will focus on big areas," he says, without specifying. "We are ready to compete in the upcoming commune elections, and we will try to attract people to participate, especially Cambodian youths to stand for us."
He hopes to get some council seats in 2022 and National Assembly seats in 2023.
Even though his party is new, small and faces competition from other recently-formed parties, it wants to have candidates vying for at least 50 percent of seats in target areas, he says.
The party won more than 200,000 votes in 2018 — around 3 percent, the fourth most popular party that year.
Asked about the number of supporters, Monika says there has been an increase in the provinces, and there are people who want to stand for his party, but he does not have exact numbers.
"I have hope and optimism that the Khmer Will Party will get supporting votes from people. As I said, especially youth who have the first chance in their lives to vote in 2022. They will really give the chance to young politicians," he says.
The 2018 election was just a starting point to pave the way for his party to prepare for the future, he says.
"We have the chance to get support," Monika says. "Even though we can't win over the ruling party, we might get seats for commune council members."
Ou Chanrath founded his Cambodia Reform Party only in March. Chanrath is a former CNRP lawmaker, and was one of the 118 senior party officials banned from politics. But he applied for "political rehabilitation" — a move some in the CNRP call betrayal — alongside about 20 others so far.
He is still working on leadership structures, and is preparing documents to finalize the party's registration with the Interior Ministry. He plans to hold a party congress on October 23.
He says he hopes his party will be ready for the 2022 election.
Chanrath, like the others, says he won't be able to put up candidates everywhere, but he will choose targeted areas.
He says he welcomes all people who might want to stand in the elections for his party.
"We will participate in the 2022 and 2023 elections to push for the return of democracy," he says.
He accepts that winning votes will be difficult for now, as many former CNRP supporters still do not want to move on to support a new party. But for him, creating a new party and participating in elections is the best option.
"We acknowledge that it's difficult, but at least we've started to push for democracy to rise back. In the first step, we have to do it like this, no matter if we win or lose," he says.
After the disbanding of the CNRP, the ruling CPP used legislation to redistribute the then-opposition's commune seats — some going to minor parties whereas most were handed to ruling party officials.
Mam Sonando's Beehive Social Democratic Party has a somewhat longer history. He formed the party in 2015, when he was already in his 70s, and named it after his Beehive radio station. Sonando in the past was a prominent government critic, jailed in 2012 over charges of leading an insurrection against the government.
The party has one elected commune councilor in Kampong Cham province. But Sonando says preparations for next year are not very clear yet since it is hard to communicate with members or conduct activities, because of the Covid-19 pandemic as well as financial problems.
However, he will try to participate in next year's vote by allowing his members at the local bases to make decisions by themselves on whether they want to stand or not, he says.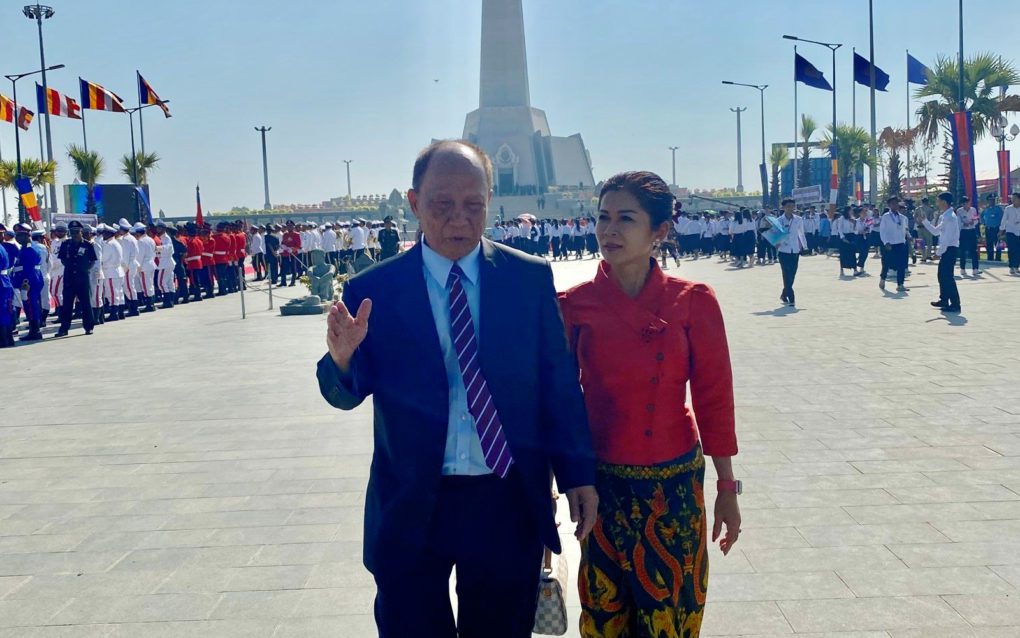 "I have an idea of participating to clean up corruption," he says. "If we do not try, peace will be in danger. … Corruption is the chronic disease of our Cambodia."
But he says running a political party has not been easy.
"As you know, the big thing, whatever you do, is money," Sonando says. "I don't have money. I have ideas, but people are bored with theory. … Others promise motorbikes, equipment, based on their ability. It is their matter."
Replacing the CNRP
The CNRP's two co-founders, Sam Rainsy and Sokha, built their political careers over decades and had strong followings even before coming together in 2012. Rainsy was a Funcinpec politician in the 1993 vote — when the royalist party won more votes than the CPP, but shared power amid secessionist threats — and Sokha a member of the Buddhist Liberal Democratic Party.
The 2000s saw the CPP hold a firm grip on power amid a fractured opposition. But the CNRP merger in 2012 sparked a wave of popular support.
The CNRP won 55 of 123 National Assembly seats with 44.5 percent of the vote in 2013, while winning 5,007 of 11,572 commune seats in 2017.
The leaders of the country's current minor opposition parties acknowledge they hardly have the CNRP's history.
Monika, the Khmer Will Party president, says it took five elections over 20 years for the former opposition party leaders to become competitive against the ruling CPP. For his party, he hopes it will take as few as two terms.
He says information travels faster these days, and that could help him build support more quickly.
"Now, people have more knowledge. They understand and follow the political situation more," Monika says.
Many CNRP-related parties have recently popped up, but his was first, he says, explaining that he knew there was no way the CNRP would return.
He wants the Khmer Will Party to eventually challenge the ruling party, but other minor parties are splitting support, he says.
"It's a danger for democracy. Even though it is their political right, those people are together splitting the voices of democracy," Monika says.
Chanrath, of the Reform Party, says with clear leadership and policies, he hopes he will not need 20 years to make gains.
"We think that it might be around the next mandate, 2027 or 2028, that we will be able to compete closely," he says.
He says he will build support similarly to the way the CNRP operated at the grassroots, but his party will spread power among its members rather than be leader-heavy.
The United Party's Ly says he also dreams of his party becoming a real opposition that can challenge the ruling party, but that is still far from his current expectations. People still support the CNRP's Rainsy and Sokha, he says. It would make a big difference if they retire, he says, also criticizing the division between the two politicians that he says made the CNRP vulnerable to dissolution.
But Ly welcomes the formation of new parties.
Next year could be an opportunity for all the minor parties to test their abilities before a possible movement to join forces and compete in unity in 2023, Ly says.
Last year, Ly's party tied up with Sonando's Beehive Party and the Khmer National United Party, run by Nhek Bun Chhay, to form a pre-poll coalition that would see them jointly contest the upcoming elections.
"If one day there is a movement to join together, it will be better because it is what people want."