Cambodian authorities were tight-lipped last week over an operation at Sihanoukville's Jin Gang hotel compound, acknowledging only that there was an "administrative measure" against illegal Vietnamese immigrants.
But for more than a week, the property, just off Ochheuteal Beach, was busy with official activity as a string of social media videos emerged from inside telling of hope that they would "soon to be free."
"Goodbye Sihanoukville and see you never again," one of the TikTok videos said in Vietnamese. "Waiting for the return day," said another.
The poster of the latter video wrote in a comment that they had been tricked into coming to Sihanoukville, and that police and the Vietnamese Embassy had helped to "rescue" them. Other videos also spoke of rescues, which they anticipated would expand around the coastal city.
Reporters have seen around a dozen videos in Vietnamese that were posted since late April with the Jin Gang compound recognizable in the background. In them, people waited around its main courtyard, many with travel luggage, while officers looked them over.
In one video titled "Soon to be free," posted a week ago, dozens of men and women in T-shirts and jeans sat squatting in queues on the floor, many in flip-flops or no footwear at all. An officer in a green uniform stood opposite them. Next to the lines of seated people were two more lines of people standing, many of them young women, staring at two men in plainclothes as if they were waiting for instructions. The poster of the video said in a comment that they did not have to pay money to get away after police busted into the compound.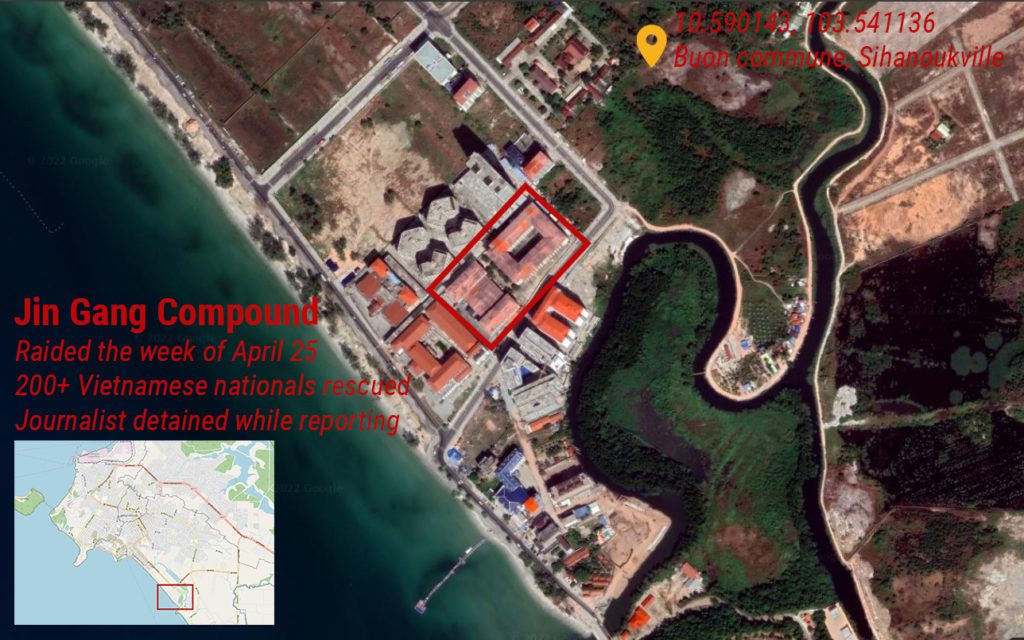 The users could not be reached through their social media accounts.
Last week, a woman with a shop nearby Jin Gang told VOD that she and her husband used to be able to enter the compound for selling or odd jobs, but it had gradually closed up — echoing village officials who said they struggled to get access to the compound.
In recent years, the people inside appeared to have transitioned from mainly Thai speakers to Vietnamese, and there was no free movement in or out, the woman said.
She claimed to have seen three people jump off the building since last year, including one just in April. Asked about falls from the buildings, one village administration official said it was generally a known problem around the area, without specifying whether it had happened at Jin Gang.
The woman's understanding was that the recent evacuations began after dozens of people in the compound, armed with improvised weapons, overpowered its security guards and broke out. This could not be confirmed with authorities.
Though she did not witness the mob herself, she helped take the family of a security guard to the hospital to check on him, said the woman, who declined to be named out of safety concerns.
"When we asked too many questions, he just shook his head and cried," the woman said of the hospitalized guard. "They just followed orders."
Later, through a gap in the walls, she could see hundreds of people emerging from several buildings and being taken out of the compound, she said.
The compound is located about 2 km from the notorious Chinatown compound, and is around the corner from provincial military police headquarters. Chinatown, and Sihanoukville more generally, has been troubled by widespread accounts of detention and forced labor in online scam operations. Victims have spoken of being tricked to work in Cambodia and locked in compounds, only allowed to leave if they paid thousands of dollars.
Around the Jin Gang compound where police and workers could be seen last week are a number of other buildings marked Jin Gang. The Commerce Ministry lists four companies in Sihanoukville with "Jin Gang" in its name, and it was not immediately clear which was associated with the site of the rescues. Three of the four companies are Chinese-owned.
On Friday, a VOD reporter was taken into the Jin Gang compound and detained by immigration police for taking photos from the road.
Inside, there were around 50 police officers, mostly from immigration, as well as some provincial military police officials. Around 200 people were waiting for a man in a white shirt to call their name, some of them smoking, holding their suitcase or wandering around the courtyard. They boarded four buses and left the compound around 9 a.m. An immigration official was heard telling officers that the operation was now finished and they could now go home and relax.
Last week, provincial authorities would give few details of police operations at Jin Gang. When asked about Vietnamese rescues, provincial police chief Choun Narin would only say that police regularly worked to deport illegal immigrants.
"When they come to work illegally, we check and find them and we send them back. If they're legal, we allow them to continue to stay," he said. "We are checking how many have passports … we need to categorize them clearly."
Preah Sihanouk provincial administration spokesman Kheang Phearum also said last week that authorities were simply removing illegal immigrants.
"This is an open administrative measure toward foreigners, and finding some foreigners who are Vietnamese who have crossed to Preah Sihanouk province illegally," Phearum said.
The Vietnamese Embassy did not reply to emailed questions. During the week, no Khmer-language news outlets were seen reporting on the operation, though they are often quick to publish police and immigration reports.
Provincial authorities have previously downplayed accounts of detention and torture at scam compounds as exaggerations.
This week, Interior Ministry immigration department spokesman Keo Vanthan, when asked about the operation at Jin Gang, acknowledged that there had been a raid, and said 203 Vietnamese nationals were arrested on April 29 and deported on May 1.
Phearum, the provincial spokesman, said Jin Gang had not been closed down. Deputy provincial governor Leam Soda said no one involved was sent to court.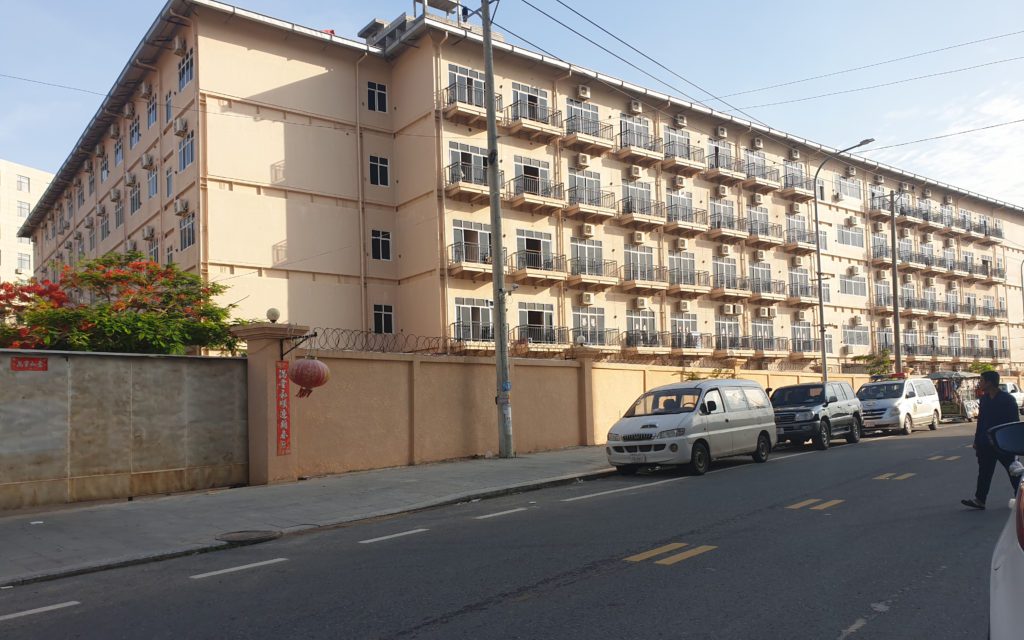 Heng Bunly, the village chief of the area — Buon village in Sihanoukville's Buon commune — said he wasn't aware of what had been going on inside the compound before the raid.
"We don't know what business they were doing in their buildings because we cannot get inside their building," Bunly said. "We don't know what's inside there. We never even got in. … It was full of security guards. … Even when we asked them to go in, they wouldn't let us in despite my position."
Village administrative member Kuy Kiry said he knew of compounds around the area where people had tied curtains together to try to climb out.
There had been violence and people falling from some of the buildings in the area, Kiry added. "At some locations, people have fallen down and one broke his back and was abandoned at the hospital. Some were beaten unconscious and brought back to the building," he said.
"These people are in debt," Kiry said. "Their bosses locked them from going outside, afraid that they would leak information. … There are many places."