Under a white tent decorated with chandeliers and gold-footed chairs, the wife of a Defense Ministry official spoke of peace, stability and development at a property launch in March.
She then quickly pivoted to selling her audience on 5-by-22-meter plots at the fast disappearing Boeng Tamok lake in northern Phnom Penh.
Almost two years before, part of the 8.2-hectare plot being marketed by the woman, local entrepreneur Ean Helen, was first granted to 23 families in August 2020, in what was supposed to be a concession to "original owners" of homes on the lake.
Now that more than 1,800 hectares of the lake's 3,200-hectare area has been parceled off using sub-decrees to government agencies and well connected individuals, real estate companies are descending on the newly-created land as residents in the area anxiously wait to see whether authorities evict them from the lake.
When urban rights NGO Sahmakum Teang Tnaut declared Boeng Tamok as one of Phnom Penh's last pristine lakes and wetlands, the lake spanned 3,190 hectares.
Using satellite imagery from the European Space Agency, VOD estimates that around 1,900 hectares of water still remains in Boeng Tamok as of January 2022. However, development plans put out by a politically-connected real estate company show only 157 hectares of lake remaining after filling in the lake.
An analysis of documents from the real estate company and dozens of sub-decrees privatizing the lake now reveals an expansive real estate development marked as an oasis for middle and upper class families on the shrinking lake, buttressed by several police bases, Interior and Defense ministry offices and peppered with government buildings.
Buying Land Off the Government
Even as sand continues to be poured into Boeng Tamok, real estate companies are wasting little time to market new development projects on the land: Project boards for new borey and condos are springing up alongside government-posted blueprints for a new state hospital.
Among the first offerings is Tamork City Land's borey project. The project was launched in March offering a series of shophouses, condos and landed properties. The star-studded ceremony was attended by Phnom Penh governor Khuong Sreng and Chuon Sovann, former Phnom Penh police chief and now-deputy head of the National Authority for Combating Drugs.
The star of the event, heavily covered by the Information Ministry and government-aligned news outlet Fresh News, was company owner Ean Helen, who is married to Yin Saran, deputy head of the Defense Ministry's logistics department.
The couple has a history of making donations and doing favors for the government: They donated $50,000 to Prime Minister Hun Sen's Covid-19 vaccine drive in 2020 and allowed for Helen's hotel to be used as a makeshift quarantine facility.
Helen also appears to have benefited from prior land swaps. She told the Cambodia Daily in 2016 that she received a plot and building previously occupied by the Environment Ministry in Tonle Bassac commune. Her company, called Rathana Cooperation and Construction, received the ministry building reportedly in exchange for land the company owned some 20 km from the city center.
A company named Rathana Cooperation and Construction could not be found in the Commerce Ministry's business directory, but Helen is a director at Vann Wathana along with another person named Hun Vannsereywath. A Thai phone number listed as the contact for this company could not be reached.
The land Tamork City Land is now looking to profit from was given to 23 families — represented by two individuals, Pheun Phy and Sou Sophal — in August 2020 and the National Police in August 2021.
Reached over the phone, Pheun Phy, the representative, said he had sold the land around a year ago, but he did not know the name of the buyer. He would not say how much he was paid per square meter of land and claimed it was not much.
"We had sold it and we did not know if the price we got would be high or not. This was developed later on," he said. "We sold it to get money to give to the 20 families."
The sale of Boeng Tamok land quickly following their transfer from the state is not unusual. The government has allowed for parcels of the lake given to ministries to be sold to generate funds to support their own budgets. The Interior Ministry jumped on the suggestion and said it would sell its allotment to pay for office renovations.
Loading…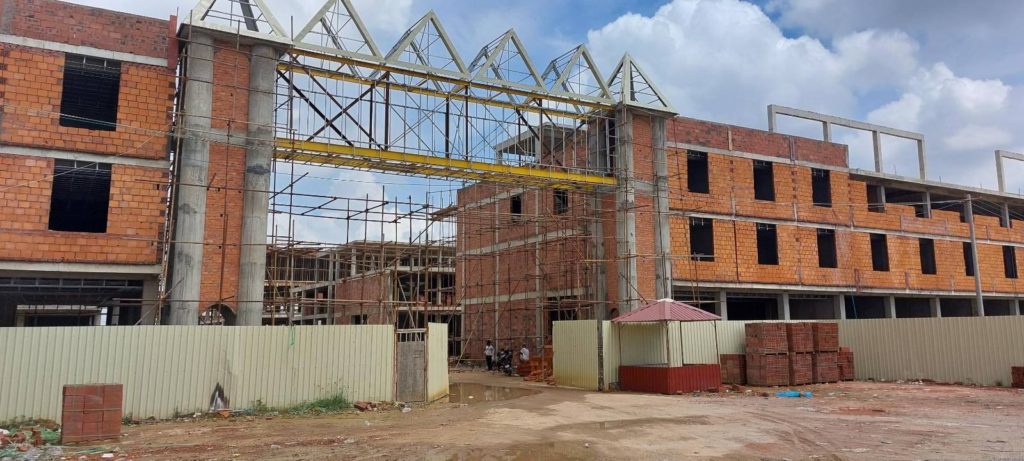 After the Sand Pours
Development at Boeng Tamok is proceeding at a breakneck pace. When reporters visited the area in late March, vacant market buildings rose over Kob Srov Road, bordering the lake's southern edge. The multistory brick boxes that will become the future market, dusted with loose sand dumped all throughout the former lake, stand waiting for vegetable vendors, purportedly pitched as a replacement for the Phsar Doeum Kor street market.
Along the road that bisects Boeng Tamok, a group of young men sat beside a truck piled high with ceremonial decorations, picking through fruit offerings from a concluded land blessing ritual for a new development, though when asked the men claim they didn't know the development's name. A few Coca Cola and Hanuman beer cans had been opened.
A few hundred meters north, a 68-year-old fisherman sat at his small tented campsite watching what remains of the lake — the easternmost section spanning around 5.7 square kilometers, based on satellite imagery.
The fisherman spoke to reporters, but he wouldn't give his name: "Before I told my name to two people [asking about the lake], they caused trouble for me," he said.
The fisherman would continue to fish that spot until there was no more water, he said, but in the shrinking waters he could only find a few types of fish left in the lake, like trey labya, or tilapia, a common species found in lagoons.
"There's no place to fish," he said. "Before I could catch 20 kilograms of fish [here], now I can hardly catch 5 kilograms."
Instead of fishing in the lake, he said a few families have claimed some of the remaining waters to start fish farms, gesturing to nets in the distance. He guessed the area would be completely filled in a year.
Dom Phearoth, 40, has lived near the lake since 1993. The Boeng Tamok resident has a land title, issued by Prek Pnov district, for his concrete home and another stretch of land that remains flooded for half the year.
The man fishes and was seen cutting water spinach, which he grows, when reporters met him on March 23.
He pointed to a pagoda gateway on Street 130, a road skirting the north side of the lake, saying that the people who live east of the gate were protesting developers threatening to displace residents.
"Maybe they moved here more recently," said Phearoth.
"All of those people are in debt," he added. "If you dare challenge [the development], you will go to prison."
When asked if he was worried about being evicted, Phearoth said he could not be certain if the title would stand.
"We are also concerned, we wouldn't be able to do anything," he said.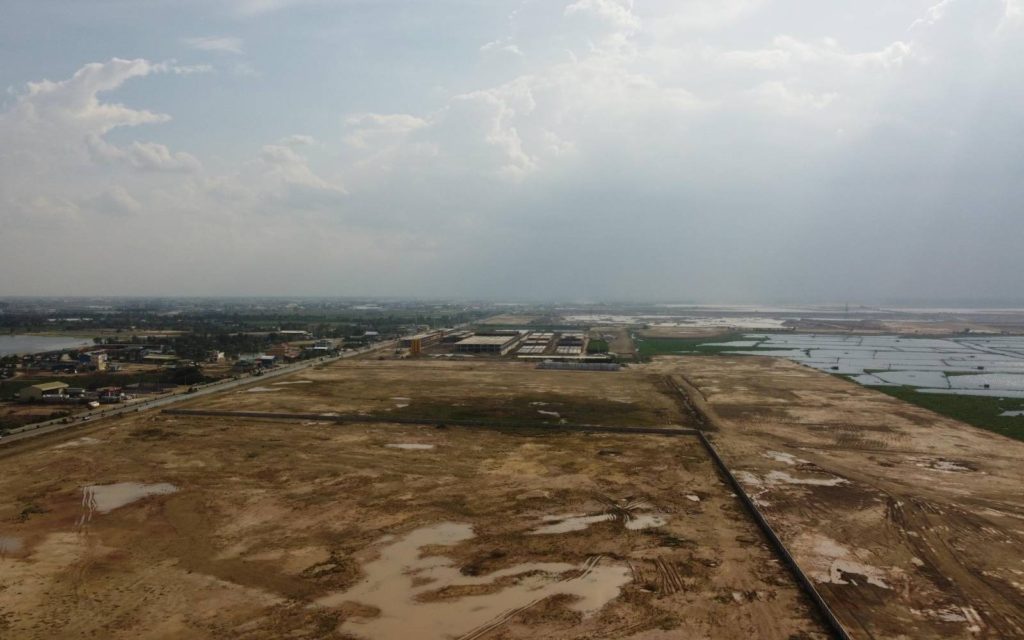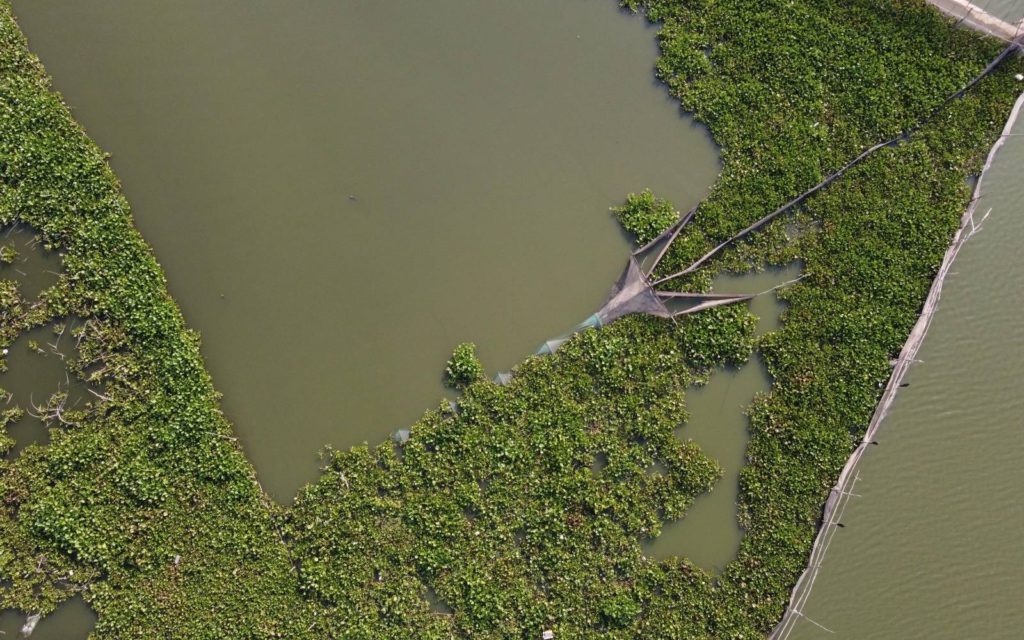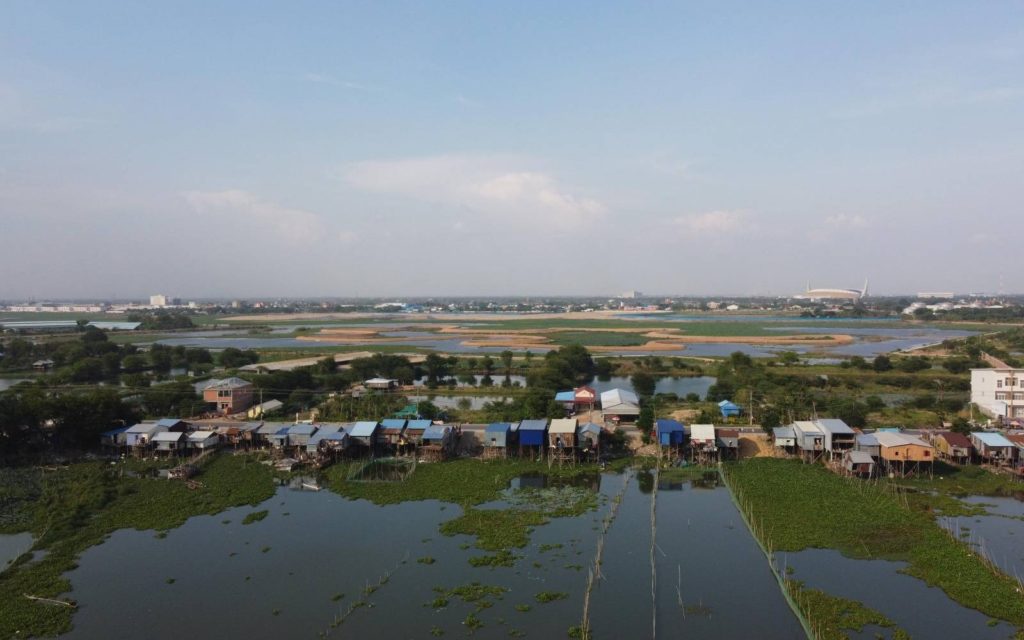 Military Presence
The new development has not seen large protests like other urban development projects in Phnom Penh, like during and after the filling of Boeng Kak lake, but there have been cases of residents living near Tamok who have claimed their land was confiscated.
In early March, 100 people representing 88 families protested outside the commune hall claiming they had lost land to a private company in 2021, but the protestors did not know the name of the firm. A commune chief at the time said the land given to the company was state land.
When reporters visited the lake in March there were no protests at the stilted homes tethered to Street 130 on Boeng Tamok's northern side. But Kong Toen, 57, said they are ready to protest at any time authorities come to evict them or threaten eviction.
"My question is, why can the oknha have land titles when we don't have titles?" she asked, saying she had lived on the land since 1990, as had the other 190 households in her community.
One small protest act they perform is renovation: Her neighbor Yon Kimleun, 32, said she was installing a new roof of her drink shop and home, even though authorities have allegedly warned them not to build onto their existing houses.
"They put markers on the houses when they realized we won't leave," said Kimleun, referring to the numbers spray-painted on their houses.
Toen responded, "We dared to die on the land many years ago."
When local officials offered Om Pov, another resident in the area, a 4.2 by 18 meters piece of land in a different location, he knew immediately it would not work for him.
Pov lives along the road bordering Boeng Tamok to the north, in a stilted home where his family has stayed since 1997. Pov has a large extended family, living with his children and grandchildren. As he speaks to reporters, five children and a young woman feeding her baby sit beside him on an outstretched folding beach chair.
Pov used to fish but now mostly makes and sells fertilizer, especially for trees. He says they were a fishing family, and still caught fish to eat, but the fertilizer business was more lucrative, earning $10 a bag.
From the back of his elongated house, or the land under its stilts, Pov says he watches construction workers lay pipes that later blast sand into the lake. With every passing day, the reclamation gets closer.
"Before, it seemed they did it in a discreet way," he says. "They would fill at night, but now they do it all the time."
Thousands of families rely on Boeng Tamok, Pov says, and they've already been struggling to catch fish, and harvest water lilies and other floating vegetables.
"It affected the families' finances very heavily," he said. "People live on the street and have no buildings, they're stuck. We can afford to buy a [tuk tuk] or trailer or something, but what about the ones that can't? It'll be lonely, isolated [for them]."
Back at Tamork City Land's showroom, not far from Pov's house, a salesman pitched the location as an economic opportunity. He talked up the location of shophouses along the road, noting that there will be a number of government offices based there and people driving to and from work would pass these shophouses.
Proposed government buildings in the area would also ensure the roads would be good quality and electricity and sewage would be well-maintained, a salesman pitched reporters.
A whole block of shophouses on the southwest corner of the property and facing Kob Srov Road, priced between $300,000 and $571,000, were sold when reporters visited the shoproom in late March.The new Calmette Hospital is expected to be directly next to the borey, and close to new Defense Ministry and RCAF properties.
Pov says he was a soldier who fought Khmer Rouge insurgencies. His home will soon be surrounded by military police bases and Defense Ministry properties, but he now feels "cowardly" about fighting for his land out of fear of authorities, he tells VOD.
"I have seen a lot of people [lose land]," he says. "Even if they're CPP members they still take land. If you protest, they will take your land."
"We put ourselves at risk so that we can try to change this," he says. "If not, we will be kicked out of this life."