Sum Chantha knew there was interest in her land in early April, just before the capital went into lockdown, as workers began to station generators and excavators on the adjacent road, machines looming over her 10-by-130-meter patch of water lilies and vegetables.
The area seemed quiet for a few months during the worst of the outbreak, Chantha, 64, said. Then her 88-year-old mother died on June 20. Their doctor said she died of Covid-19 and the seven members of her family quarantined in her home and coffee stand in Boeng Tompun I commune. When she was finally allowed to go outside 17 days later, she returned to her land, about five minutes away by motorbike, to see excavators digging it up.
"I've been trying to protest," she said. "If you want to develop, do it, but you have to find a solution for us first."
Her claims to the land date back to 1981 but it was made official in 1991, she said, pulling out a "soft" land title signed by Meachey district authorities tucked behind the glass window of her coffee stand. However, Chantha and more than 30 other families say such long-held soft land titles — issued by local, not national authorities — are not being recognized, as the government digs a reservoir on their land.
Excavators have started digging a waste-water treatment reservoir off a wastewater canal in Boeng Tompun I commune. A February 2018 sub-decree details the project as an exchange that gives 35 hectares of land on the main Boeng Tompun lake to Phnom Penh Precast Plants if the company builds the reservoir on the disputed site.
The city keeps the 12.9-hectare reservoir while Phnom Penh Precast Plants can build commercial and residential developments on Boeng Tompun. The company is chaired by Choeung Thean Seng, the son of Boeng Kak tycoon Choeung Sopheap.
Chantha said her children were spread out from her home now but she wanted to reserve the land for them, or receive enough compensation to be able to buy them a new piece of land.
"This land is what Samdech Hun Sen gave to me," she said, referring to the prime minister. "I did not dare to sell or distribute it. This is a gift from him and I intended to give it to my children."
Um Saroeun, 65, said he had started seeing machines around his L-shaped piece of land in Boeng Tompun I commune on January 14 this year, and around that time residents started organizing to protest.
Kim Chiva, another Boeng Tompun I landholder, said he and two other people, representing 38 families with land in the area, had submitted letters in January to Phnom Penh City Hall and the Land Ministry, as well as holding occasional protests.
Their latest protest in June included about six or seven people — purposefully small to be mindful of Covid-19 precautions — but Chiva said they were met by 200 or 300 police and military police officers and city officials, some of whom could be seen in Chiva's photographs. Chiva's wife showed a video of a City Hall official saying there would be no solution for their dispute because it was state land. Three journalists covering the protest were detained by police. [Sidebar: Three Journalists Detained for Covering Boeng Tompun Land Dispute]
"They accuse us of encroaching on the state's lake and obstructing public authority, then they ask us why we want to obstruct authorities," Chiva said. "We didn't obstruct them, they obstructed us from going to our land."
The land claimants showed reporters a document sent to them by Chhe: a letter from Phnom Penh City Hall to the Land Ministry, saying the municipality had already told the 38 protesting families that they have no claim to the land, as it was already set aside for a reservoir in the 2018 sub-decree.
The sub-decree says Phnom Penh Precast Plants is responsible for compensating "illegal" residents at $20-60 per square meter, but it is unclear if this applies to the protesting families.
Phnom Penh governor Kuong Sreng declined to comment. But Sansam Kosal II village chief Yan Sophal said the residents indeed have land certificates, but any compensation would be up to the district. Meanchey district deputy governor Dy Roth Khemrun could not be reached. Phnom Penh Precast Plants could not be reached on phone numbers listed with the Commerce Ministry.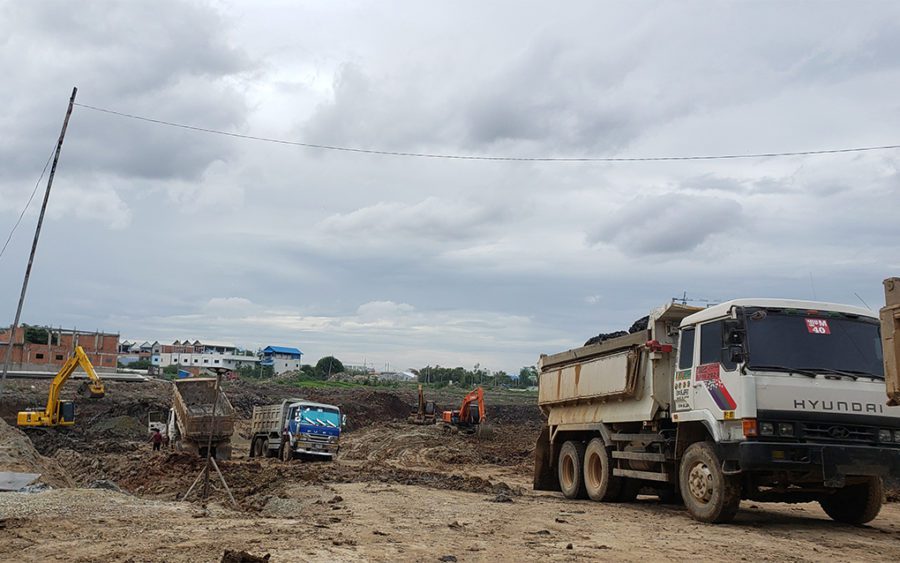 When reporters visit the site, excavators are moving in while dump trucks piled high with dirt and mud pull out. The land, which residents said used to be covered with water lilies, all kinds of cabbages and other leafy greens, is now more than a meter deep trench of thick, dark mud flanked by piles of dirt and debris.
Behind a construction site, district security guards told reporters to delete their photos. They said taking photos in the area was banned, and followed reporters around the site. Nearby, children chased each other across massive concrete drainage ditches.
A separate group of about 15 families, mostly working as recyclable collectors, still live in metal shack houses in the midst of the construction site, renting from the families who claim the land. One man said that some 10 families had been told to leave, but the rest were allowed to stay.
Another woman cradling a toddler said the construction had gotten in the way of their collection. They used to be able to go out and collect boxes and cans daily, enough to earn about 100,000 riel ($25). But there are fewer collectors now, so they can only amass enough recyclables together to go out and sell every three or four days, she said.
Flooding is also a problem near the canal, she added, and there would need to be a reservoir to stop the flooding on this land, she said.
"For every rain, it floods," she said, holding her hand up just below the lid of one of the typical orange drink coolers — maybe half a meter high. "After two or three days of pumping it decreases. Everything is floating, and we have to stop collecting."
Before she found her land being turned into a pit as she came out of Covid-19 quarantine, Chantha's crops had been damaged because a sewage pump on the canal had stopped pumping, she said. The water where water lilies could grow turned black and smelly, while the vegetables rotted in the sewage.
If developers were to fill more land, she suspects flooding problems would continue. On the other hand, she would not be opposed to the idea of digging a reservoir, but she said she was suffering without any fair compensation. Authorities in Boeng Tompun I had also warned her that they would need to cut into the house and coffee shop where she stays for a road expansion project, but they've told her nothing about that plan or timeline.
"Why do the rich and powerful people demand small things from us," she asked. "This is all we have, why demand this small thing from us? … I still don't understand."
Correction: An earlier version of this article, and previous media reporting, said Choeung Theang Seng was Choeung Sopheap's brother. However, according to NGO Global Witness, Theang Seng is Sopheap's son.