A Japanese-owned microfinance firm, the owner of a defunct lottery, Cambodia's biggest casino owner and a train-themed mall all share one common attribute: Their owners have their names on offshore companies.
VOD identified nine offshore companies connected to Cambodian nationals or Cambodia-based business owners in the sweeping leak of offshore company files known as the Pandora Papers. A deeper look at the business history hints at further connections to powerful individuals for some of the companies included, while others are little-known.
The Pandora Papers are a major leak of documents detailing the use of offshore companies to create holding companies, expand business internationally, and, in some cases, obscure money, financial transactions and other information from the jurisdictions in which a business or individual is based.
The Pandora Papers expose the offshore deals of Russian President Vladimir Putin's "unofficial minister of propaganda" and Russian billionaires, as well as transactions by the King of Jordan and former British Prime Minister Tony Blair, among other global powerbrokers. The documents revealed no immediate evidence that the companies and businesspeople connected to Cambodia were breaking the law with offshore firms, based on VOD's analysis.
A Naturalized Citizen
Tran Toha is listed only once in the files, as a Cambodian national and a shareholder for the British Virgin Islands-registered company Prego Enterprises, along with four other Hong Kong-based business owners.
The documents reveal little about Toha or Prego Enterprises, only listing the company as a client of Commence Overseas Limited, one of the agents that manage companies and paperwork for offshores registered in the British Virgin Islands. But Toha has his own history in Cambodia's private sector.
Toha, a Vietnamese American who was granted Cambodian citizenship in 2008, is past or present director of at least nine companies in Cambodia.
One of his most notorious was Cambo Six, once Cambodia's sole licensed sports betting organization. It was closed in 2008 when Prime Minister Hun Sen banned bookmaking. The government said it wouldn't compensate Cambo Six for the loss, and punters went unpaid, according to a Phnom Penh Post report at the time.
A head office manager at the time told the Post that she was concerned about informing international investors — which included the Macau casino and hotel operator Golden Resorts, which bought a 49 percent stake in the firm for about $18.8 million in 2007.
Toha still maintains three active companies — Golden Era Real Estate, Golden Properties and Golden International Investment, according to the Commerce Ministry's business registry. His associate in those three companies is Chu Yuet Wah: Hong Kong's wealthiest woman in 2017, owning the city's priciest office tower, the South China Morning Post has reported.
Lee Wai Man, one of the former directors of Toha's company Golden Investment International, is also a director of the offshore company Prego Enterprises.
Toha was also a previous chair of Plantation Hotel in central Phnom Penh, according to archived business registry data, and two of his frequent co-directors — Tran Hue Lien and Chau Dinhnhi — are still owners of the resort. Tran Hue Lien has a number of her own businesses, including Cambodian Derivatives Exchange and Golden Era Jewellery, which she directs with property and jewelry entrepreneur Chhay Leakhena.
Ties to Past Papers
One of the Cambodian residents named in the Pandora Papers told VOD that registering in the British Virgin Islands was the easiest and cheapest way to organize their companies while expanding their consultancy firm globally.
G.A.S. Group was registered in the British Virgin Islands in 2017 under three directors who reside in Phnom Penh — Bernard Scott Bolls, Rami Bashir Asa'd Sharaf and Basheer Rami Basheer Sharf, according to the papers. The offshore company was created as a secure business location and a place to keep records confidential, according to a client profile document from G.A.S. Group's offshore company manager Fidelity.
Sharf, who is listed as chair of the Cambodian-registered subsidiary, G.A.S.G. (Cambodia), told VOD that the directors started offshore-holding companies to organize their subsidiaries in other countries, including Cambodia, Thailand, Jordan and the UAE, among others.
"For us it was just a matter of consolidating the entities into one that's easy to deal with," he said.
He added that they considered starting the holding company in Singapore but it proved too expensive: "A lot of jurisdictions prefer that we have a physical presence there, nominee director. … We wanted to have an entity and we didn't want to have one that's too expensive."
Sharf called the Cambodian-registered subsidiary one of the most tax compliant, saying that domestic tax declaration firms and the Commerce Ministry's "one window service offices" make it easy to manage the tax and other registration requirements. Sharf explained that his father, Sharaf, was initially a shareholder to help set up the company but resigned after, which is reflected in the documents.
Bolls and Sharaf — who have another company called FCM Technologies also registered in the British Virgin Islands in 2017 — are co-owners of a Cambodian business with Lim Bunsour, a tycoon who was named in the Panama Papers in 2016, a previous tranche of leaked corporate documents.
Bunsour shares a company with the two foreign nationals called Equipnet Southeast Asia, an asset management company that specializes in liquidations consulting, according to the LinkedIn profile of the company's country director and Christian pastor Jesse McCaul.
Bolls also has another company, Train Square, which is developing a mall in Phnom Penh's railway station. McCaul is also involved in this company, which is among other businesses promoting a marketplace for NFTs — or non-fungible tokens, a blockchain-backed form of digital art known for exorbitant prices and ghastly carbon emissions.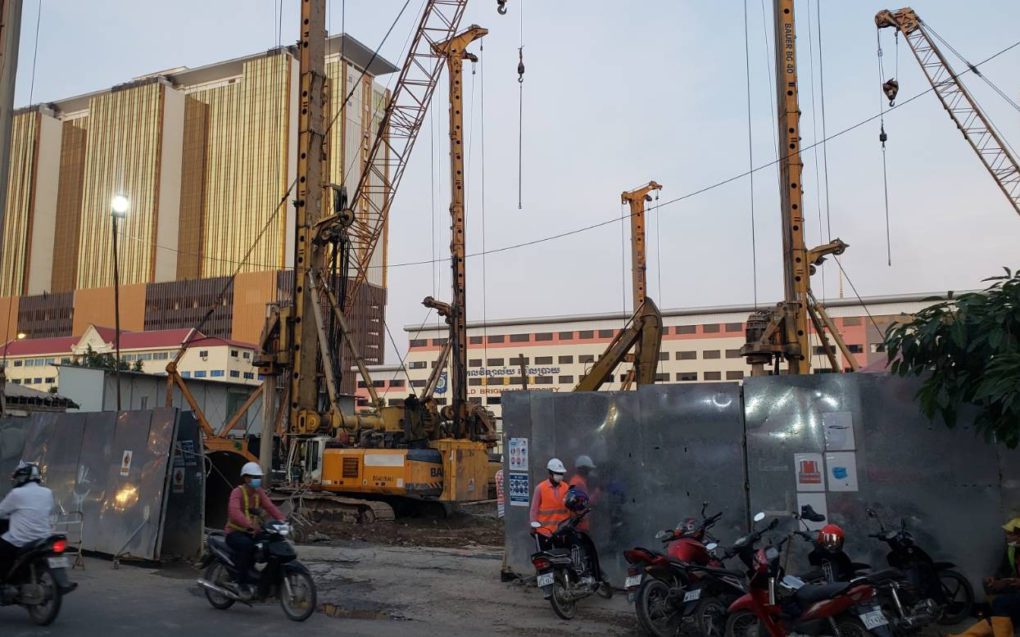 Foreign Interests
Takahashi Akihiro, a Japanese businessman who acquired Atom Capital Microfinance Institution in 2016, also holds a business registered in Seychelles with Cambodian national Vichka Moeurn, according to the leaked documents.
The Foreign Correspondents Club hotels in Siem Reap and Phnom Penh also appeared in the documents, as the company owners set up an offshore company to receive $3.5 million in funding from international development organizations.
Not to be confused with Cambodia's existing foreign journalists' association, the Foreign Correspondents Club hotels are privately owned and operated in historic buildings in the capital, named for the corner shophouse on Phnom Penh's riverside that used to be a foreign journalists' clubhouse before and after the Khmer Rouge regime. The company, run by foreign nationals, was struggling up through the early 2010s, according to disclosures to its offshore business manager, but later received funding backed by the International Finance Corporation in order to buy historic properties and renovate them, as the company is doing now. An owner of FCC, Kevin Whitcraft, told ICIJ that the companies behind FCC comply with all tax and business requirements in all countries they have business, including Singapore, Cambodian and the British Virgin Islands, and the IFC responded that the fund is supervised by Singapore's monetary authority.
NagaCorp CEO and founder Chen Lip Keong, a Malaysian billionaire who recently acquired Cambodian citizenship, also established offshore companies in the British Virgin Islands as stakeholders for his Hong Kong-listed company, in addition to setting up a company to explore oil in Cambodia's offshore block B.
Another businessman, Wathana Cheng, is listed as the director of a British Virgin Islands company called Tangent International Holdings and a Cambodian passport holder with an address in Phnom Penh, but VOD could not connect him to any business in Cambodia.
Haakon Moerk, a Norwegian citizen who listed his address in Sihanoukville, also registered a company in Seychelles for the purposes of software development and selling wine and electronics.
Two other French nationals who list their addresses in Phnom Penh — Lionel Frederic Cadiot and Laurent Kim Ky Nguyen — were found to direct InBioTech, a cleaning solution import business also in Seychelles, but they could not be connected to Cambodian businesses.
Tran Toha's contact information could not be found in the Commerce Ministry's business registry, so VOD sent messages to his company's general email contact and called Plantation Hotel but received no reply. Attempts to reach Atom Capital MFI and Vichka Moeurn by email also went unanswered. NagaCorp did not respond to requests for comment. VOD also sent messages to a LinkedIn account with the name Wathana Cheng, but messages were not immediately answered and it was unclear if this account-holder was the same person as the owner of the British Virgin Islands-registered company. Contacts for Lionel Frederic Cadiot and Laurent Kim Ky Nguyen could not be identified.