Drivers for Onion Mobility's first line of fully electric tuk-tuks are reporting frustrations after their first months on the road, but others are still optimistic about Cambodia's green future as the company pledges to improve its initial product.
Tens of millions of dollars were invested from Singapore and South Korea to open up the first Onion factory in Kandal Province five months ago, which was hailed by many as the next step in Tada's "Fair and Fast" philosophy. Tada is a ride hailing application and the parent company of Onion Mobility.
Founded in 2018, the Singaporean and South Korean ride hailing app drew attention by declaring that unlike similar transportation apps, it would not charge drivers commission on their fares, which is a primary source of profit for their competitors. Grab, for example, keeps about 20% of the cost of each ride. Rather, Tada says it profits through a complex cryptocurrency scheme.
It released its first model of fully electric tuk-tuks, the Onion T1, in Cambodia this year, and hundreds of the EVs, named after their distinctive plastic exterior, have been sold since for a $4,000-$5,000 price tag. Many drivers opted to purchase the vehicle through monthly installments over the course of three to five years, with no down payment necessary.
But now that they have been driving in Phnom Penh for several months, some said that they feel stuck with a problematic vehicle, from mechanical breakdowns to fast-draining batteries.
Tha Thin said the suspension on his vehicle was so bouncy on Phnom Penh's potholes that he developed lower back pain. Several drivers reported using their own money to install an improved suspension through a third party. Thin also reported that he figured he paid more per kilometer than he did with his old Bajaj tuk-tuk.
"We have to use it reluctantly, in spite of all these problems, because where can we find the money to pay the $90 each month?" said another driver, Sokha, who has been driving an Onion for around five months. "I have to pay the loan. It just keeps breaking down, and constantly going to the mechanic. It wastes my time to earn a living." He added that he was already two days late for this month's payment. Like most of the drivers who spoke about problems with their vehicles, he declined to give his full name out of fear he could face problems with the company for speaking freely.
Dissatisfied drivers have struggled to get rid of their tuk-tuks, even for a fraction of the price. "Selling back at $2,200, nobody's buying at all" complained one driver on Facebook. On social media, some drivers are trying to pawn their vehicles for as low as $800. Drivers have said that they have to pay the company around $1,000 to return the vehicle and get out of the monthly payments, and this is a sum they don't have.
While problems vary from driver to driver, all drivers interviewed agreed that the system for recharging is one of their main issues. The Onion T1 comes with a battery pack that the company says lasts for about 100 km of driving, though many drivers say in practice it is significantly less than that. When the battery pack is depleted, it must be swapped out for a fresh one at an Onion station for around $3, although drivers can get a discount if they pay through the company's blockchain wallet. The Onion tuk-tuks do not come with a charger, and as such drivers cannot top up their batteries anywhere else.
"I can drive myself home, but I can't get back," said Sokleap, a driver who lives just outside Phnom Penh city limits. He explained that he has to leave his tuk-tuk at his brother's house in Phnom Penh before taking a separate vehicle to his residence outside the city.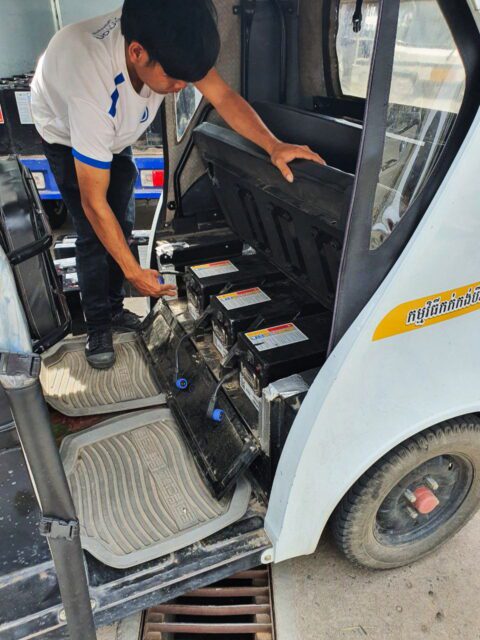 He also took issue with the company advertising their tuk-tuks as being virtually water-proof, capable of being submerged for up to two hours: He once had to ask a customer to help him push his vehicle out of the water and wait for it to dry out after a 30-minute deluge. The next day, the vehicle stopped functioning entirely. He said Onion Mobility had fixed it for free and even provided an alternate tuk-tuk to use while he waited for repairs, but he still missed out on a lot of time working.
The vehicle was also marketed by the company as saving drivers money compared to buying petrol, Sokleap said, but in effect he pays "about the same" to swap out batteries.
Despite issues, many drivers have faith in the company's vision. "I want to use it because it is a new way of doing things. It helps the environment. We've been destroying the environment for so long already," said Sim Bunthy, who was among the first drivers to receive an Onion.
He defended the company's green plan and chastised the short sightedness of other drivers, saying that while there have been problems with the vehicles, they are covered by a two-year warranty and Onion Mobility has been prompt in swapping out faulty parts, or providing upgrades.
Some drivers on social media also seemed to still be interested in signing up for an Onion, with many comments asking when it would be available in their cities, particularly in Takhmao. Most drivers also agreed that the automatic gear transmission was more convenient in Phnom Penh traffic.
Kay Woo, the company's founder, said that some of the concerns from drivers were due to a lack of familiarity with electric vehicles. He explained that many tuk-tuk drivers more familiar with petrol vehicles were not used to filling up their tanks all the way. When swapping out the battery, he said, they are doing a full refill each time, and as such feel like they are paying more than they are.
Woo added that allowing drivers to charge their batteries at home could be a fire hazard. He said the batteries are not the property of the drivers, but rather company assets — if the batteries were to be sold with the vehicles, most drivers would be unable to afford it.
As such, "battery as a service" was the best model for Southeast Asian countries like Cambodia, and the company has no plans to allow drivers to recharge their own batteries, he said, adding that prices were calculated to be "reasonably cheaper" than petrol alternatives.
In the future there could be different systems, such as paying monthly for unlimited swaps, or allowing drivers to purchase modified batteries separately that could be charged at home but not at an Onion station. In the meantime, Onion Mobility is working with TotalEnergies and PTT to add battery swap functionality to their petrol stations.
He also defended the company's assessment of the range drivers can expect from each battery swap. He said that the range was tested on paved roads with a driver and a passenger. However, he acknowledged that the 100-120 km range estimate can vary in different conditions, and pointed out that this is no different from a traditional tuk-tuk, which also will give a different range per liter depending on road condition, incline, and weight. He mentioned that many drivers modify their own vehicles, such as with the custom suspensions, which can add to the weight.
"It's very natural to have complaints, I understand that," said Woo. "This is our first vehicle: We are a software company … of course there could be a problem."
He said data collected from the drivers' feedback has been used to design a modified vehicle, which will be known as the T1S and released in the first quarter of next year, to be later followed by the T2. T1 drivers who want the improved models will have to purchase it separately, however.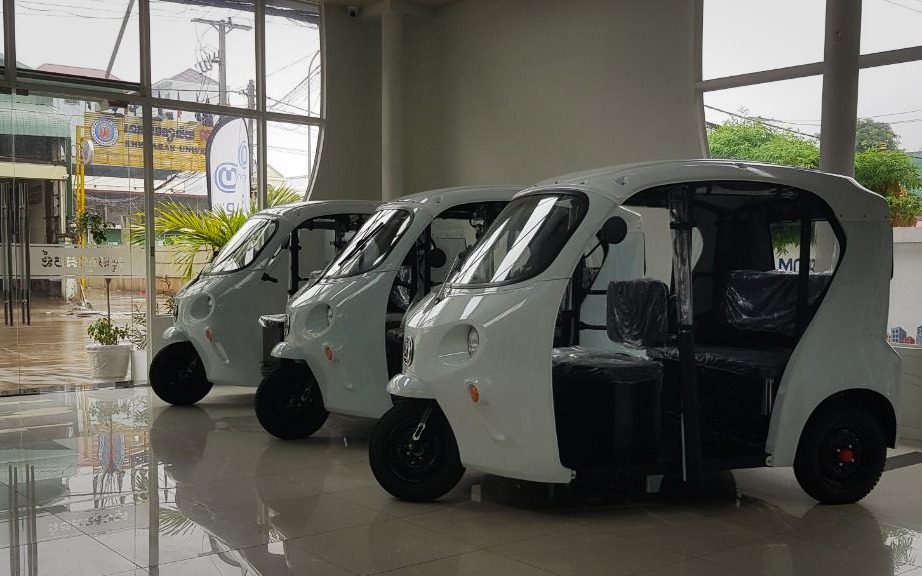 Sokha, the driver who complained of constant breakdowns, said when told of this plan that he felt he had gotten a raw deal. "It's a test prototype but it costs $5,000, and we can't even return it," he said about his T1.
"It's not a test vehicle," Woo in turn responded when told of this characterization. "It's the best vehicle that we could build. … There could be some defects or problems that we could not address at the beginning stage, but if we find a problem, how fast we can actually address it and we can change it and support it, that's the most important thing."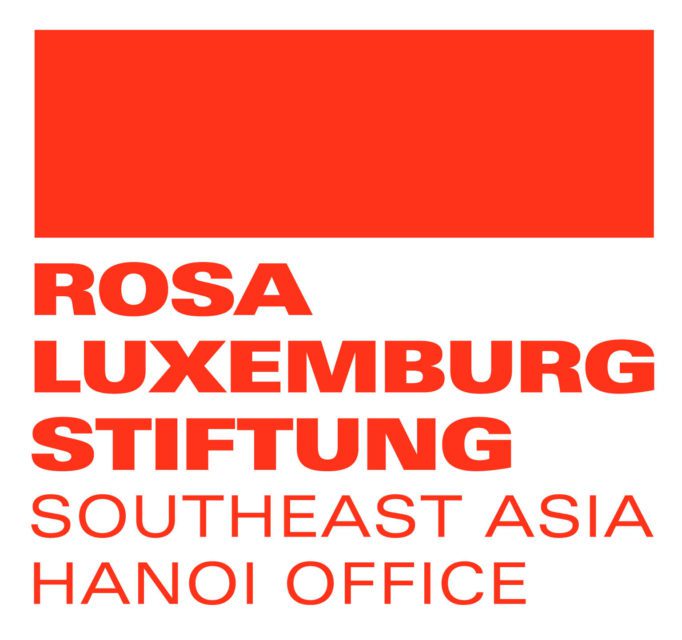 This article is produced with the financial support from Rosa-Luxemburg-Stiftung in Southeast Asia via its Hanoi office.