Cambodian activists and opposition politicians made a last-ditch effort to catch the attention of U.S. President Joe Biden before he arrived at the Asean Summit, hopeful that the U.S.'s self-image as a protector of democracy could help elevate their plight.
On Saturday morning, Biden and his entourage are expected to arrive in Phnom Penh, marking the second time ever an American president would set foot in Cambodia since Barack Obama's 2012 visit. He is scheduled to meet Prime Minister Hun Sen before sitting down with Chinese leader Xi Jinping on Monday in Indonesia.
All week, local strikers from the NagaWorld casino labor dispute have focused their protests around the summit, while prominent Cambodian-American activist Seng Chan Theary's lawyers, along with two opposition political parties, have made more direct pleas to Biden via letters, emails and op-eds.
"The U.S. is known for protecting and promoting democracy principles, and we really are hopeful that the U.S. president during his visit will try to stand up and take a stand for all democratic forces in Cambodia that are fighting to defend human rights and freedom," said Seng Mardi, Chan Theary's brother, who is also the treasurer for the opposition Candlelight Party. "We really urge the U.S. to take a stance on that topic."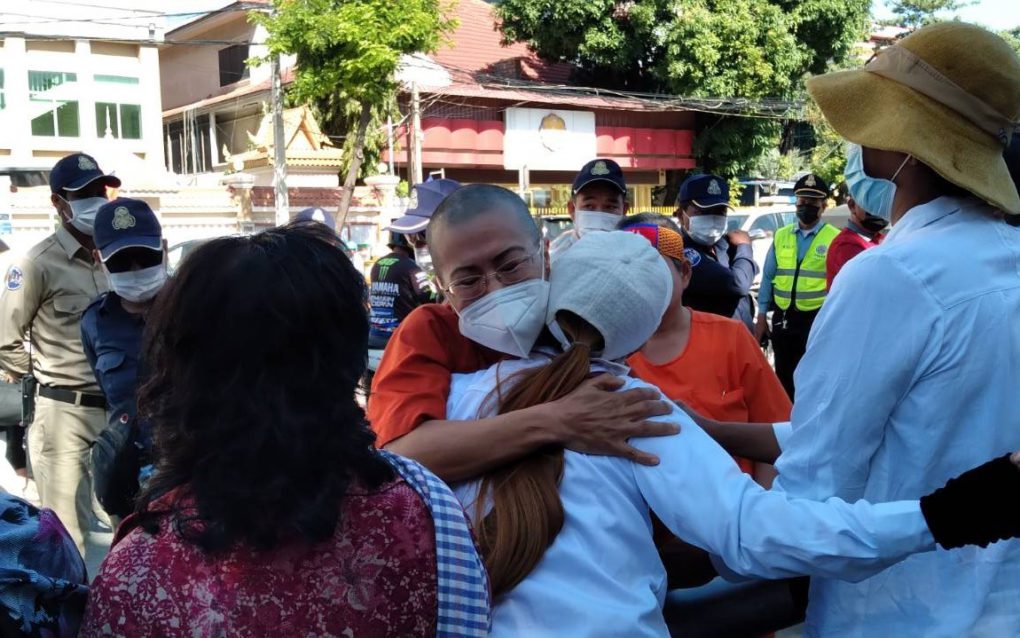 Chan Theary was convicted in June for treason and is serving a six-year jail sentence in Preah Vihear Provincial Prison. Her case was part of mass opposition trials largely viewed as an attempt to crack down on dissent against Hun Sen's 37-year rule.
Her American legal team appears to be using every tool in their arsenal this week to highlight her case, writing a Washington Post op-ed calling for her release and filing a new petition Thursday to the U.N.'s Working Group on Arbitrary Detention. Chan Theary herself is reportedly doing a hunger strike from Preah Vihear Prison while members of the pro-democracy activist group Khmer Thavrak join her from Freedom Park.
American Senator Patrick Leahy, one of the most vocal American politicians around democracy and human rights in Cambodia, wrote in a tweet this week that "Biden should seek her release when he travels to Phenom (sic) Penh later this month." The White House has not addressed the issue publicly or privately, according to Mardi.
Activists and politicians without a direct American connection are likewise looking for "interventions," though they have not explained what exactly that could entail. In a letter sent to the White House Wednesday, Candlelight Party president Teav Vannol — addressing Biden twice as "Mr. President!" — asked him to "urge the ruling party" to stop its ongoing crackdown and intimidation against political challengers.
Candlelight Party candidates alleged various forms of violence and intimidation leading up to the June commune elections, including the arrest of members on what they called bogus charges and the assault of a Phnom Penh official by six people on motorcycles. More recently, the prime minister has alluded to dissolving the party altogether as his anti-opposition rhetoric reached a fever pitch.
"This is an opportunity, with President Joe Biden coming to Cambodia," said Candlelight Party president Teav Vannol. "So we'll take this opportunity to ask him to talk with the Cambodian side, to open the space of the democracy to be more broad according to the Paris Peace Accord — of which the U.S. is one of the signatories."
Vannol said he hoped that the Candlelight Party's letter would be heard by Joe Biden or at least the secretary of state because "generally democratic countries will never throw out our letter in the dustbin."
On Friday, the smaller Cambodia Reform Party issued its own statement signed by vice president Ou Chanrath, noting that the country's elections have not been recognized as free or fair by the international community since 1993 and that "fundamental freedoms of Cambodians have been systematically violated" since then. The party plans to email the letter to the U.S. Embassy and all Asean embassies.
"If we don't do anything, it seems like we are satisfied with what [the government] is doing," Chanrath told VOD. "At least, we expressed and informed them that the issue still exists."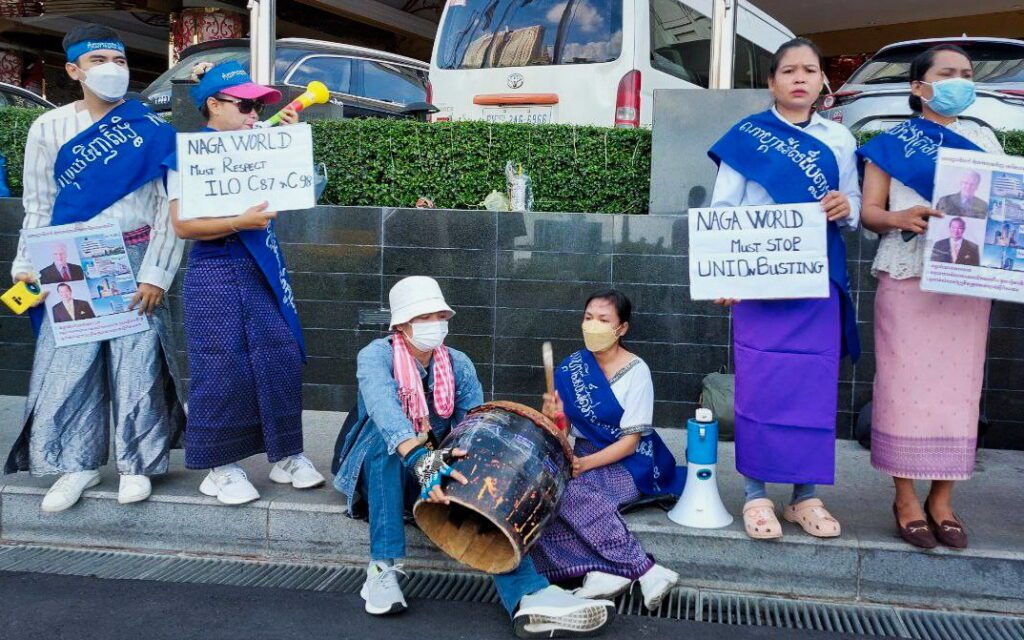 Other groups have continued to wage protests despite local warnings to stop. About 45 NagaWorld casino workers, mostly women, walked from Sothearos Blvd. to the casino compound at around 2 p.m. Friday, wearing traditional clothes to welcome world leaders and carrying signs with messages such as "stop violence against women strikers."
Protesters said their traditional outfits were meant to emphasize that they want the yearlong labor dispute to be addressed at the summit: "We want to show them, even at the Asean meeting, we still come despite other threats from the authorities," said 30-year-old Pich Samnang. "We are not scared."
"Most countries outside Cambodia are powerful countries and respect human rights," added protester Mam Sovathin. "I hope after the Asean meeting they can find a solution for us. This is not about money, but this is about freedom and the right to have a union."
Phil Robertson, deputy director of Human Rights Watch's Asia division, said that the American president's delegation "should make time to get out of the diplomatic bubble and meet with rights and democracy activists who can tell them what is really happening in Hun Sen's Cambodia," including Naga workers given Biden's history of supporting labor unions domestically.
Ruling party spokesman Sok Eysan said this week that despite the criticisms about human rights and democracy that are being relitigated alongside the summit, the arrival of the world leaders was itself proof that Cambodia was not like the critics claimed.
"If democracy in Cambodia is falling down, and there are serious violations of human rights like they have accused us of, I think the powerful countries would not come to participate in the summit at this time," Eysan said.
Other Phnom Penh activists said that they, too, wanted to make a splash this week but weren't sure how. Prak Sophea, a representative for the roughly 250 families left on fast-disappearing Boeng Tamok lake on the city's northern outskirts, said she believed the summit was a good way to get attention but that it's hard for residents to travel the 20 km to and from the city center in part because police are regularly patrolling the community.
Holding banners near the Asean Summit would not be safe, Sophea added, because her community is always monitored whenever they come to submit petitions at the city. As recently as November 3, residents submitted a petition to the U.S. embassy.
"We don't want to have any clash with the authorities," she said.
Additional reporting by Morm Moniroth