In rural Svay Rieng Province, a few kilometers from the Vietnam border, Kat Chang, 50, solemnly tours her family's farmland, recounting the events leading up to her husband's death.
In May 2019, Chang's spouse Toun Sarith, 48, had moved to their farmhouse away from town. Rice planting season was a busy time for the couple, who supported themselves and their children with their annual harvest. Sarith was perplexed by a dog that had started sleeping near the farmhouse — family and neighbors who were feeding it were also unsure where the dog had come from.
Early one morning as he began planting, Sarith heard screaming, and saw the dog attacking a young girl near their field. Sarith rushed to help, deciding the family could not risk keeping this dangerous dog. As he intervened, it clamped its jaws around his arm, biting him deeply. The girl escaped with a few scratches, was rushed to get medical treatment and survived. After he and Chang euthanised the dog, Sarith was prescribed a treatment made of dog hair by a traditional local healer, and continued to work despite his injuries.
They said he could not be treated because he had reached the final stage.
A few weeks later, Sarith fell ill, according to Chang. "After 18 or 19 days, he was suffering from fever and runny nose," she explains. "His arm was very hot, and his skin went black" — signs of an infection. His condition rapidly worsened. "He kept saying 'I am very weird'; he could not eat, he could not drink; he just sat watching the water. He was afraid of the wind, afraid of the light," Chang says.
After a doctor at the Svay Rieng Provincial Health Department told them it was already too late to save his life, Chang rushed her husband to Pasteur Institute in Phnom Penh, arriving in the capital at 5 a.m. after traveling through the night.
Pasteur, an infectious diseases laboratory and research center, would not open for another few hours, so they were sent to Calmette Hospital, which had the same bad news. Thoroughly washing a bite followed by post-exposure prophylaxis (PEP) vaccinations within a crucial few hours is effective in preventing rabies, but once symptoms start, the disease is always fatal.
"They said he could not be treated because he had reached the final stage. He was afraid of the cold — he sat outside because he was afraid of air conditioning."
Devastated, Chang took her husband home. "His sweat flowed like water, and he was shouting for water but could not drink. Hand cramps, leg cramps, seizures…He didn't have any last words. He was confused like a crazy person. He was tortured, he was tortured for two days, and then he died."
Rabies is the only disease I know for which — if infection does occur and once it is clinically declared — modern medicine has been of absolutely no assistance whatsoever.
The extreme cruelty of rabies is unique. Caused by several related viruses of the genus Lyssavirus ("rage/fury virus"), rabies is typically contracted via the saliva of an infected mammal (usually a dog, bat, monkey, cat or pig) entering a scratch or bite. Without lifesaving PEP vaccinations, the virus rapidly infects the central nervous system, before gradually moving towards the brain over days, months or even years — symptomless and undetectable. Once at its destination, symptoms erupt, inflicting unimaginable terror. As encephalitis — inflammation of the brain — takes hold, victims become aggressive and delirious, convulse and hallucinate — until mercifully falling into a coma and dying. Most notoriously, victims are gripped by a terrible fear of water, as the throat and larynx spasm violently at every attempt to drink.
"Rabies is the only disease I know for which — if infection does occur and once it is clinically declared — modern medicine has been of absolutely no assistance whatsoever," says Dr. Arnaud Tarantola, an epidemiologist at the Pasteur Institute, who headed Pasteur's rabies prevention program in Cambodia from 2011 to 2016. "With the exception of a handful of survivors, I do not know of any other disease against which modern doctors, even in industrialised countries, are as helpless as their counterparts 5,000 years ago in Mesopotamia," Tarantola adds. Although 95 percent of human deaths from rabies occur in Asia and Africa, rabies and similar lyssaviruses circulate in mammal populations on all continents except Antarctica.
Modelling by Pasteur from a 2009 study estimated around 800 people die of rabies in Cambodia each year, indicating one of the highest death tolls by population globally. A 2015 global study estimated a lower 446 annual deaths, but still ranked Cambodia fourth in Asia for rabies deaths per capita after Myanmar, Afghanistan and Nepal. Neighboring Vietnam reported 110 deaths in 2011, and Thailand and Laos report only single digits annually — although modelling suggests rabies fatalities across the region are underreported.
Like Sarith, sufferers who develop symptoms generally return home to face an agonizing death — their demise not captured in centralized records. The true number of rabies deaths in Cambodia is therefore unknown.
Tarantola says that although substantial progress has been made in the last two decades, "the fact that this horrifying disease is 100 percent lethal, and prevention almost 100 percent effective thanks to a relatively affordable vaccine, makes it frustrating for all involved that it has not yet been fully controlled."
Control at the Source
To eradicate rabies, the key lies in achieving herd immunity in Cambodia's massive dog population, says Dr. Amy Lewis from international NGO Mission Rabies. "If we could, we would [vaccinate] every human — but that is putting a band-aid on the wound," Lewis says. "Rabies has a reservoir species and that reservoir species is dogs. It circulates in the dog population and when you get that spillover, that's when you see human deaths."
Cambodia has among the highest dog-to-human ratios in the world, with an average of one dog per approximately three humans — a figure consistent between research conducted by Pasteur and Mission Rabies.
Rabies has a reservoir species and that reservoir species is dogs. It circulates in the dog population and when you get that spillover, that's when you see human deaths.
In other Asian countries where Mission Rabies works, such as India and Sri Lanka, rabies among stray dogs is a key concern, but it is different in Cambodia. "Cambodia is definitely unique because you've got a very high proportion of dogs that are owned [by people] — 88 percent, based on our pilot survey," says Lewis.
Despite this, most dogs in the country are unvaccinated, and there are challenges in administering vaccines at scale, according to Martina Mayr, CEO of Phnom Penh-based Animal Rescue Cambodia (ARC). The main complication is that many dogs are "community owned." ARC staff conduct regular vaccination drives for community dogs at Buddhist pagodas. When seeking a dog's owner to desex or vaccinate the animals, people often say a dog belongs to the community, even if they feed it and it lives or sleeps in their house, Mayr says.
Dr. Tep Bengthay is the deputy director of the Cambodian government's Department of Animal Health and Veterinary Public Health. His department runs campaigns and training for the public on preventing zoonotic diseases, those transmissible from animals to humans. "In rural areas, they raise the dogs not as pets," he says. "They raise the dogs as guards. When we conduct the vaccination campaign, the owners don't care to bring them in to get the vaccine." Rabies-specific training and community outreach has been led by NGOs and other projects like Mission Rabies and ARC as his department lacks funds, according to Bengthay.
In 2019, a harrowing viral video of a wild-eyed girl from Svay Rieng with rabies, tied down to a wooden board and gnashing her teeth, sparked a health scare. Long queues formed outside the Pasteur Institute in Phnom Penh, and Bengthay says around 100,000 dog rabies vaccines were sold that year — a dramatic increase from the typical 5,000. "After they show on social media about the [effect of the] rabies disease on the human side, people are very afraid, and start to understand," he adds. "There were a lot of [dog] owners requesting the vaccine. We did not have enough vaccines to supply."
The Problem With the Dog Meat Trade
According to Mayr of ARC, "It is impossible to eradicate rabies in Cambodia while there is still a thriving dog meat trade." Although ARC's undercover investigations and research have found that sick dogs are often sold into the meat trade, consumption is not itself a major rabies transmission route. The link to rabies is epidemiological. "[Transmission] only generally happens in slaughterhouses or meat processing," Mayr says. "[The dog meat trade] means that efforts to introduce herd immunity are disrupted."
Lewis from Mission Rabies explains further. "The issue with the dog meat trade is that the population is being replaced at a higher rate than would be natural deaths and rebirths, with the human factor taking more dogs out and breeding more dogs for the meat trade," she says. This disruption rapidly lowers the critical threshold of 40 percent vaccinated dogs for herd immunity in the population.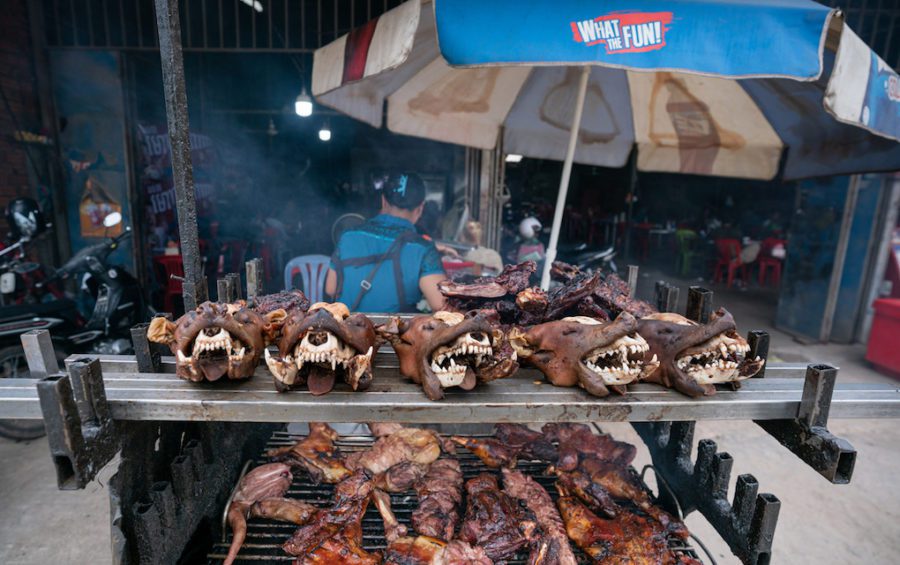 Statistical modelling by Mission Rabies indicates that Cambodia's unstable dog population means mass vaccination must be conducted more than annually, making achieving rabies eradication more practically and financially challenging.
Siem Reap Province officially banned the slaughter and trade of dogs for meat in July 2020, in part following the research and recommendations of ARC.
Four Paws International had identified the province as "a key hot spot in the country's dog meat trade, responsible for the large-scale sourcing and trafficking of dogs to supply the demand for dog meat in the Eastern part of the country," including the capital, the animal welfare organisation says in a statement.
Can Cambodia Eradicate Rabies?
Tarantola, the epidemiologist, highlights the major progress made in expanding Cambodia's human vaccination and prevention program, led by Pasteur and the Health Ministry. Human vaccination centres in Phnom Penh, Battambang and Kampong Cham provinces administer PEP to around 22,000 people every year, reducing the likelihood of human rabies deaths, he says.
However, he expressed some concerns in curbing the disease at its root. "Despite the political commitment from Cambodian authorities, I did not see much change in terms of vaccinating dogs and I fear that [ASEAN's Rabies Elimination goal] may not be attained by 2030," he says. ASEAN's target was originally set for 2020, but was pushed back by a decade in 2018.
In rural areas, they raise the dogs not as pets … [but] as guards. When we conduct the vaccination campaign, the owners don't care to bring them in to get the vaccine.
Tarantola's research has included several case studies of successful rabies prevention efforts throughout history, including in ancient Mesopotamia. A Babylonian tablet, dated 1930 BCE, dictates a law where owners must monitor their dogs — especially if rabid — and would face a hefty fine if it caused someone's death. Similar legislation on dog ownership and movements successfully curbed rabies in European countries during previous centuries. "We are not talking vaccines. We are talking controlling movement of dogs and owners taking responsibility for their dogs," Tarantola explains, adding that he believes this should be a priority. "There have to be enforced laws for owners to be responsible for their dog, especially if it bites someone."
Bengthay suggests his department's work to control zoonotic diseases is limited by finances, and raises a need for further support and collaboration. "We do not have enough support, so we are so weak. Our [aim] is to eliminate that disease [in line with] the ASEAN Strategy Plan [by 2030] but our country is limited financially." He did not specify how finances would best be prioritized when asked.
Cambodia's own rabies elimination strategy is being developed. ARC, Mission Rabies and the Cambodian government plan to vaccinate 100,000 dogs in Phnom Penh in November 2020, in an effort to achieve herd immunity in the province's dogs. Lewis hopes that this strategy can be expanded across the country. "You could then apply the learning to other provinces, and theoretically you could vaccinate all of Cambodia in about a year. Sustainability is one of the most important parts of rabies control," she says.
Although devastated by her husband's death, Kat Chang hopes that other Cambodians will learn from it. Many people from her village have since sought out preventative rabies vaccines, Chang says.
"I would like to tell all people in Cambodia they need to be careful. They must go to the hospital as soon as possible after a dog or any animal bite, before it is too late," she says. "Do not be negligent like my husband. He had regret in his last days."
Additional reporting by Long Den
This article was produced by New Naratif and VOD, who have partnered to publish long-form journalism from Cambodia that empowers our shared community with news and information.