For communities like Mae Mon's, tourism was everything. His village, Khnar Po, is some 30 km from Siem Reap city and a stone's throw from the Banteay Ampil temple. The community operates the temple by collecting entrance fees from foreign tourists, and proceeds are used to send children to school, cover medical bills and pay for other expenses.
Last year, the village of about 100 families welcomed 700 to 800 tourists keen to experience rural Cambodian life, some taking cooking classes and others spending a night in traditional stilted homes. The income from tourism reduced the need to seek farmwork in Thailand, says Mon, head of the community's tourism committee.
"Before Covid, we made around $1,200 per month from foreign tourists who came for homestays," Mon explains. "Now, we don't have tourists, so we don't have money."
The Covid-19 pandemic has closed borders, grounded flights, and decimated Cambodia's tourism industry. Compared to 2019, tourist arrivals to Cambodia in the first six months of this year were down 65 percent, and the Tourism Ministry says the decline could hit 70 percent.
"Now, I need to grow limes and dragonfruit to support my three kids," Mon, 49, says. Without the financial stability that tourism brought, spiraling debts are taking hold in Khnar Po. "If you have a salary every month it's OK, but if you depend on [crops], it's not enough to pay back," he says.
There are around 100 families in the village, out of which "only 10 don't borrow from them," he says, referring to local microfinance companies to whom villagers had signed away property as collateral. "Some families lost their land already."
Rural families who relied on tourism are hurting amid the global pandemic — as are others taking in relatives who lost their city jobs. Observers say the situation is putting the country's wildlife and forests under greater threat, with reported increases in poaching and logging coinciding with villagers' economic struggles and the weakening of ecotourism businesses' capacity to protect nature.
The rise of domestic tourism offers a glimmer of hope, but more work is needed before visits to rural ecotourism areas can offer something special for local visitors, they say.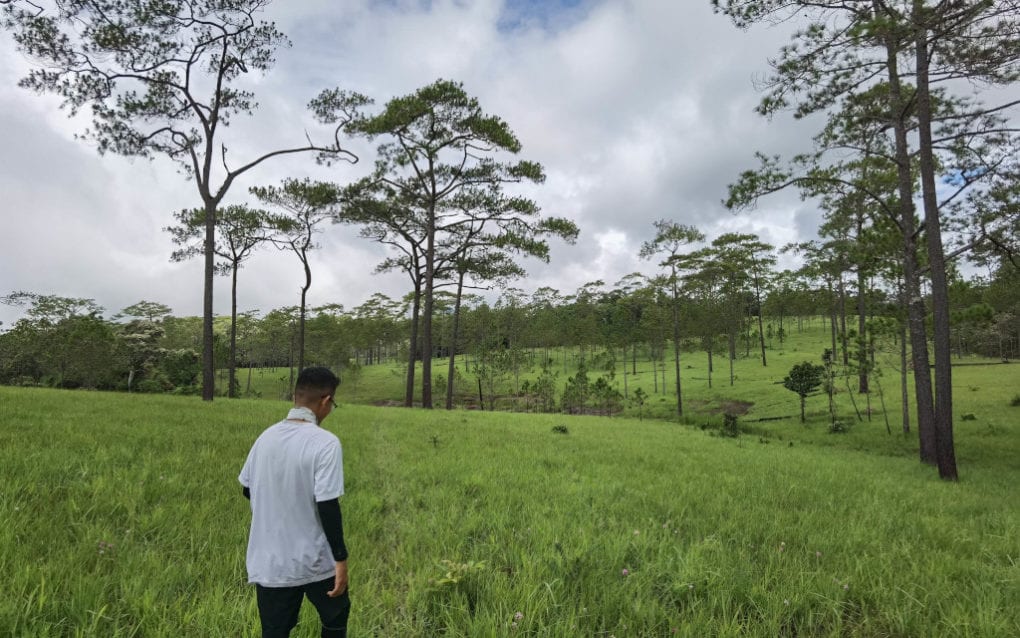 Rural Struggles
The loss of income from tourism has placed a double burden on families like Mon's.
"The biggest impact on these communities is often people are coming home from the cities who lost jobs, especially around Siem Reap," says Jitka Markova, founder of travel website Impact Explorer, which specializes in homestays and other community-based tourism. Angkor Archaeological Park, the country's top tourist attraction, saw ticket sales fall by 99 percent from April to June and 98 percent in the following quarter through September.
"[Migrants] are returning to the same communities who have already been hit by lack of tourism," Markova says, "and then have to support more members of the family."
Government support is available for affected tourism workers, but stands at just 20 percent of their former salaries, which a recent World Bank report on tourism notes is not enough. "The reality is that salaries are already so low that 20 percent will not cover household needs," the report says.
Prime Minister Hun Sen has urged ex-workers to return to their home provinces and farm their way out of the crisis. But returned migrants are among the least able to take up the plow. They face a lack of resources and employment opportunities — the same issues that prompted them to leave home in the first place — and are at risk of falling into poverty.
Debt has correspondingly been on the rise this year, with repayments late by 30 days or more jumping 65 percent in the second quarter compared to the first. The figures were worse in remote areas, increasing between 162 and 249 percent around the coast, Tonle Sap and northeastern plateau regions, compared to 38 percent in the plains around Phnom Penh.
Many communities in those rural areas are searching for other ways to earn incomes for their families — and in some cases they are eroding the gains made by Cambodia's nascent ecotourism industry, including putting critically endangered species in harm's way.
Pressure on Wildlife
Back in April, three giant ibises were found poisoned in Preah Vihear province's Chheb Wildlife Sanctuary. The deaths were hard on Mardy Sean, tour leader for local NGO Sam Veasna Conservation, which specializes in birdwatching tours that fund community-run conservation efforts at sites like Chheb.
Sean says it is likely that the incident was linked to the impacts of the pandemic. "There's a lot of local people who migrate from Thailand. They put the poison," he says. After killing the animals, poachers intend to sell the wild meat, he says.
Sean stresses it's not the first time that poisoning has occurred in the sanctuary. "It happened before [Covid-19] as well, but it's really sad that it happened to the giant ibis."
Sustainable tourism consultant Natasha Martin agrees that lack of tourist traffic played a role in the April poisonings. "Probably that wouldn't have happened if people were going on those tours as usual," she says. "Covid-19 has been a catalyst … for trends that were already happening."
Reports of suspected increases in poaching and logging under the economic hardships brought by Covid-19 have become more frequent, and the World Bank tourism report says "there is a rise in illegal incidences of wildlife poaching in Cambodian [protected areas] where tourism has declined."
"Certainly the pressure on land is increasing. Not only land pressure, but in some areas land speculation," says Werner Kornexl, program manager for forests at the World Bank in Cambodia. "It is happening for several reasons: many people have lost their jobs and are going back to their communities [and] community members are highly indebted."
For environmentalists, time is running out to protect Cambodia's forests and wildlife. Sharyn Davis, co-founder and manager of BeTreed Adventures, a community-based ecotourism site based in Preah Vihear province's Phnom Tnout-Phnom Pok Wildlife Sanctuary, says: "The next couple of years are critical for the environment in Cambodia. We are still losing swaths of forest all over Cambodia."
Without firm action to prevent this, "there will be very little environment left for the future ecotourists," Davis says.
Rethinking Tourism
Help for the tourism industry could be on the way from the growing domestic tourism market. During the rescheduled Khmer New Year holidays in August, the number of domestic tourists hit almost 1.5 million, according to the Tourism Ministry, of which more than 1.4 million were Cambodian. Siem Reap received the lion's share of these domestic tourists, who together generated an estimated $100 million in revenue.
However, Markova, of Impact Explorer, points out that the rural homestay experience was designed with international visitors in mind, and has limited appeal for Cambodians, for whom it's like visiting relatives in the province.
When it comes to attracting Cambodians toward community-based tourism, Markova cautions against thinking there is one solution that can work everywhere.
"But for communities much closer to Siem Reap, the potential is there to benefit from tourism," she says, but only if the industry is prepared to make some changes. "It means really rethinking tourism as we know it."
The industry is looking to ecotourism as a potential answer for rural communities. Tourism Ministry data suggests ecotourism made up 16 percent of all tourist visits last year, with visits to ecotourism sites doubling in the six years to 2019. However, as the World Bank notes, these figures may be inflated because all visits to coastal sites are filed under "ecotourism," while many visitors to coastal Sihanoukville engage in business and gambling in the city's casinos.
Genuine ecotourism — which benefits the environment and local livelihoods — would be a significant change of direction from the investments currently registered with the Tourism Ministry. An official at the ministry, who declined to be named because he was not authorized to speak to reporters, says the ministry approved 20 new projects last year. When asked if these were ecotourism projects, he replied that "mostly the investment is in five-star hotels, mostly in Sihanoukville. Some resorts, some golf courses, some water parks — new products."
Ministry spokesperson Top Sopheak referred questions to another official, Chuk Chumno, who could not be reached for comment.
Early Efforts
Impact Hub's "Khmer Tourism for the Future" is one effort that hopes to bring new ideas to the sector. Sponsored by the tourism and finance ministries, four to six shortlisted teams will receive $5,000 to "inject innovative ideas in the tourism sector to make it ready … post-Covid-19," says Van Munin Chhieng, chief executive of the Finance Ministry's Khmer Enterprise.
Selected teams include ecotour business Solo Landscapes and Runaway Cambodia, a digital platform to find freelance guides at ecotourism sites.
For Van Munin, domestic tourists could put Cambodia's tourism industry on the path to recovery. "Domestic tourists should increase their tourism activities and spend more [on] local tourism related service providers, particularly those at the community level," he says.
A $53-million initiative entitled the "Cambodia Sustainable Livelihood and Ecotourism Project," also hopes to move the needle on sustainable tourism. Launched at the end of last year by the World Bank in partnership with the environment and tourism ministries, the project focuses on the biodiverse Cardamom Mountains and Tonle Sap landscapes. It plans to train communities and businesses in entrepreneurship; provide facilities like parking, waste management and information centers; and develop cruises on the Tonle Sap and forest canopy walkways in Koh Kong.
The World Bank's Kornexl says the aim is to "create a model of sustainability in the way that protected areas are not only environmentally and socially sustainable, but also financially sustainable."
The amount of work ahead means the current lull could be an opportunity to pivot, Kornexl says. "It gives us a brief moment to … rethink what we are doing."
Kornexl points to the findings of several studies that suggest "nature based tourism, or ecotourism, will be one of the first sectors that could recover" post-Covid-19, because it naturally has social distancing baked in.
It is "much more acceptable — that's clear everywhere where you see tourism taking off again," he says.
Local communities are key to the plan, he adds. "You need these communities — we cannot expel these communities from the protected areas — you need to provide them employment and income."
But for now, communities like Siem Reap's Khnar Po village are simply struggling to get by, and haven't seen any return of tourism dollars.
Mon, the community leader, says Khnar Po and other rural communities like his live in the hope that the pandemic ends soon "[so] tour companies can provide tourists to visit."
As a leader in the village, Mon cannot leave to seek work elsewhere, because his wife, kids and the older generation are depending on him. Lacking other options, he can do little but watch his limes grow until they can be sold.
"To live only by farming … is not enough," he says.