The Cambodia-China Journalist Association has sent more than 20 Cambodian journalists for training in China since its founding less than two years ago. If not for Covid-19, it would have sent many more, its president, Soy Sopheap, says.
"We are Cambodia. We have to do the thing that protects our national interest, so we can establish it to defend against bad information disseminated across the Indo-Pacific from the Western world about Cambodia, and Cambodia and China's relations," Sopheap says.
Sopheap, who was a long-time journalist at tycoon and prime ministerial adviser Kith Meng's CTN television station, is also the owner of popular news site Deum Ampil, or DAP, and a founder of government-aligned Fresh News, according to VOD's parent organization's Media Ownership Monitor Cambodia.
For Sopheap — whose association is funded by a Chinese organization he would not reveal — the work is simply about bringing balance to U.S.-led "attacks."
The association wants journalists "to disseminate the truth about what the two countries have achieved and to make people understand what Cambodia and China have done in mutual interest, without [mentioning] debt traps, and human rights violations," he says.
He places regional media at the nexus of U.S. and Chinese geopolitics, a tussle between giants, with ripples felt among local journalists.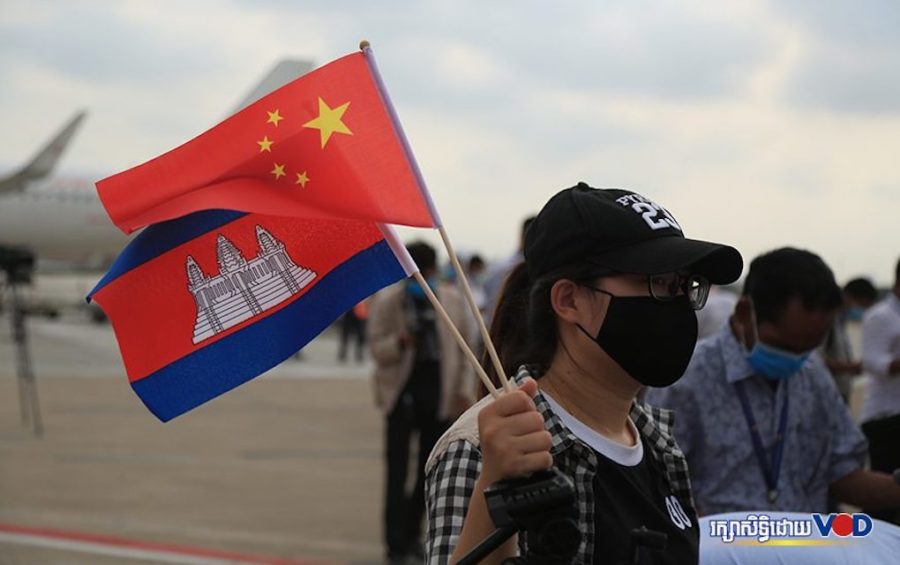 In the Philippines in September, a network of fake social media accounts linked to China was taken down by Facebook. The network had used the fake accounts "to pose as locals in the countries they targeted, post in Groups, amplify their own content, manage Pages, like and comment on other people's posts particularly about naval activity in the South China Sea, including US Navy ships," according to the tech company.
Among the network's frequently discussed topics were Beijing's interests in the South China Sea, Hong Kong, content supportive of President Rodrigo Duterte — and criticism of news website Rappler.
According to watchdog groups, both Cambodia and the Philippines have seen tightened restrictions on civil liberties in recent years amid growing ties between their governments and China.
From 2017 to 2020, Cambodia dropped from 132nd to 144th in Reporters Without Borders' World Press Freedom Index. The Philippines fell from 127th to 136th during the same years.
China ranks 177th out of 180 countries.
In two countries long marked by U.S. involvement in their media sectors, Chinese training programs, partnerships and media ownership in recent years have added a new dimension to the under-pressure media environments.
Backdrop of Repression
For Cambodia, the collapse of the independent press was swift. Between 2017 and 2018, dozens of radio stations were shuttered, the independent newspapers Cambodia Daily and Phnom Penh Post were pressured to pay a hefty, disputed tax bill, close or sell, and two Cambodian journalists at a U.S. state-funded news outlet were put in jail for alleged treason.
Among the radio services most affected were U.S.-funded Voice of America (VOA) and Radio Free Asia (RFA), the former making its first broadcast in Cambodia in 1955. They were both accused in Fresh News articles citing social media leaks of being part of a U.S.-led "color revolution" plot to topple the Cambodian government.
The actions came as Cambodia canceled its annual military exercises with the U.S. in favor of China, and China became by far the country's largest foreign investor and donor. Some commentators observed at the time that Phnom Penh's closer ties to Beijing could be freeing the government from human rights considerations.
Meanwhile, the Philippines, embroiled in a maritime row with China over the South China Sea, has seen the rise of strongman President Rodrigo Duterte, considered a China ally. The country has witnessed thousands of extrajudicial killings as part of Duterte's war on drugs, and impunity for violent crimes against activists and journalists, according to Freedom House.
In July 2017, on the first anniversary of the Philippines' historic South China Sea victory in The Hague, several Filipino journalists were invited to a 10-day "Understanding China" seminar in several cities, where they met with different local party officials.
As recalled by a journalist present, one of the local officers criticized former Philippines president Benigno Aquino III, who brought China to an international court, and heaped praise on Duterte.
When it comes to soft power in the region, China is still playing catch up with the U.S, says China analyst Lucio Pitlo III.
But especially in Cambodia, Phnom Penh's deep ties with Beijing could allow China to have a strong influence, Pitlo says.
"Western sanctions and Cambodia's economic vulnerabilities also made it more beholden to Chinese investments, giving Beijing tremendous leverage over Phnom Penh," Pitlo says.
Winning Over Journalists
In May 2018, according to a report by Freedom House, Filipino media officials and journalists visited China for two weeks to learn about "new media development" and an alternative form of journalism and management, "socialist journalism with Chinese characteristics."
At least three staff members of the Presidential Communications Operations Office and the state-owned Philippine News Agency (PNA), on different occasions, spent nearly a year in China.
Malcolm Cook, a Southeast Asia analyst with the ISEAS-Yusof Ishak Institute in Singapore, says such efforts show China trying to build influence in the region.
"Southeast Asia neighbors China, and has large overseas Chinese communities and growing immigration levels from China. Most Southeast Asian societies are distrustful of China. All these factors make Southeast Asia a main target of Chinese influence-building efforts," Cook says.
The moves are also about geopolitics, he says.
Southeast Asia is a "key regional arena in the US-China rivalry and in the Japan-China rivalry," and China wants to influence media "to counter criticisms of the Chinese government in the local media and more broadly public perception in targeted countries," Cook says.
Participants of the trips acknowledge they have developed a favorable view of China.
Greggy Eugenio, a former Presidential Communications Operations Office staffer, says he spent 10 "superb" months in China from February to December 2018 in a media exchange program sponsored by the China Public Diplomacy Association, which claims to be a nonprofit, where he learned about Chinese culture, politics and media. His stint in China made him more open to the country, he says.
"I don't see anything wrong in terms of Chinese influence on Philippine media. Western countries have a huge influence on our media, and most of us like them. Why don't we allow other countries like China to influence us in terms of media knowledge, exchange and culture? Most of our culture, practices are similar with China," Eugenio says.
"Our visit to various places made me realize how the culture of Filipinos is close to Chinese. I also commend the leadership of China in alleviating the poverty particularly in the smallest villages," he adds.
Similar trips have been arranged in Cambodia, with one participating journalist, who declined to be named out of concern that his employer would disapprove, saying his two trips, in 2017 and 2018, were about writing travel articles about China.
"It was to promote Chinese tourism destinations," he says. "The journalists were required to write about these tourism destinations … so that our Cambodian people can understand about the Chinese tourism sector."
"No political messages," he says. "It was magnificent."
Media Ties
Exchanges have also extended to media organizations, including the People's Television (PTV-4), PNA, and radio Philippine Broadcasting Station (PBS) in the Philippines partnering with Chinese media outlets, to some controversy.
PTV signed its cooperation agreement with the China Global Television Network in 2017, starting simulcasts of the Chinese network's programs. PNA and Xinhua share content, including PNA reposting a Xinhua op-ed denouncing the Permanent Court of Arbitration's decision to side with the Philippines against China in the South China Sea dispute.
The state-owned China Radio International (CRI) also signed separate agreements with the Presidential Communications Operations Office, PTV, PNA and PBS. A joint radio show between PBS and CRI, Wow China, caught the ire of Filipino internet users in 2020 for alleged pro-China propaganda in topics ranging from culture to business, with subtle hints of politics. The program first began airing in 2018, hosted by a Filipino broadcaster and a Chinese anchor, but over time drew viewers' complaints that it served as a propaganda tool for the Chinese government.
Amid the Covid-19 pandemic in 2020, some Filipinos also objected to a video posted on online channels of Philippine state-owned media agencies. The video's title, "lisang Dagat," or "One Sea," referenced the South China Sea dispute while thanking Chinese doctors who came to the country to help.
In Cambodia, the Interior Ministry has partnered with China's Guangxi provincial government to set up Nice TV, which promises 24-hour programming on news, education and culture. Amid an influx of Chinese residents in recent years, the country has also seen a rise in Chinese-language news outlets, such as the Cambodia-China Times, which publishes in both Khmer and Mandarin.
'Which One Is Closer?'
Information Ministry official Phos Sovann acknowledges that the Cambodian and Chinese ministries of information work together "in fighting against fake news, and supporting each other in producing content, exchanging culture, agricultural broadcasts and more."
Nevertheless, Sovann denies accusations of a Chinese bias. Cambodia is too small to be picking sides when the U.S. and China clash, he says.
"We are the children, and when the parents fight, we find it difficult to take sides," Sovann says. "In fact, we love both father and mother, but we have to think: Between the two, which one is closer and thinking about us more? This is the key decision for us."
Last week, the U.S. joined European countries in sanctioning Chinese officials over the alleged genocide of Xinjiang province's Uighur Muslim minority, as ongoing tensions between the superpowers remain high.
U.S. Embassy spokesperson Chad Roedemeier says the embassy has sponsored more than 45 Cambodian journalists to participate in exchange programs, fellowships and reporting tours since 2016 "to strengthen journalism skills and to encourage a truly independent media in Cambodia that provides accurate, objective, and comprehensive reporting."
"A free press is crucially important to a vibrant, democratic society," Roedemeier says.
A co-author of this article was a recipient of the U.S.-sponsored Fulbright-Humphrey fellowship program. The author also participated in a Chinese Embassy-sponsored reporting trip to Beijing and Xiamen in 2017.
In the Philippines, state-owned China Telecom and partners have won a bid to become the country's third telecommunications provider.
The group, DITO Telecom, has been allowed to construct cell towers in Philippine military bases — a decision that Cook, the Southeast Asia analyst, describes as "very odd."
"This should limit what traditional security partners of the Philippines — the USA, Japan, Australia, are willing to do with their Philippine counterparts on affected Philippine bases," Cook says.
In a 2020 report, the International Federation of Journalists warns that control of infrastructure could be a first step toward controlling content, signaling the interplay between geopolitics and media.
"Through foreign media acquisitions and large-scale telecommunications ventures, China is increasing its share in critical information infrastructure overseas. In this way, Beijing is moving to build control over the messaging infrastructure," it says.
However, for Sopheap, the Cambodia-China association president, nothing that's happening with China is far different from what the U.S. and other Western states have been doing for years, and he bristles when pressed about the association's funding sources.
"Why don't you ask NGOs where they get their money from too?"
This article was published with support from the Sasakawa Peace Foundation.