Authorities stopped environmentalists investigating sewage flows into Phnom Penh rivers a year ago, jailing them for plotting. But black, foul-smelling discharges are continuing even as city officials said this week that they were unaware of a problem.
In the past week, reporters have observed apparent sewage flowing into the Tonle Sap river in central Phnom Penh, as well as cloudy discharge draining into the Mekong from underneath a Koh Pich cement plant.
The first site, near Wat Ounalom, is where three Mother Nature environmentalists Sun Ratha, Ly Chandaravuth and Yim Leanghy were arrested last June while collecting water testing samples. They were later charged with plotting, as the Interior Ministry alleged their environmentalism was only a front for criticizing and trying to change the government.
On Monday, one of two sewer exits in the tourist riverside area was discharging black water while giving off a strong smell of sewage. Another drain to the north of the night market at the Yuetai Phnom Penh Harbor project had a similar black discharge.
Meanwhile, the second site, at Diamond Bay Garden on Koh Pich island, is owned by tycoon Pung Kheav Se's Overseas Cambodia Investment Corporation. The company has been embroiled in disputes and alleged evictions in other developments, including Phnom Penh's new international airport being built in Kandal province. This week, a pipe under a concrete batching plant on the construction site was draining cloudy, cement-like fluid into the Mekong river.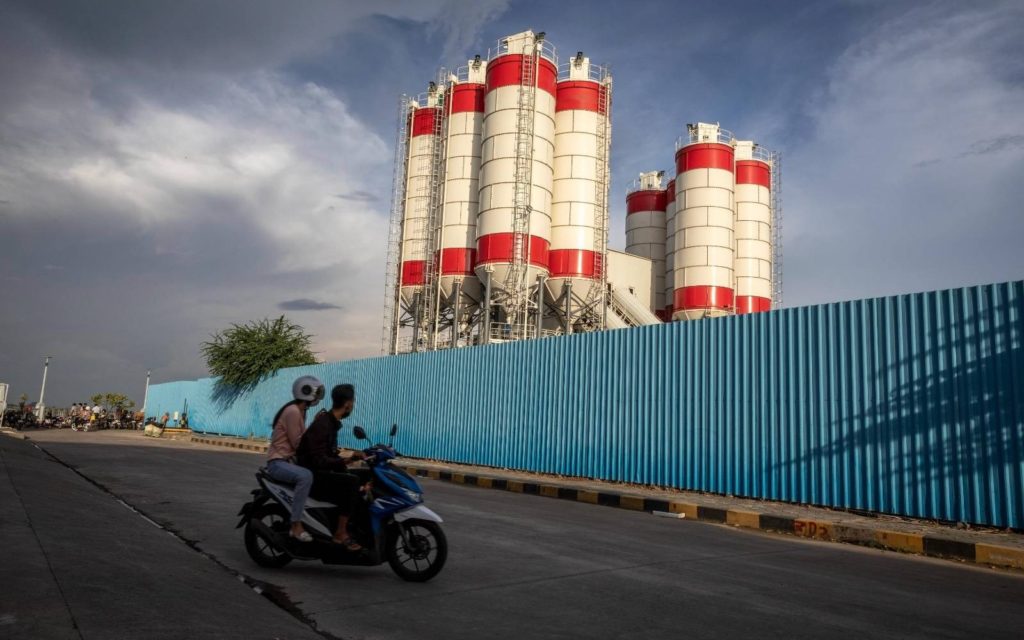 Sewage discharges are a known problem being tackled across the country, with a Japan International Cooperation Agency study from 2016 on drainage systems finding that most Phnom Penh lakes and rivers had coliform bacteria levels exceeding standards.
As for cement, Ty Boreborey, a researcher at the Institute of Technology of Cambodia, said the impacts of construction-site runoffs depend on the amounts, but they can potentially harm biodiversity. Photographs and descriptions of the Koh Pich site were not definitive, she said, though she added that one of the constituent compounds found in cement can form solids in water and lead to oxygen depletion.
"If the level of cement in the water is too high, fish in the area will die," Boreborey said.
Phnom Penh City Hall spokesman Met Measpheakdey said he didn't know about wastewater discharges into the river and referred questions to the municipal department of public works and transport.
"This is the duty of that department. I don't know, so please contact the public works department directly," he said.
Daun Penh district governor Sok Penh Vuth also referred questions to the public works department.
However, the public works ministry's spokesperson, Vasim Sorya, referred questions back to City Hall, saying he didn't know about the problem.
"I don't have any details. Ask Phnom Penh City Hall," he said.
Municipal environment department director Keat Rainsy did not deflect the inquiry, but said he would need to have a team inspect the situation. "Let my team go," Rainsy said. "I cannot answer right now."
Ratha, one of the Mother Nature activists arrested last year, said she didn't know what to say of the officials' stated ignorance of the problem when even international visitors could see it.
"We were just taking the sewage water and were arrested. Even after we were released from prison, the government or the ministry still does not have a mechanism to solve this problem," she said.
On Koh Pich island, a visitor, Kim Heng, 21, said he was worried for the environment — especially biodiversity in the rivers — seeing the cement-like discharge.
"It's environmental damage, but it is not new — I have seen it for years and see it everywhere."
A person who answered a call to Kheav Se's phone on Wednesday said the tycoon — who owns OCIC — was busy, and a staffer at Yuetai's Phnom Penh Harbor project said she was not authorized to speak to the media and would forward queries to a manager.