For the past seven years, Moeung Lida, a 32-year-old assembly line supervisor, has climbed into the bed of a truck with 30 to 40 other workers to travel to and from the Quantum Clothing factory in Phnom Penh's Choam Chao commune.
Lida said the commute takes fewer than 30 minutes, but with Covid-19 infections sweeping the region, she decided to stay at a friend's house so she can walk 10 minutes to work and avoid risking infection while riding in the crowded truck.
"I am still worried mostly because I am a person with existing throat and nose problems," she told VOD last month. Another passenger could have the virus and she would have no way of knowing, Lida added.
Garment factories that have been able to continue producing through the global economic slowdown due to Covid-19 have taken precautions in an effort to prevent the virus from spreading down assembly lines. But workers and labor advocates say they are concerned the cramped trucks that ferry workers to factories could be potential hot spots for infection.
Cambodia has not reported a new case of Covid-19 in nearly a month, but health officials have warned that the country is still at risk of new outbreaks.
The worldwide infection count surpassed 3.6 million on Thursday, with some 254,000 deaths, according to the World Health Organization. Cambodia has two active cases of 122 infected people since January and has confirmed no deaths.
The government has urged garment factories that are not forced to suspend operations due to a lack of orders to remain open during the pandemic. Workers were told to go to work over the canceled Khmer New Year holiday last month instead of traveling to visit family.
More than 5,000 workers who did not show up for work that week later had their temperatures checked at clinic sites organized by the Labor Ministry, and were told to self-isolate at home for 14 days before they could get back to work.
During a press conference in late April, Labor Ministry spokesman Heng Sour said he felt garment workers were safe from contracting the virus as long as they stuck to their routines, including taking trucks to and from work as they generally do.
"Regarding traveling, we all know already that factories have favorable conditions," Sour said. "The truck that comes out to a community will go to that [same] community everyday. A person who takes the truck always takes that same truck everyday. No newcomers take that truck."
"So, we think that factories are still safest," he said.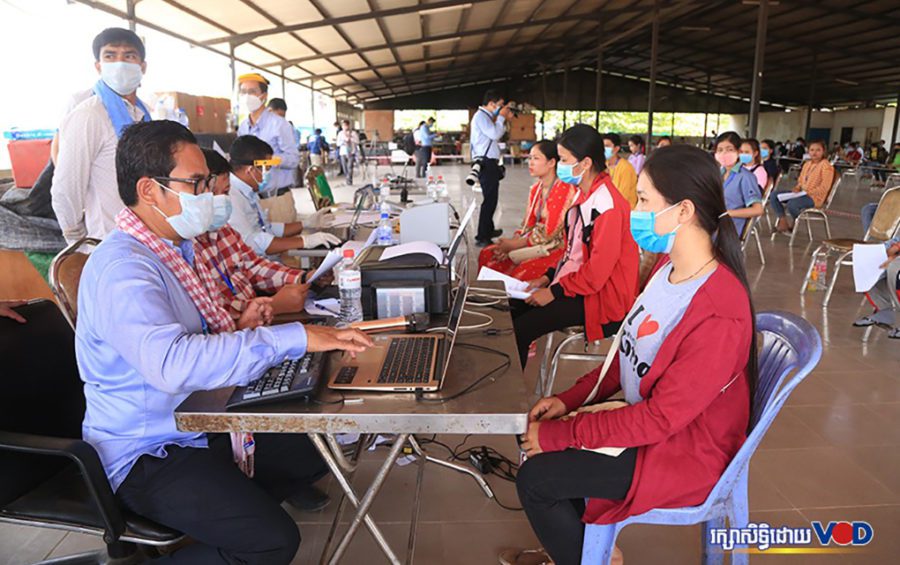 Quantum manager Chhim Sarith said he is worried about the possibility of an outbreak at the Choam Chao factory, which employs about 2,400 workers who make shirts and pajamas.
As the number of Covid-19 cases climbed in Cambodia in March, Sarith said the factory began taking precautions against infection, such as checking temperatures, keeping each person's work station about 1 or 2 meters apart and requiring workers to wash hands frequently with alcohol and soap.
"When I leave my work, I need to wear a mask and change my shirt, and when I drive my motorcycle, I do not go to narrow spaces," he said. "We need to protect ourselves because we do not know what the risk could be. We do not know how much risk there is because it is invisible."
Cambodian Labor Confederation president Ath Thorn said that many factories had taken measures to prevent the spread of Covid-19, likely because an outbreak would threaten production.
"In regard to handwashing, temperature checks or preventative advice, we have seen these measures in a lot of factories," he said. "We can say that 70 to 80 percent [of factories] have done this because they also need to be careful. If any outbreak happens in a factory, it will be closed and so it would be a big loss."
But viral transmission could also occur in the backs of trucks on the way to work.
The union leader said that a majority of workers — about half of those in Phnom Penh and nearly all workers in the capital's outskirts and surrounding provinces — ride trucks every workday, with workers frequently injured or killed in road accidents.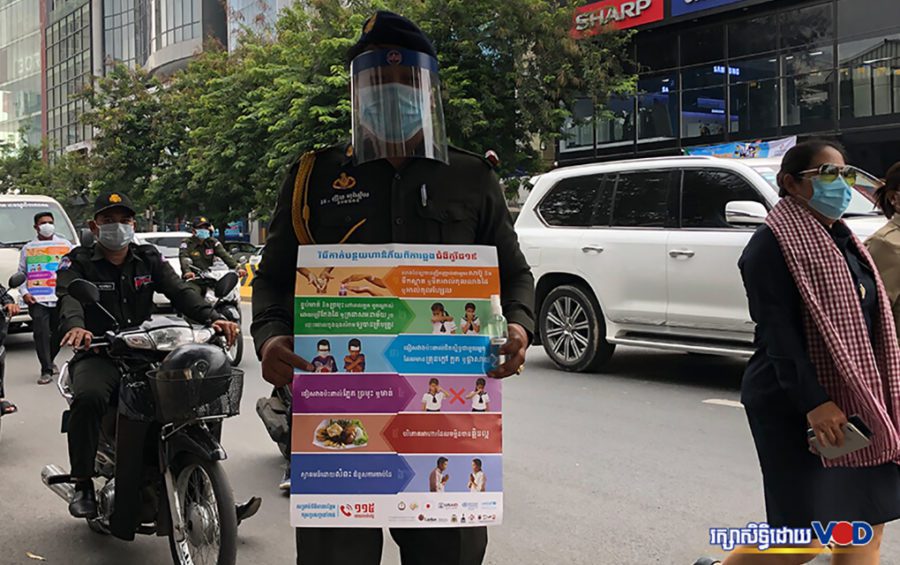 But now, the potential spread of the virus presented another risk to workers' safety, he said.
"If there is an outbreak, [workers] would be infected very fast as they do not only take trucks, but also at work they come in and out of [the factory] in crowds," Thorn said.
He urged the government and factories to find a better mode of transportation for workers, recommending they use some of the city buses that have been suspended from routes since late March, so workers can maintain some distance from each other and lower their risk of infection during commutes.
Sak Sreymao, a 40-year-old worker at Bowker Garment Factory in Kandal province's Ang Snuol district, said she was scared of the virus, but had no choice but to transit by crowded truck every day between the factory and her rented room in Kandal Stung district.
All she had to defend against the virus was a face mask and sanitizer gel.
"I am worried, but I protect myself," she said.
(Translated and edited from the original article on VOD Khmer)
Note: This report was produced with support from the Rosa Luxemburg Foundation under the financial support of the German Federal Ministry for Economic Cooperation and Development.