Six case files against 153 CNRP defendants, split into four trials, make up a web of ongoing prosecutions against the outlawed opposition's senior leaders and grassroots supporters, with hearings so far debating CNRP co-founder Sam Rainsy's call for soldiers to turn their guns against Prime Minister Hun Sen as well as the content of private communications among supporters.
The main opposition CNRP, which made significant gains against the ruling CPP since its formation in 2012, was outlawed by the Supreme Court in 2017 following local-level commune elections and a treason charge against party president Kem Sokha. Several senior leaders have continued campaigning from exile abroad, while persistent support for the party within the country has led to a slew of charges and jailings against activists.
The latest set of trials was brought to the courts late last year, notably including an unwieldy mass trial of more than 130 defendants that spent its first November hearing largely taking attendance and splitting the procedures into two separate trials.
The trials, which continue with hearings on Thursday and Friday this week, have sparked international condemnation of human rights violations and lack of due process — criticism a ruling party spokesperson brushed off as foreign meddling in Cambodia's judiciary.
Loading data…
Social, labor and environmental activists are also currently before the courts in separate trials related to claims about land along the Vietnamese border and campaigning to protect a Phnom Penh lake.
In the two CNRP trial hearings held so far this month, judges summarized the evidence of Rainsy appealing to soldiers to rise up against Hun Sen and questioned local-level ex-CNRP officials about private calls warning their wives about Covid-19. Others were asked about participating in a Facebook group chat about Rainsy's failed attempt to return to the country last year.
Rainsy, CNRP vice presidents Eng Chai Eang and Mu Sochua, and ex-lawmakers Long Ry and Ho Vann face charges in three of the four cases. Former National Assembly member and Rainsy's wife Tioulong Saumura, and former lawmakers Ou Chanrith, Tok Vanchan, Nut Romduol and Men Sothavarin are defendants in two of the cases.
Charges across the four trials include incitement to disturb social security, plotting, inciting military personnel to disobey orders, and attack, which is defined as commissioning acts of violence that could endanger government institutions or Cambodian territory.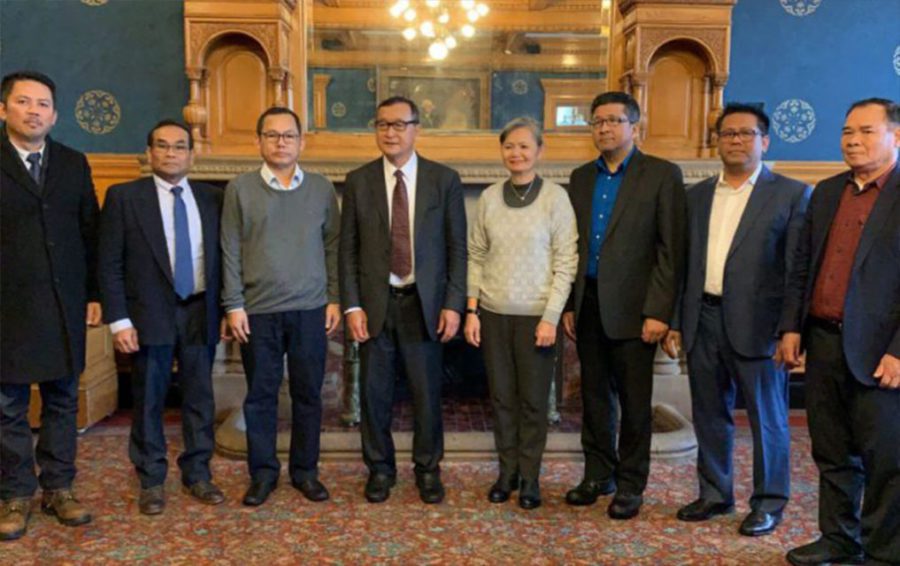 "These mass trials are an affront to international fair trial standards, Cambodia's human rights commitments and the rule of law," said Yamini Mishra, director of London-based Amnesty International's Asia-Pacific region, as the January 14 hearing was held. "This onslaught of cases is the culmination of a relentless campaign of persecution against Cambodia's political opposition and other dissenting voices."
Foreign embassies in Phnom Penh also voiced concerns around the hearing. U.S. Embassy spokesperson Chad Roedemeier said "we have serious concerns about the lack of due process," while a U.K. Embassy spokesperson said "we have longstanding concerns about whether those accused will receive a free and fair trial."
Phil Robertson, deputy Asia director for New York-based Human Rights Watch, said last week that the trials have "zero credibility" due to their political nature.
"The purpose is clear, to smash to pieces what's left of the opposition CNRP in the country and silence all remaining critics still brave enough to raise their voice against the CPP's single party dictatorship," Robertson said. "PM Hun Sen knows the 2022 and 2023 elections are not far off and he clearly intends to ensure there is no one left to challenge the extension of his [36]-year-long rule."
CPP spokesperson Sok Eysan, however, brushed off the remarks, saying last week that criticism from the embassies of the U.S. and the U.K. was unfounded. Foreign diplomats and governments were only observers in Cambodia and had no right to pressure the courts, he said.
"These accusations are based on law," he said. "Cambodia is a country of peace and political stability and if [the defendants] are up to no good and inciting chaos, then it is not right."
Authorities have also arrested supporters who have protested outside the Phnom Penh court, including four on January 14 and one supporter from Tbong Khmum province on Tuesday. Eysan said he could understand if protesters outside the court were relatives of the defendants, but many were not.
"Their protest at the court was against the rule of law, so they need to be confronted with the law," he said, adding more protesters would be arrested if they disrupted social order.
Meas Nee, a social scientist and political analyst, said criticism from the international community would continue as long as opposition figures were targeted by the government — and that Cambodia's democracy would also be damaged.
"It's true that at the moment only foreigners have raised concerns about the situation," he said. "However, we need to ask ourselves: When will Cambodians stop persecuting other Cambodians?"
Samneang Chea and Ket Eyean are trainees at Newsroom Cambodia.
Correction: An earlier version of this article named Tok Vanchan as one of the nine defendants in the CNRP "attack" case instead of Nut Rumduol.