After authorities on Friday forcibly moved about a dozen people protesting across the street from the Chinese Embassy in Phnom Penh, and arrested three, demonstrators highlighted how police tactics used during a later rally at the U.S. Embassy were as different as "the sky and earth."
About 50 uniformed and plainclothes authorities marched protesters away from the Chinese Embassy on Friday morning before 9 a.m., with one woman being carried down Mao Tse Tung Blvd. by district security guards, and three other demonstrators pulled into the back of a police truck and driven away.
The protesters throughout the day included up to 60 land and CNRP activists calling for China to respect the 1991 Paris Peace Agreements, which were signed 29 years ago on Friday, and voicing opposition to any Chinese military presence in Cambodia.
The protest outside the Chinese Embassy was over before 9 a.m. By about 10:20 a.m., demonstrators were again shouting slogans, this time outside the U.S. Embassy, calling for respect of the Paris Peace Agreements.
CNRP supporter Hong An, 45, said Cambodia had violated the Paris accords. "October 23rd is the day the signatory countries have to respect human rights and democracy. Instead Cambodia has done the opposite of that," An said.
The protesters' delivered a petition to the U.S. Embassy, which called on the U.S. to "help and restore democracy in Cambodia," she said.
An said some of those among Friday's protesters had earlier in the day been harassed by security guards. The government had tried to silence democracy in the country, she said.
"We have not reached the Chinese Embassy yet [to deliver a petition], but we have been dispersed and beaten up … so the democratic country and communist country is completely different like the sky and earth," An told VOD.
Another protester, CNRP activist Veasna, who came from Tbong Khmum province and did not give his full name, said there were 10 people who joined the protest from his area because they hated injustice.
"Cambodian people cannot express their rights," he said. "I come here not to cause violence but we come to demand the October 23rd Paris Peace Agreements [be upheld]."
Like An, Veasna noted the contrast in the tactics of authorities during rallies at the embassies of China and the U.S.
"When we went to the Chinese Embassy, it was completely different," he said. At the U.S. Embassy, "people were allowed to rally and I am very happy about it while at the Chinese Embassy with just a few people rallying, they chased and dispersed us."
While at the U.S. Embassy, Ngeth Doeun, 50, shouted at nearby police and security guards, telling them that they owed the public for their incomes.
"You wear the uniform that we give you, so we can remove your uniform. And you take our salaries. I am not scared of you and you can arrest me if you want to and this is the last phase. We have suffered under the Khmer Rouge regime and we suffer under this regime," Doeun said.
"When people come to demand their rights and freedom, they use batons to beat us and throw rocks, so where is the independence?" she asked.
"When people come to demand [anything], they have only rocks and bullets, so where is the justice?"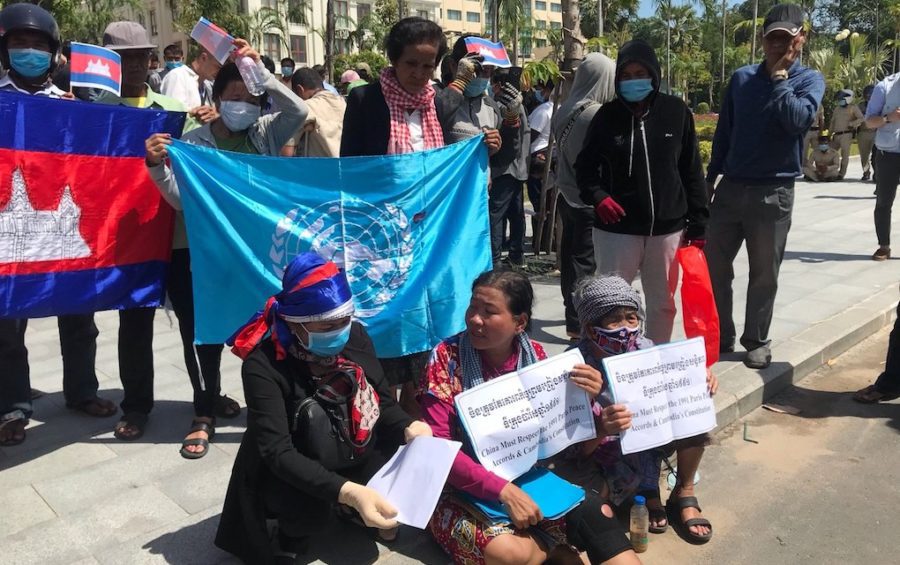 At about 10:40 a.m., demonstrators tried to walk about 1.5 km to the French Embassy, but security guards did not allow them to go on foot, telling them to take a motorbike or tuk-tuk instead.
A voice from one of the security guard's radios was overheard saying: "Do not talk with [the protesters]. They are worms."
"Do not let them walk out, and you must stop them."
Hearing this, a female protester said, "People must have the right to walk."
Later outside the French Embassy, protester An called the day a success. "The French Embassy received [our petition] and paid attention to our concerns," she said.
"We regret [what happened at] the Chinese Embassy," she added, noting the authorities' use of force to arrest three people.
Phnom Penh City Hall spokesman Met Measpheakdey said authorities dispersed and detained people because they had neither asked permission to protest nor notified the authorities in advance.
Measpheakdey said that if people wanted to express their opinions, they could submit a letter to City Hall to request to do so at Freedom Park, the capital's designated plaza for demonstrations.
"Our authorities brought them in for questioning because we do not know who they are, whether they have requested or informed properly," he said. "When they flock to rally like this, [authorities] have to bring them in for questioning first."
Licadho monitoring manager Am Sam Ath said authorities should compromise with people rather than disperse and arrest them because when authorities continue to use violence against people who express their opinions and protest peacefully, the government will be criticized for their actions.
"When authorities commit wrongdoings that violate the people's freedoms or rights, it leads to criticism," Sam Ath said.
Freedom of assembly is guaranteed by the Constitution, and noted in the Paris accords.
In 2017, Kem Sokha, the president of the main opposition CNRP, was jailed on widely criticized treason charges, which he denies. Two months later the CNRP was dissolved by the Supreme Court. National elections the following year saw the ruling CPP win all available parliamentary seats without a viable challenger contesting the poll.
U.S. Embassy spokesperson Chad Roedemeier confirmed that the embassy had received a petition.
"We have consistently raised democracy and human rights concerns with the Cambodian government, and urged the government to take meaningful steps to reopen the political and civic space," he said in an email.
As of 4:30 p.m. on Friday, the three arrested protesters were being questioned at the Phnom Penh police station, municipal police spokesperson San Sokseyha said.
Additional reporting by Matt Surrusco
Correction: A previous version of this article mislabeled the location of the top photo.