Cambodia's Energy Minister declared last week that Cambodia would not build any new coal-fired power plants, but the announcement appears to have little or no impact so far on Cambodia's current plans for developing coal-fired power plants through 2030.
As Cambodia's Environment Minister Say Samal reports to Glasgow for U.N. Climate Change Conference this week, Energy Minister Suy Sem said in a meeting that the country would not approve any coal-fired power plant developments that had not already been approved.
But three new projects were already signed in 2019, and they would dwarf proposed plans to add more solar power to the country's energy mix. The country is projecting a vast expansion of power supply by 2030, and much of it is slated to be coal, gas, and imports of coal-generated electricity from Laos.
Diversifying Power
The biggest source of electricity in Cambodia is hydropower, currently constituting around 35 percent of Cambodia's energy mix last year, according to a presentation by Electricite du Cambodge. However, the government grew wary of Cambodia's reliance on hydropower in 2018 and 2019 after dry-season power outages racked Phnom Penh residents and businesses, leading officials to approve coal-fired power plants and rapidly build a heavy fuel oil plant in Kandal province — considered better in terms of emissions than coal or oil but still not clean.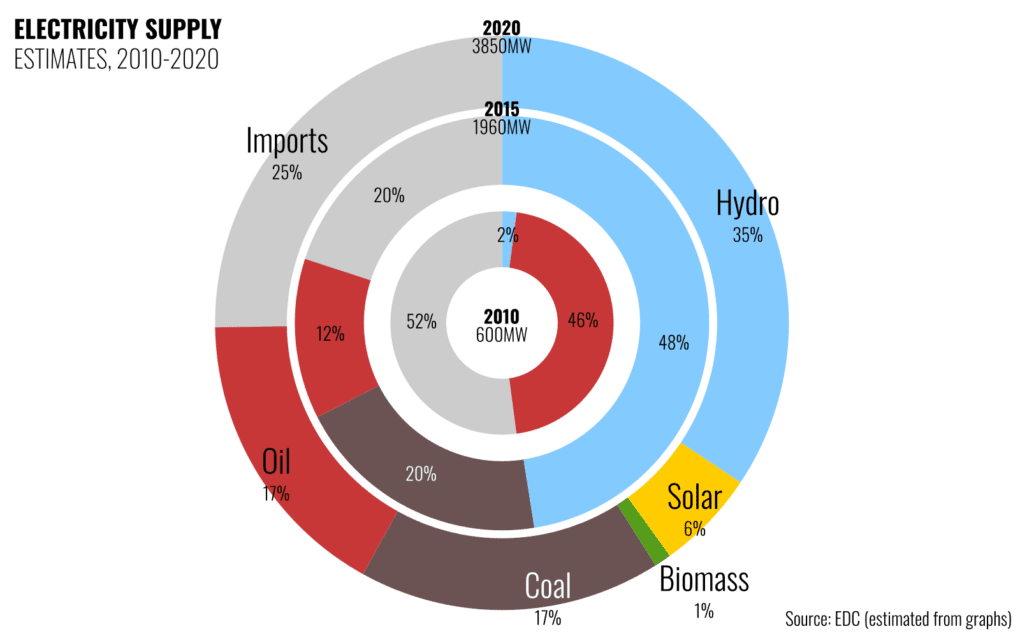 Though a renewable resource, hydroelectric is not without emissions, because the trees cleared for hydropower reservoirs releases lots of carbon dioxide into the atmosphere — contributing to Cambodia's biggest source of emissions, land change. Researchers have pointed out that Cambodia's hydropower dams that received financing through the Clean Development Mechanism — a fund meant for projects with reduced emissions and other sustainable goals — have failed to facilitate reduced greenhouse gas emissions as they promised initially.
Meanwhile, Cambodia is planning to more than quadruple its power supply in just 10 years, from under 4,000 MW in 2020 to about 17,000 MW in 2030.
Solar farms have cropped up amid Cambodia's race to add power to the grid, but they provided just about 6 percent of Cambodia's energy capacity in 2020 and 2.45 percent of actual generation on one September day in 2020, according to EDC data.
A Mines and Energy Ministry official told a regional renewable energy forum last week that Cambodia would onboard 495 MW of solar power to the national grid by 2023, but it would still be far less than coal-based generation. Royal Group's Botum Sakor coal-fired power plant alone will supply 700 MW of power by its expected completion date in 2023 or 2024.
Cambodia approved plans for two coal-fired power plants — 700 MW in Koh Kong's Botum Sakor district and 265 MW in Oddar Meanchey's Trapaing Prasat district — in addition to two ongoing coal plant constructions in Preah Sihanouk. Cambodia further signed a deal to buy 2,400 MW of coal-generated power from Laos in 2019. The imports would not reach the grid until 2025, and Laos would have to build two new coal-fired power plants — both planned in the country's Xekong province — in order to meet the agreement.
EDC further plans to build a powerline to bring the Laotian-generated power onto the national grid through the Prey Lang Wildlife Sanctuary, which could be detrimental for the landscape's integrity.
Cambodia also projects adding nearly 4,000 MW of liquified natural gas to its power supply by 2030, and Kandal's new heavy-fuel plant has the capacity to burn it. However, analysts note that the country would have to develop infrastructure to receive sufficient LNG for use as a fuel source, a costly endeavor further delayed by Covid-19.
Currently, under 1,000 MW of Cambodia's energy comes from coal-fired power plants, but that will increase to more than 2,000 MW by 2025, according to the power supply projection by EDC from last year. Renewable energy would increase to about 2,000 MW of the 17,000 MW projected power supply in 2030, according to that same projection, with most new solar and wind sources added in 2029 and 2030.
Cambodia is in the process of finalizing its updated Power Development Plan with the Asian Development Bank, and it was unclear if the projections through 2030 would change in the updated power development plan.
Heng Kunleang, the Mines and Energy Ministry's energy director, would not respond to multiple requests for comment.
Developing Without Atmospheric Damage
The country has received ample criticism for onboarding new coal projects at a time when global economies are writing off the power source. The residents in Botum Sakor district have warned they were not adequately informed of the plans to develop a coal-fired power plant in Koh Kong, nor would they support it.
Last year, international brands with manufacturing plants in Cambodia — including fashion brands like H&M and Adidas as well as Specialized Bicycles and Chip Mong Insee Cement — sent a letter to officials, warning they would have to move manufacturing abroad if Cambodia continues to onboard coal without adding renewable energy to the mix in order to meet their environmental and social governance goals.
Shortly after a meeting with Energy Minister Sem, Tina Redshaw, the U.K. Ambassador to Cambodia, told VOD on Wednesday that she had brought up the new coal power plants with the official, reiterating the brands' concerns.
"The message from the industry is unless Cambodia can increase the share of renewable energy, it does risk losing some of the buyers," she said. "They would go somewhere — that would be a neighboring country, where they are trying to put more renewables into the mix, and that's why we as part of our COP26 engagement have very much been pushing to see greater percentage of renewables in the energy mix and not going in the other direction."
She noted that Cambodia still has an opportunity to suspend one of the coal-fired plants, as construction is still in the early stages, but fell short of suggesting any action from the U.K. if Cambodia proceeds with the plants.
"I don't think, in the context of what we're trying to achieve in COP26, the global need for action on climate change, it's not in our interest to say unless you cancel that third power plant, we're going to stop trade," she said.
Redshaw said she was unsure if Cambodia's power development plans would be affected by the minister's promise not to add new coal projects after 2019, but she called the announcement encouraging: "Without it being stated, there's always room for the possibility that someone else would have come along and said, 'We need a new power plant, let's make it coal.'"
Bridget McIntosh, director for the clean energy advocacy group EnergyLab Cambodia, said the minister's claim did not seem to apply to Cambodia's existing coal-fired plans up to 2030, though it was still an important claim for the further future.
What may change Cambodia's imported coal supply may be China's promise to stop funding coal-fired power plant developments abroad, McIntosh noted. The scope of China's pronouncement is yet to be determined, but it's been lauded as a "breakthrough" thus far and is expected to put pressure on Southeast Asian countries.
At least 600 MW of the coal power in Laos that would be exported to Cambodia would be built by a Chinese company, while the other 1,800 MW would come from Laos's Phonesack Group Company, according to a February report from the Vientiane Times.
If Cambodia can instead source that additional energy from domestic renewable energy sources, it would be both "fantastic news" for the climate, while also saving the country money. McIntosh noted that both solar and wind power had proven cheaper than coal power: Cambodia will buy coal from Laos for $0.077 per kilowatt hour, but EDC could pay $0.0388 and $0.0688 for existing solar and wind projects respectively.
"Xi Jinping's announcement may put the 2,400 MW Lao [coal-fired power plant] project[s] at risk anyway, as it might be delayed or not built at all. This means that Cambodia may need to turn to another power source, and the best option would be for Cambodia to turn to lower cost solar and wind energy."