Security guards blocked some protesters outside the Phnom Penh Municipal Court from buying breakfast, and told a street vendor of noodles, meatball soup, pork and rice to not sell to them, the protesters alleged on Thursday while rallying on an empty stomach.
Mey Sophorn, 41, and Dos Kimteav, 43, sat in the shade around the corner from City Mall, across the street from the court, around 10 a.m. on Thursday. Kimteav appeared dejected, while Sophorn's face was hidden behind a surgical mask. They still had not eaten, they said.
"The food vendor would not dare to sell to us," said Sophorn. "We felt hurt. We had money."
Just before 8 a.m., the pair, among demonstrators calling for the release of jailed opposition members, initially tried to approach the street seller, stationed outside the mall on Charles de Gaulle Blvd., but was rebuffed by guards, Sophorn said.
"The security guards said that if we didn't leave, they would stop them from selling," she added.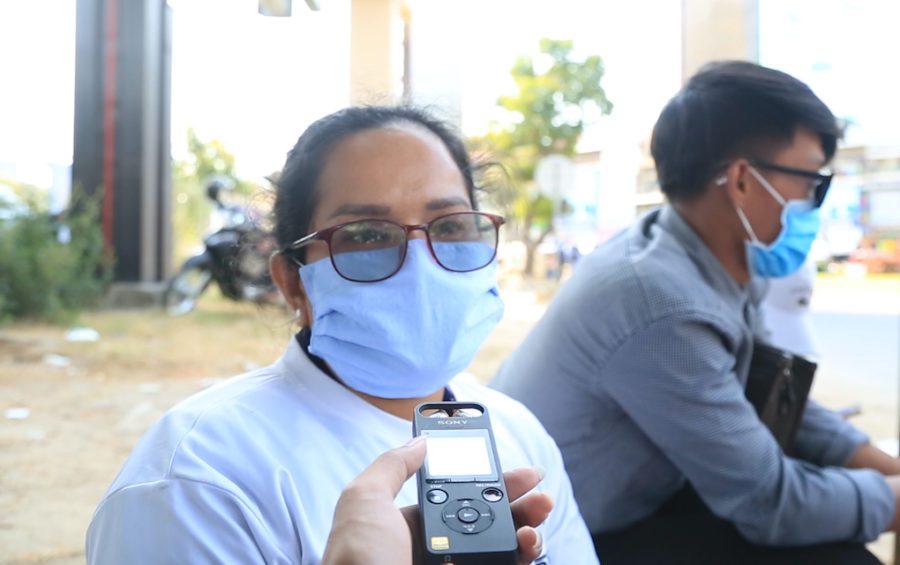 Kimteav said the guards had argued that the breakfast could turn into a larger gathering of protesters if they sat down around the seller.
One guard then approached the cart, allegedly telling the vendor and her two assistants, "Don't sell it, don't sell it, be careful, be careful of not being allowed to sell here," according to Kimteav.
In recent months, guards have increasingly prohibited gatherings near the court, including confining protesters and journalists to the nearby Olympic Stadium grounds during prominent trial dates.
When VOD arrived at the scene around 10 a.m., five security guards sat on plastic chairs around the vendor eating, and this reporter was also able to order pork and rice with a fried egg.
The street vendor later acknowledged that a guard had spoken to her. If she sold to the women and the women caused trouble, she wouldn't be allowed to continue her business, the vendor said she was told. The vendor declined to give her name or further details, saying she was afraid she would face problems.
It could not be ascertained for which institution the allegedly breakfast-blocking guards worked.
Chan Rithy, Phnom Penh's chief of municipal security guards, said he had no information about Thursday's enforcement. Prampi Makara district governor Lim Sophea and deputy governor Chea Sotheara said they were too busy to comment.
Phnom Penh City Hall spokesperson Met Measpheakdey, however, said he would look into the case. He said he needed more time to find out if the allegations were true.
"I will research and ask them if there was such a case or not, so I can comment," Measpheakdey said on Thursday.
Reached on Friday, the spokesperson said he had checked with local authorities and none had reported the incident described by the two protesters, although Measpheakdey did not specify which authorities he asked about the alleged breakfast ban.
"There is no such case. I do not know​ which security guards would have led them to make these claims. No one forbids anyone to eat. It seems wrong," he said.
Am Sam Ath, monitoring manager for human rights group Licadho, said that if the protesters' account was accurate, the actions of a couple of guards could tarnish the image of authorities as a whole.
"There is no right to ban anyone from selling or eating," he said. "There can be no ban on eating."