Provinces outside Phnom Penh had more than 2,000 new Covid-19 cases in the week to Thursday, the most on record, as coronavirus numbers continue a gradual resurgence.
Though some provinces — notably Kandal — still are not releasing daily case counts, subtracting Phnom Penh's total from the national figure shows the outbreak is no longer centered primarily in the capital.
Though areas outside Phnom Penh saw some spikes in April, the weekly total is now higher than it has ever been outside Phnom Penh.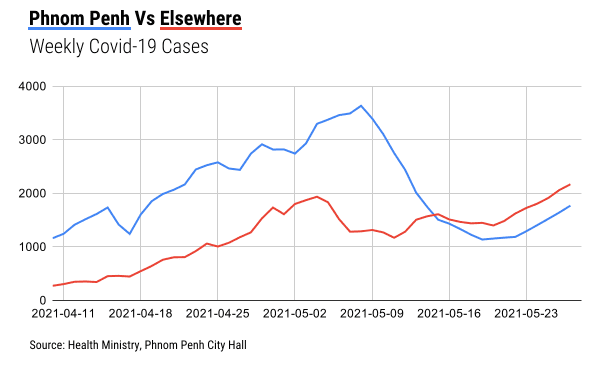 There were 1,771 cases in Phnom Penh in the week to Thursday and 2,170 elsewhere, according to the official statistics. It is unclear whether the Health Ministry is including cases found in the ongoing prisons Covid-19 outbreak in its daily totals.
Kandal deputy governor Nov Peng Chandara said his province had discussed releasing case numbers, but was worried about protecting people's privacy. Some other provinces are issuing the names and residences of new cases, including Prey Veng posting photos of new patients to its Facebook page.
"Sometimes it is difficult because if we post it, it affects the [individual's] rights. That's why we don't want to post," he said.
Authorities work with local-level authorities to find the new cases, and it was unnecessary to disclose their personal details, he said, without explaining why the total alone could not be posted.
"That's why we don't dare. We are worried," he said.
Peng Chandara said Kandal recorded 217 cases on Thursday. With Phnom Penh recording 299 cases that day and 649 countrywide, just 133 cases would have been elsewhere, according to official statistics.
He added that the province had seen 3,494 total cases so far, plus 2,126 recoveries and seven deaths. The total included more than 100 found in the provincial prison, he said.
Asked whether Covid-19 cases had been trending up or down, Peng Chandara said they fluctuated in recent days. Aside from the prison, the province had seen many cases in factories, he added.
"In general, we can control the situation of the disease. We can control the outbreak even in factories. We can control it," he said.
On Thursday, Prey Veng reported 10 new positive cases for 340 total; Svay Rieng, 74 cases for 657 overall; and Preah Sihanouk, 65 cases. The coastal province also reported 267 cases on May 22, though other days were between eight and 39.
Meanwhile, residents' activities in Phnom Penh, Sihanoukville and Kandal province's Takhmao city appear to have climbed since lockdown restrictions were eased this month but remain lower than before the February 20 outbreak, data from Facebook shows.