An assistant to Prime Minister Hun Sen traveled to coastal provinces to look into land disputes instead of staying in quarantine over the weekend, while a bodyguard visited friends in Takeo province on Monday, leading the search for indirect Covid-19 contacts of a visiting Hungarian foreign minister to spread to at least seven provinces outside Phnom Penh.
More than 1,000 people have been tested in the wake of Hungarian Foreign Minister Peter Szijjarto's visit last week, and apparent breaches in quarantine have been found as contact tracing, testing and isolation protocols remain opaque.
Doung Dara, a prime ministerial assistant, visited the provinces of Kampot, Kep and Preah Sihanouk around Friday to Sunday, leading dozens to go into quarantine, according to several local officials.
Contacted on Tuesday, Dara questioned the motives of reporters, asking if their questions had good or bad intentions and whether they were aimed at helping society and the nation.
"I am happy to provide some information, but a spark of fire can cause a big fire. Some news is like sitting to blow smoke onto others, while other news benefits our country," he said, and did not answer questions.
Kampot provincial administration director Vith Vathana said Dara had visited the province on Friday. Local officials who met him had samples taken for Covid-19 testing, but had yet to receive results.
Neak Sovannary, governor of the province's Toek Chhou district, said Dara had met with about 20 people in the afternoon.
The sun was out, it was in the open air, and he wasn't too close to the prime ministerial assistant, Sovanary said.
"I am not concerned about it because I stayed far from him," he said. "I am quarantined but I did not take any test."
There was also a closed-door meeting involving the provincial governor and other officials, but he did not attend, he said.
Kep provincial governor Som Piseth said Dara came to his province on Saturday.
Dara "came to solve land disputes," Piseth said, adding that the prime ministerial assistant was an indirect contact of Szijjarto. The Hungarian minister tested positive for Covid-19 after leaving Cambodia.
The people Dara met are now in quarantine at home, Piseth said. He had been in a small meeting room with nearly 20 people, he said.
Bun Sinan, Ream commune police chief in Preah Sihanouk's Prey Nob district, said Dara visited his commune on Sunday morning accompanied by four or five officials.
"Provincial and district authorities have worked since yesterday and have taken four people who were in direct contact with His Excellency to the provincial [administration]," Sinan said on Tuesday.
Local authorities began the contact tracing on Monday "after we received information," Sinan said. "We are preventing it — the commune, district and province are cooperating with each other and working since yesterday to now."
Provincial spokesperson Kheang Phearum said Dara had direct or indirect contact with 70 people in Preah Sihanouk, and half of them had been tested.
"[We're] searching for more," Phearun said.
The cases in Kampot, Kep and Preah Sihanouk add to suspected contacts in Pursat and Prey Veng — where officials visited before they knew of Szijjarto's positive test — as well as Kandal and Takeo.
Meas Uy, head of the Takeo provincial administration, said a bodyguard had visited his friends in his hometown on Monday for the Independence Day holiday.
"People who were involved have been quarantined, and we do not know the results yet," Uy said. "He met only friends that he knew."
Uy said he did not know the total number of contacts or tests.
Kruy Malen, head of the Kandal provincial administration, said three officials were indirectly in contact with Szijjarto following his visit last week.
"They are self-quarantined and we have taken their samples for testing," Malen said.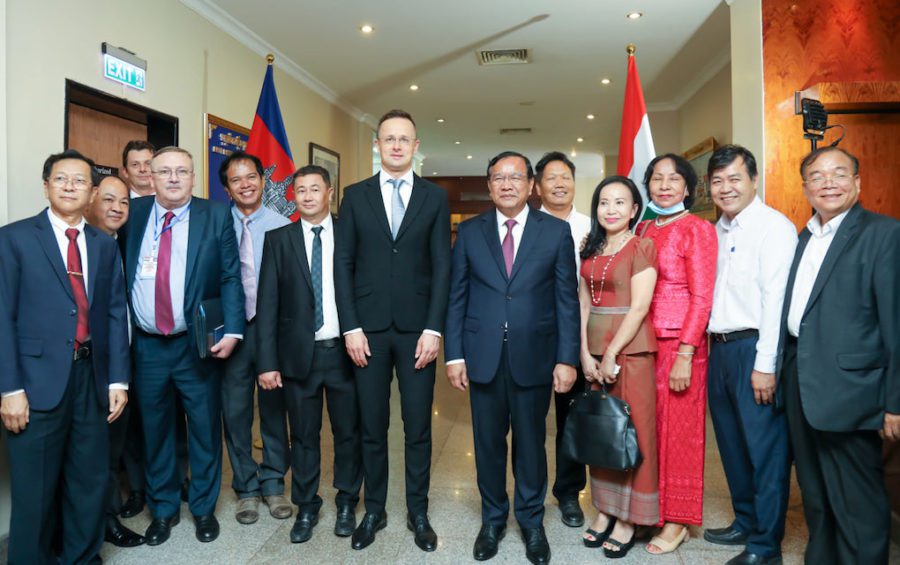 Health authorities have asked all direct and indirect contacts of Szijjarto to remain in quarantine for two weeks and take a total of four tests. Four positive cases have been found so far, a bodyguard who worked directly with Szijjarto; the Hungarian ambassador to Vietnam and Cambodia, Ory Csaba; CPP lawmaker Suos Yara; and Agriculture Ministry deputy secretary-general Sar Chetra.
Szijjarto did not follow quarantine requirements for diplomats, and many government officials at meetings with him, including Hun Sen, did not wear masks.
Hun Sen said in an audio recording shared by the Health Ministry on Monday night that officials' wives had also breached quarantine.
"According to my understanding, on Saturday and Sunday, some officials' wives considered themselves as [only] indirectly in contact, so they went to participate in this ceremony or that ceremony — this is hugely careless and can cause havoc," Hun Sen said.
He said the negligence needed to end.
"We can beat this situation, but if we continue to be careless and not pay attention to properly implementing quarantine, we will not control the situation anymore," he said, suggesting that he could declare a state of emergency if necessary.
"The State of Emergency Law is in hand — I could request the king to sign to put any part of the country, or Phnom Penh, or the whole country in a state of the emergency," he said. "But I don't want to go this far because it will impact many people's rights and freedoms."