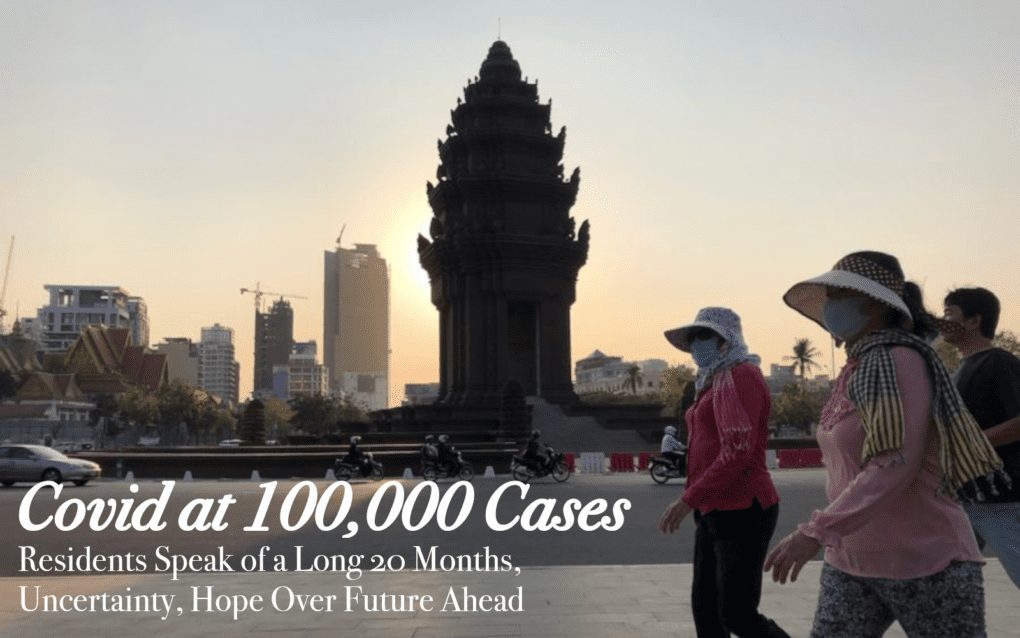 By Keat Soriththeavy
As Cambodia hit 100,000 recorded Covid-19 cases on Monday, Phnom Penh residents spoke of facing repeated disruptions over 20 months and how, for many, the future remains clouded with uncertainty. A university graduate's dream of training to become a teacher has been put aside for now; a tailor is selling fruit from a street stall, and doesn't know when her normal life can resume; a 31-year-old spent almost a year trying to launch a cafe — finally getting it open only last month.
The country's vaccination drive has reached more than 70 percent of the total population, and though there's hope of safety and recovery in the widespread inoculations, for residents there have been missed opportunities and plans put on hold, and continued difficulty imagining when or if the world might return to normal.
'I Can't Go Home Empty-Handed'
Tho Rithik, 21, thought that graduating from university would mean embarking on the first steps of his dream career of teaching high school.
Instead, he's living with relatives, unemployed and worried he's forgetting his lessons. He can only wait as his family helps him out.
"I feel guilty about my unemployment and facing relatives in my hometown," Rithik said.
State examinations and recruitment for new high school teachers were postponed this year, he said. Maybe they will be back next year, but maybe not, he says. He is worried it will be delayed year after year.
"Next year, or another postponement of these examinations, and I might not consider this future plan anymore," Rithik said. "If this delays longer, my generation will face a problem. It will increase graduate unemployment. And migrating will become a consideration too. For me, I don't have enough money to spend by myself. I can't take my parent's support anymore. I need to find money by myself."
Rithik graduated from the Royal University of Phnom Penh with a degree in Khmer History just last month. He said he wanted to find a teaching job in his home province of Battambang, but he will look for work in Phnom Penh or wherever he can.
Schools have been closed on and off since March last year, though the country is currently in the midst of a gradual reopening.
"The subject was my dream job since a long time ago, but it's been disrupted due to the bad pandemic," he said. "I focused on my studies in the hope of preparing to teach at a state school, but it ended of Covid-19."
"I'm not even sure if next year might be a chance for me," Rithik added. "I can't go back home empty-handed after four years of studies."
Stagnant Incomes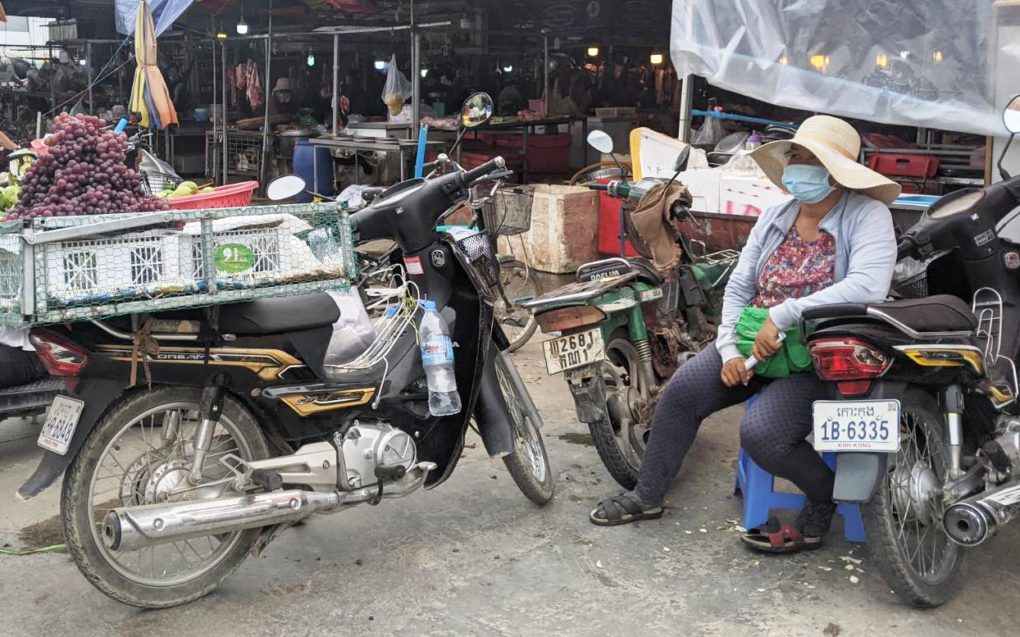 Keo Sineath stands outside Chhouk Va 2 market all day with her motorcycle and fruits. The 40-year-old started selling fruits in July, after losing a contract to supply garments to a Poipet factory, which was dependent on exports to Thailand and Myanmar.
"I'm waiting for the factory to order my clothes again. But information from them is silent and sometimes I only get small orders for garments, which I cannot survive on or support the family with anymore," Sineath said.
The loss of income, which was made worse by a community outbreak that started in February, from the garment business meant only her husband was earning a stable wage, around $150 driving an ambulance for a government hospital.
"He earns $150 per month. If I keep staying at home we will have an empty stomach and we need to support my two children," Sineath said.
The fruit seller said she was not happy leaving her children all day long to sell fruit outside the market, adding that, at best, she earns as much as she did sewing garments but spends almost no time with her children, who are 6 and 8 years old.
"I lock my kids in the house and they take care of each other," she said, adding that they have to learn online because of school closures.
The family took a microloan to build their home and those payments, along with school tuition, have gotten harder to meet.
"If this situation continues, my family will be in more difficulty. Now we are already struggling, just keep moving day by day to survive," Sineath said.
"Before, I was scared of Covid-19. … I don't want to care anymore because my stomach is more important. What I am scared of is no food to eat and my two children."
Authorities try to move her away from her spot at least once a month. She said she has no idea if or when she can stop, and go back to her previous life.
"At this moment I cannot think about anything other than selling the fruit," she said. "I don't have enough money to find another business, whether good or bad times come."
Covid-19 in Headlines
Exchange Programs Grounded
Khorn Sokheng graduated from Phnom Penh's Royal University of Law and Economics this year and is now working as a junior marketing executive. The 22-year-old said this week that she was excited to enter her final year of university in 2020 — especially the prospect of going on overseas exchange programs.
She qualified for three exchange programs, one each in Singapore, Vietnam and the U.S. The program in Singapore was special because a team consisting of her and classmates had won a competition and were heading to the city in March 2020. But Cambodia, and most parts of the world, started seeing a rise in Covid-19 cases.
"So, the program was moved to an online meeting. I had bought luggage and some clothes too, hoping I could go there," she said.
A few months later, she was selected to go to Vietnam for a women's empowerment exchange program​​ with Women Peace Maker. It too was moved to a province in Cambodia. Finally, she hoped to go to New York, U.S., with U.N. Women to mark 25 years of a global effort to ensure human rights for all women and girls.
Sokheng was hoping all three programs would give her experiences that were different from the classroom learning she had at RULE.
"That was my plan and I have very high hopes to go abroad but Covid-19 stopped everything. It is contrary to my expectations that I must learn and know everything new that I haven't known before. Also, I thought I must go somewhere in my college life," said Sokheng.
The most frustrating part of the canceled exchange programs, for Sokheng, was all the effort she put into applying for and meeting all the requirements and, importantly, the ideas she wanted to exchange with the people she would meet in the three countries.
"I could not share or exchange [ideas] I had prepared with people outside and also to network with new people in other countries too," she said.
Never Too Late for Coffee
Lim Panna's wife really wanted the couple to start their own coffee shop. Bon Sonita wanted to recreate the experiences she had as a high-schooler going to small cafes to drink coffee, eat mee soup and pork with rice. The couple thought this would distinguish them from the big brand coffee chains across the city.
Panna, 31, got down to realizing wife's dream in August 2020, when Cambodia's Covid-19 situation had improved. But, with community transmission picking up in November, he had to wait till January 2021 to start construction at the Tuol Kork location.
February's large Covid-19 outbreak led to lockdowns in Phnom Penh, with Tuol Kork reporting a high number of daily cases. Travel restrictions imposed due a three-color Covid-19 zoning system prevented construction workers from working on the cafe, Panna added.
The zoning system — red, orange, and yellow — placed restrictions on movements and business activity based on the number of cases reported in an area. These restrictions were in place till mid-May, when City Hall started easing the zones and making them more targeted.
"It took a bit of a long time to get it done, due to the community outbreak this year. It took eight months to set up this concept," Panna said.
The big challenges for Panna and Sonita were the protracted delays in construction and having to pay rent every month the cafe was not ready. Luckily for Panna, the landlord halved the rent for the early months of the recent Covid-19 outbreak.
More than a year after Panna conceptualized the new business venture with Sonita, they opened the cafe in August and business has been a little slow to start with, though he is confident customers will come to experience his wife's idea of recreating their high-school days.
He was worried about Covid-19 outbreaks in the capital but said Prime Minister Hun Sen's efforts to protect people and vaccinate them was what gave him hope.
"It was not only an opportunity to open a coffee shop but also to make my wife's dream come true," Panna said.
"I feel happy to make this happen, for customers to come and enjoy the drinks here."
Panna said he was optimistic about the future. He had registered his brand name, and said he believed he would be able to expand over the next year.
Education on Hold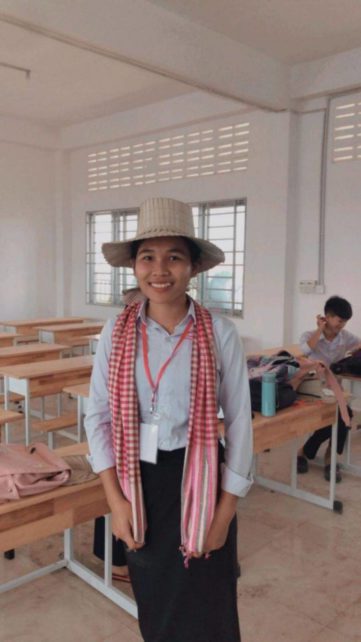 Seng Chan Dalin was supposed to take the high school examination in Sihanoukville last August. They were delayed till December 2020 because of Covid-19 outbreaks.
The 19-year-old was supposed to come to Phnom Penh to start a degree in Cambodian history at the Royal University of Phnom Penh but was learning virtually till July. The February 20 outbreak quashed any plans of moving to the city, she said.
"I wasted a lot of time, around one year, due to the delay. Also, my studies are fully online. Sometimes I feel hesitant to ask the teacher."
Chan Dalin joined the hundreds of thousands of school and university students who were heavily impacted by the Covid-19 pandemic. After schools closed in March 2020, they reopened for a brief period in August only to shut down again in November. Two months later, schools were open but shuttered in February.
Students have had to adapt to online learning, many unable to access digital classes because of lack of access to smartphones and reliable internet connections.
As the situation improved in July, Chan Dalin and two friends came to Phnom Penh to find a place to live and find jobs. They hoped that their university would reopen, but last week capital officials only announced the reopening of secondary schools in the city.
The three were able to find a room but were stuck in the room all day long. Their families were also worried about Covid-19 infections in the city and took the decision for them to return to Sihanoukville after only two weeks in the capital.
"I did not feel safe. There is no one to take care of me here, but if I'm home my family always supports me in everything," Chan Dalin said, hoping that RUPP will soon announce the resumption of in-person learning.
The Long Wait Outside Angkor Wat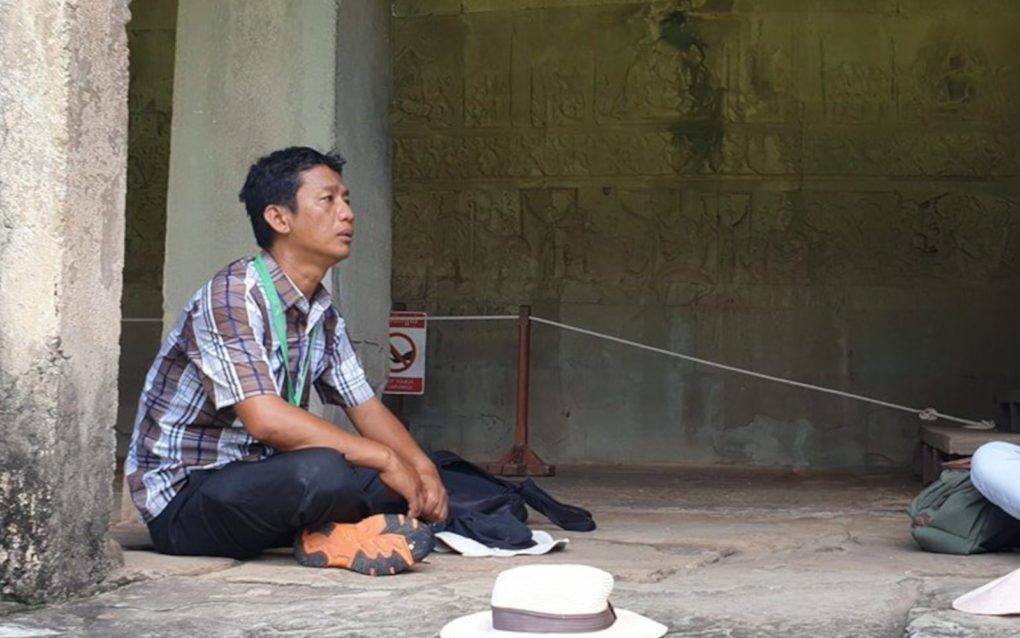 Neng Bunrong spends most of his days standing outside Angkor Wat. The 41-year-old tour guide. There are no tourists, except for a few Cambodians who are mostly looking to get photographs and selfies with the ancient temple complex.
"I only get Khmer tourists, but not many of them are interested to know the story of [Angkor Wat] or to hire tour guides like me," he said.
He hoped that he could guide foreign domestic visitors around the complex, but they normally came with a prearranged tour guide.
The Covid-19 pandemic has decimated the tourism industry worldwide. In Cambodia, this hit is being felt the most in tourist-reliant Siem Reap. The normally bustling temple city is largely abandoned with many bars, restaurants, and shops closed. Only a few thousand local tourists — both Cambodian and foreigners — visit the Angkor temple complex every month.
Bunrong said his income had fallen dramatically, by more than 90 percent. He gets tour groups once every four to five days and earns $10. The tour guide, who could use his monthly earnings to comfortably support his family prior to the pandemic, is now having a hard time buying the basics.
"Before Covid-19, I could support my family very well. But now I can't even afford to buy rice for my family," he said.
Bunrong said he didn't have many other options because his only skill was retelling the history of the temple complex and Angkor empire, and even if he wanted to farm he did not have any land.
"For me, besides being a tour guide I do not know what else to do," he said. "I don't have any skills besides telling people about the history of Cambodia."
The tour guide, who has been working in the sector for 20 years, said all his colleagues were suffering as well and he hoped tourists would help them.
"If it remains silent like this, then we will face more deep problems."
He said he could not imagine any future plan for himself, as the pandemic seemed to only keep going. Siem Reap was put under lockdown again over the weekend.
"Sometimes, I don't have rice to eat," he said. "I can't even try to think of something new to do."