At least 26 defendants told the Appeal Court over two years that they faced violence or torture by authorities to force confessions, according to a trial monitoring report by the Cambodian Center for Human Rights.
The NGO criticized Cambodia's criminal procedures, which only allow suspects to request a lawyer after 24 hours have passed since their arrest.
The trial monitoring report, issued on Monday, also said 11 defendants who appeared at the Appeal Court between September 2018 and August this year testified of being threatened to give a confession during police questioning.
The report called the situation "a matter of serious concern."
"There are no exceptions to the prohibition of torture," it said. "[E]ven one defendant alleging torture or coercion is too many."
Hun Seanghak, coordinator of the NGO's Fundamental Freedoms Monitor Project, said having a lawyer present from earlier in judicial police proceedings could prevent threats and violence during interrogations.
But Cambodia's Criminal Procedure Code only allows detained suspects to request a lawyer 24 hours after they are arrested, he noted.
"International law is not like that. Every arrest must have a lawyer immediately," Seanghak said. "So please, all related parties, respect the rights of the accused based on international law."
The NGO's report also noted that the law "requires that the interrogation of a charged person may only take place in the presence of their lawyer."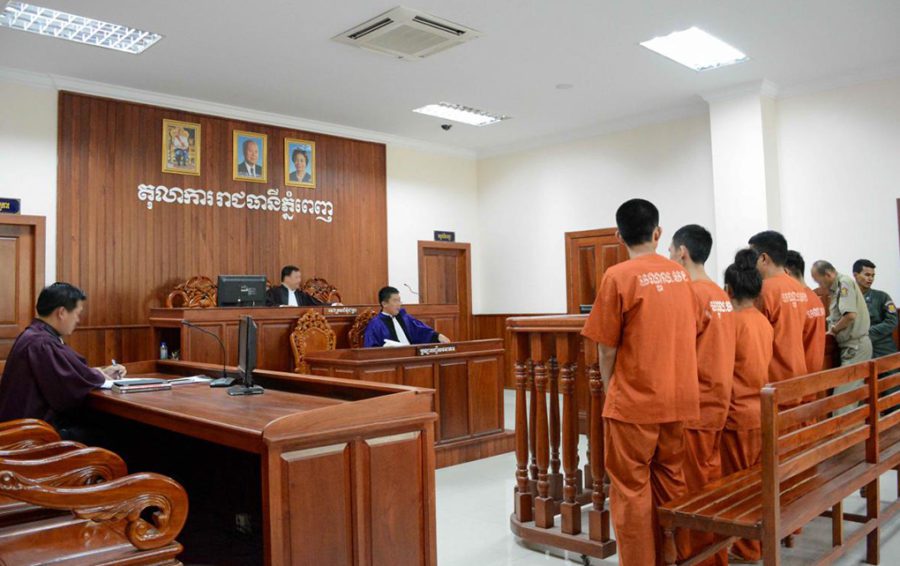 National Police spokesman Chhay Kim Khoeun denied that suspects were tortured to give confessions, saying it was just suspects' words against police officers'.
"Suspects say the police force [them] to give answers," Kim Khoeun said. "Do [the monitors] believe it if the police reply that there is no coercion to get answers? It is 50[-50] between us, so I do not accept it."
He said law enforcement would take action against any offending officers if there was enough evidence.
Transparency International Cambodia executive director Pech Pisey said a lawyer should be present to observe the judicial process from the beginning.
"If we have a lawyer, it means that the suspect is protected by the law, so those who … want to torture [them] to give the wrong answer, they would not dare to do so because there is a lawyer," Pisey said.
A report by Amnesty International researchers in May said some people being arrested for suspected drug crimes were tortured for confessions.
"They asked me how many times I sold drugs. … The police officer said if I didn't confess, he would use the taser on me again," one woman told Amnesty.
Several news reports have previously recorded defendants telling courts that they were coerced to confess, including a newspaper publisher charged for murder in 2016 and members of a dissident group a year earlier.
The Constitution states that coerced confessions are not to be considered evidence of guilt.