Sorm Sopha had moved to Phnom Penh and started selling petroleum on the side of the road to support her young family. But back in 1995, there were too many competitors trying to make it by opening small shops in the city.
When one of her friends told her a casino on a cruise ship had job openings, she put together her CV and submitted it to the company. She was called back to NagaWorld for an interview on the same day she dropped off her CV, and told she could start the next day cleaning the casino for a stable salary of $80 a month.
Sopha remembers the red carpets spilling out of the six-story NagaWorld cruise ship and onto the dock — then stationed near the Japanese and Chinese friendship bridges — and the welcoming feeling it gave guests. She also remembers when a storm severed the cruise ship's line from the dock, and she had to reach it with a small boat and climb up the side of the ship to do her job.
Now 48, Sopha said she had witnessed the company grow from a cruise ship almost constantly docked at the intersection of the Mekong and Tonle Sap rivers to the sprawling NagaWorld casino complex with a third skyscraper rising nearby. When the company fired her in May due to their claimed financial troubles during the Covid-19 pandemic, Sopha said she never had a problem with the company, and now she was confused and frustrated as to why the company didn't respect her 26 years of service.
Sopha said she was happy to work for the company, and at the time she started working for NagaWorld, management offered her a job that would give her mid-range income, enough to cover expenses for her husband, two children and rented room in Phnom Penh.
She said she had received recognition for her work too: Her salary and benefits rose, and on her 20th year with the company in 2015, she was granted a visit to CEO Chen Lip Keong's other property in Malaysia's Sabah state, the Nexus Karambunai resort where Prime Minister Hun Sen has also visited. She had also earned another trip to Malaysia through the company, plus certificates and trophies for her two decades of employment.
But there were also difficulties: While the company moved from a ship into new golden-hued buildings on Sihanouk Blvd., she still struggled financially.
"I also picked up bottles to sell as much as I can," she said, working as a scavenger to support her income. "My salary increased slowly."
She said the dealers made much more income than she did in housekeeping, even with more than 20 years of work behind her belt. But their job was in some ways harder.
"I worked there for so long. I could see a lot of things inside the casino," she said. "For me, I did not face any abuse or problems with the customers, but some workers, especially card dealers, they faced such terrible things. The customers threw water at their faces and even yelled at them and threw cards into their faces. I sometimes saw the dealers crying."
She said she joined the union as a member, because she saw how things improved when the Labor Rights Support Union for NagaWorld Employees could intervene: Workers had salary increases and better benefits, plus they would have an ally when conflicts arose.
When the casino closed ahead of the lockdown last March, she said she was able to keep working because management wanted to maintain cleanliness of the building. Two months later, they sent her a message saying she was one of 1,329 workers laid off.
"When I saw the message from the company, my heart dropped," she said. "I did not expect the company would fire me with the excuse of Covid-19. I worked there for so long."
Sopha said she now wants to get back to work, and she stands with some 300 workers who are requesting their jobs back at NagaWorld rather than a recalculated compensation package. With her husband only earning $110 per month as a security guard, the loss of her NagaWorld income is a huge hit for the family of four. She has tried to get jobs in other locations, but she has only been able to get temporary jobs carrying bricks on construction sites, working nine- or 10-hour days.
She said her decision to strike also rests on her desire to see the company respect longtime employees like herself. Sophea fears she's now too old to get a job anywhere but a construction site.
"I'm exhausted, and I climb up 20 floors. Sometimes I'm crying while I'm working," she added, saying she often thinks about her history with NagaWorld and the suddenness of her termination. "I didn't expect them to fire me like this."
After one month of striking, Sopha's colleagues said they were committed to continue striking, though some have spoken of feeling exhausted.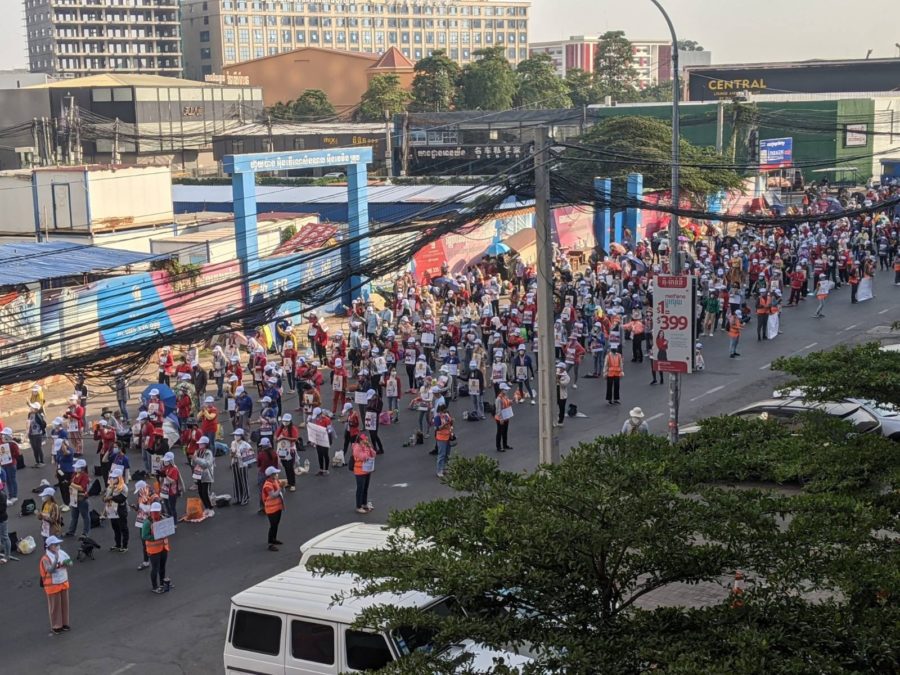 Pich Samnang, a casino operator who lost his job in the layoff, said he's not sure he wants to continue working for NagaWorld because the small shop he started at his home has proven successful. But he showed up to support the strikers, saying working conditions wouldn't improve without the presence of a union.
"I arranged my work to sell at the shop in the morning and come to the strike in the afternoon," he said. "I do this for my labor rights, and this is necessary for the new generation who want to work here."
He noticed that Labor Ministry officials show up every day with a loudspeaker, asking workers to come to negotiate, but their demand remains the same: The union wants its imprisoned leaders freed in order to lobby the ministry and company on the workers' rights.
He said the workers wouldn't budge in the face of the ministry's megaphones. "This is useless. No matter how long the ministry does this, for one month or two months. It's like taking a cow to watch television."
In recognition of the strikers' demands, three formerly-imprisoned activists from the group Khmer Thavrak shaved their heads in a Buddhist ceremony in front of Angkor Wat on Tuesday.
Eng Malai, who had been imprisoned for more than a year and was released in November, said they had done it to motivate the strikers to continue, and wished for the health of the union leaders who were arrested in the first week of January.
"I know how hard it is to stay in the prison," said Malai, who is also known as So Metta.
"We shaved our hair to show them that we and other people care about them and also we want to warn the people to stand up and unite together when powerful people violate their rights."
Ath Sreynet, a strike participant who still is employed as a dealer at NagaWorld, said she received a "last call" from company management warning that she would be fired if she continued to strike.
"I will not go back to work until they release the union leaders and hire them back," she said. "I've been working there for five years so I know what they will try to do if I go back to work without the union there."
CORRECTED 8:20 p.m. — The housekeeping employee who worked for NagaWorld for 26 years is named Sorm Sopha, not Som Sophea as previously reported.