Downstream Mekong countries, including Cambodia, have asked Laos to take a deeper look at the environmental impacts of a planned large-scale hydropower dam that academics and activists say will maim the mainstream Mekong River, which is already showing signs of severe damage.

The Luang Prabang dam, a 1,460-MW hydropower project that will be about 25 km from the Unesco World Heritage-listed city, is scheduled to start construction at the end of this year.

Stakeholders including nearly 200 representatives from civil society, the private sector, NGOs and governments raised concerns and recommendations about the proposed dam project on Wednesday and Thursday during an intergovernmental Mekong River Commission consultation meeting in Luang Prabang, according to an MRC statement.

While stakeholders recognized Laos' transparent and timely sharing of project documents through the MRC's prior consultation process, they pointed to the quality and inconsistent use of data and information in the documents, the statement said.

They also recommended in-depth studies be conducted and further mitigation measures be explored.

Sok Bunheng, an MRC representative for Cambodia, said additional studies of cumulative and transboundary impacts, including effects on fisheries, were needed to "ensure that negative impacts from the dam are minimal."

"Baseline data of sediment transport at the dam site should be surveyed, monitored and documented properly before construction of the proposed dam commences," Bunheng said in the statement.

The Mekong's sediment levels have gotten low enough in recent months that in segments flowing through Cambodia and Thailand the usually muddy-brown-colored river has turned bright blue. The color change indicates that it is not transporting sufficient sediment to support aquatic plants and animals in the biodiverse system.
Today at the #GoldenTriangle in Sob Ruak, #Thailand. Blue Mekong contrasts w/ brown Ruak River in bottom left. Why? The #Mekong has lost most of its sediment from 11 upstream megadams in #China and the Ruak has not. Brown rivers are healthy rivers in #SoutheastAsia. pic.twitter.com/b6ewWnKBXV

— Brian Eyler (@aikunming) February 6, 2020
Mak Bunthoeurn, coordinator for the Rivers Coalition in Cambodia, a member of the NGO Forum, said in a separate statement that Laos should take more time to understand the dam's impacts on downstream countries and raised concerns about the approaching construction start date.

"The project document has recognized a dramatic impact on sediment flow, however, the report did not provide possible concrete measures to address the issue," he said.

While officials from Cambodia, Thailand and Vietnam have voiced concerns via the MRC over potential downstream impacts of the dam, according to the MRC statement, power produced by the dam is intended mostly for export to Thailand and Vietnam when commercial operations are expected to begin in 2027.

In addition, Cambodia in January connected its national grid to another hydropower dam in Laos, the Don Sahong, which can import 195MW of power for transmission to Phnom Penh, and has an installed capacity of 260MW, the Khmer Times reported.

Cambodia also agreed last year to buy 2,400MW of power from Laos starting in 2024.

Environmental activist Chum Huot told VOD that fishers in Stung Treng province are seeing smaller catches after the Don Sahong was brought partially online in October. Now communities along the riverbank also fear their homes will collapse due to bank erosion, according to Huot.

"Whenever there is enough sediment in the riverbank, it will help prevent the riverbank from collapsing, but if there's no mud, it makes the riverbank collapse," he said.

While Vietnam's MRC representatives have raised the issue of cumulative impacts of upstream dams, including riverbank erosion and a sinking delta, Vietnamese state-owned enterprise Petro Vietnam is the lead company developing the Luang Prabang dam.

Philip Hirsch, an emeritus professor of human geography at the University of Sydney who studied Mekong politics for decades, noted Vietnam's apparent divided position.

"By expressing concern over the project and the quality of impact studies, the Vietnamese delegation clearly demonstrates that there are different positions within the downstream country, which stands to be affected severely by upstream hydropower development, associated sediment trapping and impacts on fisheries," Hirsch said in an email.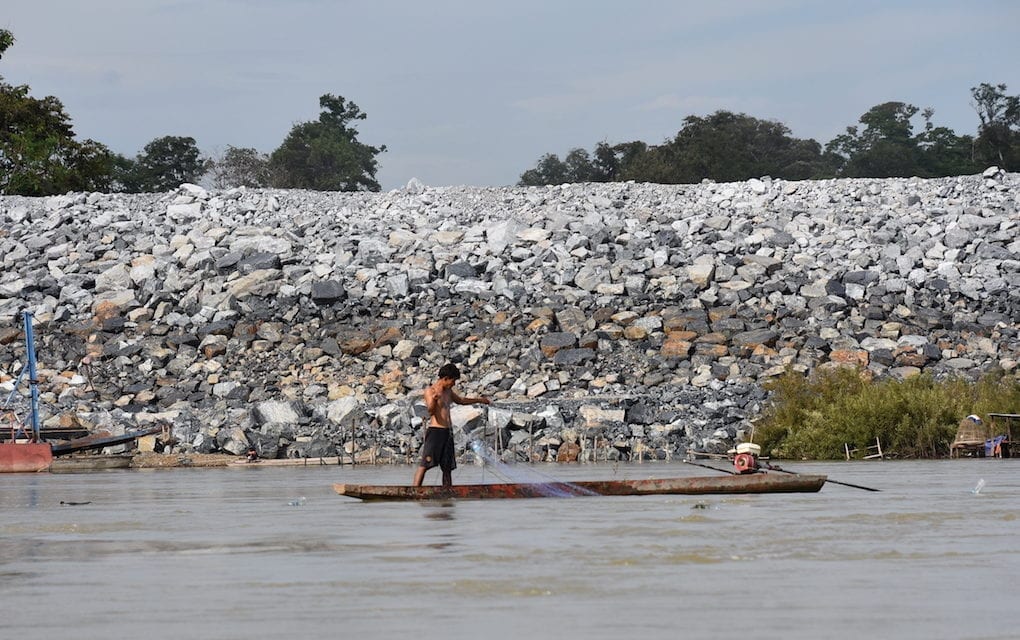 Gary Lee, Southeast Asia program director for conservation NGO International Rivers, said there is a chance that countries' voiced concerns in MRC meetings could delay Luang Prabang dam construction.

In past MRC meetings, developers proceeded to build the Xayaburi and Don Sahong dams immediately after the consultation process, but Pak Lay and Pak Beng dams had been delayed, reportedly to conduct more studies and address concerns from impacted communities, Lee said in an email.

"There is no guarantee that Luang Prabang dam will proceed," he added. "There is strong opposition from communities and civil society. Some government officials from neighboring countries have also expressed concerns."

The Xayaburi dam and other projects also included measures that aimed to allow fish and sediment to pass through naturally, but Lee said there's been no clear data or evidence from the Laotian government to show if these measures will actually lessen the blow to the ailing Mekong.

"Simply put, the Luang Prabang dam should not be built," he said. "There are more sustainable and equitable alternatives, which should be prioritized over proceeding with another mainstream dam."

The MRC's prior consultation process on the Luang Prabang dam project began in October 2019 and continues until April.

Additional reporting by Yeang Sochea Metta