Police manning Covid-19 quarantine centers have been equipped with face masks, metal detectors and electric-stun batons, while security along the country's borders has also been tightened to prevent illegal entries that circumvent quarantine, officials said.
Phnom Penh Municipal Police spokesperson San Sokseyha said on Friday that more than 600 officers had been deployed in Phnom Penh to monitor the centers 24 hours a day.
In an announcement on Thursday, municipal police said that, thanks to a gift from police chief Sar Thet, officers at all quarantine centers in the capital had been equipped with electric-stun batons as well as handcuffs "in order to maintain security and order." Authorities also received handheld metal detectors.
The country has recorded more than 250 Covid-19 cases over the past week since the emergence of the "February 20" cluster, linked to Chinese women who escaped quarantine at Phnom Penh's Sokha Hotel.
Pech Pisey, executive director of Transparency International Cambodia, said authorities must also work to prevent corruption and bribery among quarantine center security.
"There must be a specific monitoring mechanism to prevent that from happening," Pisey said.
Meanwhile, National Police spokesperson Chhay Kim Khoeun said on Friday that 600 people have been arrested and detained over 10 days as authorities crack down on illegal border entries.
"Border police have deployed additional forces [and] set up tents at all points that we suspect people could enter," Kim Khoeun said.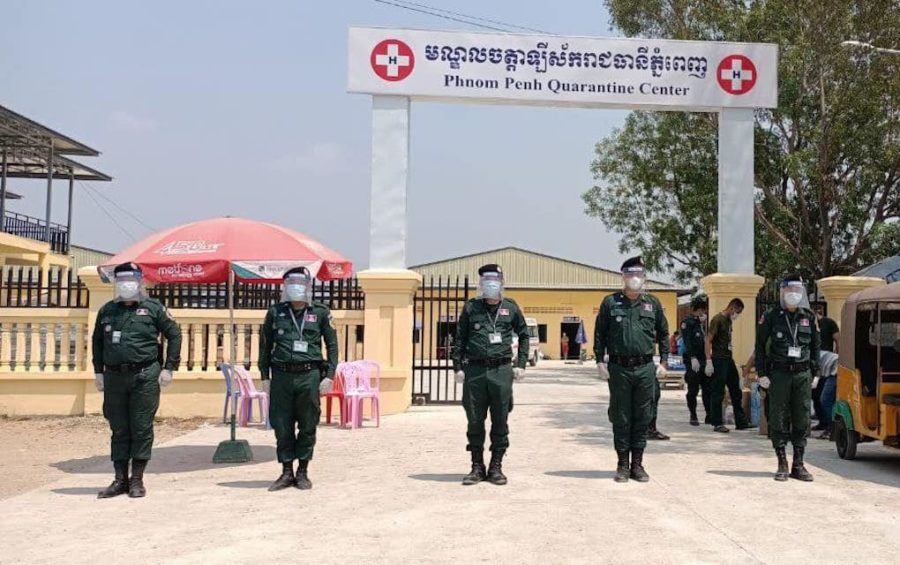 Battambang provincial governor Nguon Ratanak said quarantine centers were full, and some returnees were being kept in tents, with 10 people per tent.
The Education Ministry said in a statement on Wednesday that 50 schools in Battambang, Banteay Meanchey and Oddar Meanchey provinces could not open at the start of the new school year last month because the schools were being used as quarantine centers for migrant workers returning from Thailand. Donors had supplied some 32,500 affected students with textbooks, the ministry said.
The Banteay Meanchey provincial administration also announced that a 36-year-old man who had returned from Thailand and was in quarantine had died from health complications.
The man was treated for pulmonary tuberculosis in Thailand two weeks before returning to Cambodia, the administration said.
After arriving on February 18, the man developed several symptoms including headache, fatigue, dizziness and vomiting and was taken to the Mongkol Borei District Referral Hospital on the 21st. He was found to have meningitis and died on Thursday, according to the administration.
The Council of Ministers also issued a letter on Thursday saying foreigners would be deported and businesses closed down if they did not comply with Health Ministry measures.
Additional reporting by Sun Sokhen
(Translated and edited from the original article on VOD Khmer)