Dak Dam/Bosra communes, Mondulkiri
Trong Nhes is stooped over a smoky flame, a large pot is bubbling away. Nhes is on the first floor of a two-floor wooden house, light peeking through a small break in the planks. The 50-year-old Bunong farmer is stewing pig feed, his wife is outside threshing paddy on blue-green sheets.
"Ming, do you know about the Indigenous People's Party?" a reporter asked Nhes's wife.
"Which party? I don't know," the woman, Reang Bear, replied.
"The party with an elephant on the logo?"
"Yes, the elephant party," she answers.
Inside the house, Nhes, the husband, knows the Cambodia Indigenous People's Democracy Party. He contested the first commune election in 2002, winning with the Cambodian People's Party and served as first deputy chief in Dak Dam, in O'Reang district. He left the ticket after not having enough money to get his name on the party list for the next election.
Nhes lost a 5-hectare farm to Wuzishan company in the early 2000s, a company long accused of encroaching on residents' land to plant pine trees. The loss of land happened while Nhes was in office — exemplifying how land loss can affect even those from the ruling establishment.
Bitter about his land, Nhes doesn't mince his words about the current commune chief either.
"He seems afraid. After we report disputes to him, he doesn't solve it for us," the Bunong resident said.
Nhes said the Indigenous People's Party rarely comes to Dak Dam and its four villages. He said everyone was scared to deal with longstanding land disputes in the area.
"They have no ability to challenge the [companies]. They are hiding," he said of the Indigenous People's Party.
The Indigenous People's Party is contesting 19 communes in the upcoming June election, fielding candidates in Mondulkiri, Ratanakiri and Kratie. The fledgling party contested their first election in 2017, with no wins to their name. The party was a distant third, lagging behind the CNRP and dominant CPP, which won all communes in Mondulkiri.
An Indigenous People's Party official called Dak Dam a party stronghold — a commune where 80 percent of the 2,400-odd voters are Bunong — even though, at the last commune election, the party won only 141 votes, a fifth of the 770 CPP-favoring ballots.
Chrot Kloert is hoping to change the party's prospects in the small border-hugging commune. The Indigenous People's Party candidate has a simple explanation for the party's showing in the 2017 election — they were just too new.
Five years later, Kloert believes that has changed. He says voters are more aware of the party and its policies, especially pledges to solve land disputes in the commune.
Pressed on how he would resolve long-standing disputes and continual loss of traditional lands, Kloert doesn't have much to say.
"If we pass, we will try our best to solve it. If we get elected as commune chief, we will decide on our own. If we only get the first or second deputy position, then we will still rely on the [party of the commune chief]."
Off With a Bang
Plang Sin gets out of his car and walks straight to a billboard for the Cambodia Indigenous People's Democracy Party, one of only a few in Mondulkiri outside his own home and party office. He greets a supporter who is hosting the billboard at her home in Pech Chreada district's Sre Ampoum commune.
At the same time, a topless man tries to drive a stripped-down trailer away from the board, not realizing he was instead reversing the rickety automobile straight for Sin's Kia Morning hatchback. The koyun hits the car, leaving a tennis ball-sized dent in the driver's door.
The smile on Sin's face disappears for an instant, only to return seconds later and for him to reassure the man it was all right. "No problem," he says, rubbing the dent.
He gets back in the car, returns to the election trail and heads home to the same district's Bosra commune.
Sin is the president of the Indigenous People's Party. The slight, affable man is wearing a khaki shirt-and-trouser combination. He speaks with a low, but deep voice.
As a 10-year-old, Sin, his younger brother, uncle and aunt crossed over to Vietnam, fleeing U.S. bombings in the area during the 1960s. His father — a soldier first with French colonial forces and later with late King Father Norodom Sihanouk — and mother had died before Sin was 10.
Sin, who was a farmer, advocated for indigenous rights before taking the leap into politics. He said it isn't hard to see that indigenous lands, cultures and languages are at risk of disappearing altogether. The difference in lifestyles was evident if one only looked around the province.
"Before, we could have as many plantations as we wanted. Big or small, it was not decided by others, but now, we cannot do that anymore," he said.
His advocacy informed the party's core policy — protecting minority groups' land and resolving long-standing disputes with private companies. This pledge should resonate with the electorate, but the party president is acutely aware of how relatively obscure the party is among potential voters, even though he and party officials are out in villages raising the hot button topic of land loss.
Sin said this can partially be attributed to the small size of the party and near-empty coffers. Even though the campaign period hasn't officially started, the party has been unable to organize routine meetings with village residents and party supporters.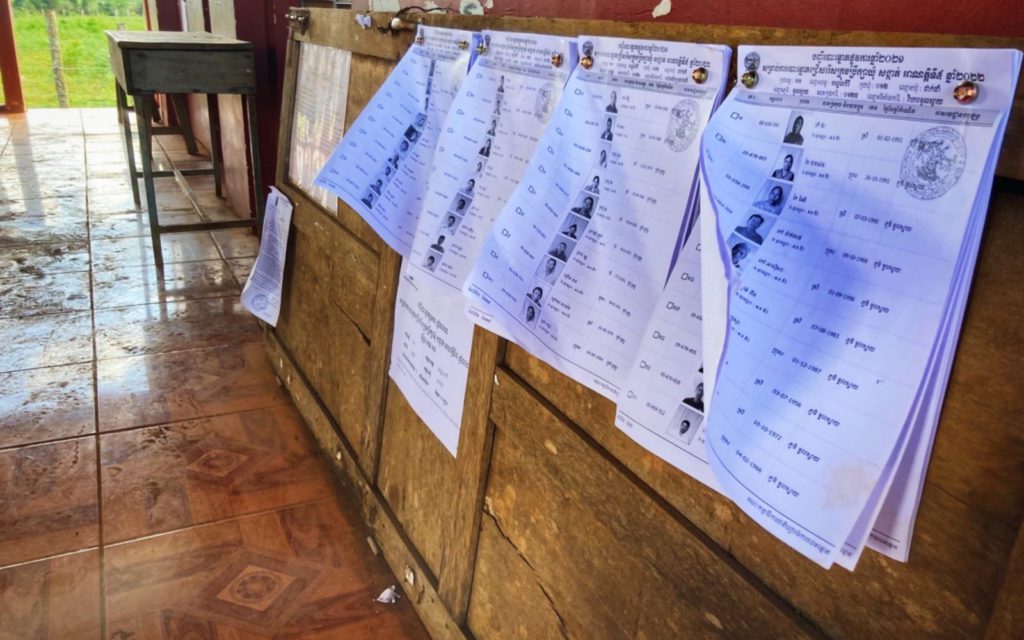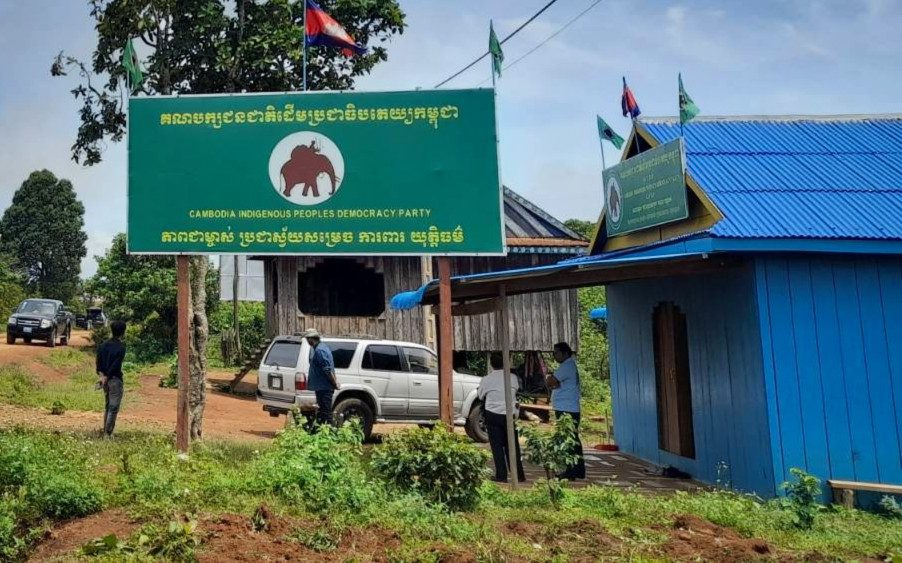 "Our party is the poorest party; we don't have much money. We have to do our work step by step," Sin says, prescribing a "drops fill the pipe" fundraising strategy.
The lack of popularity has been reflected at the ballot box. The party won little more than 1,000 votes in Mondulkiri at the 2017 commune election, a drop compared to the CPP's 21,000 votes that helped it win all 21 communes in the province. The Indigenous People's Party nevertheless calls Bosra another "stronghold," a commune where it mustered only 157 votes.
The 62-year-old Sin chuckles when asked questions about the party's prospects and whether it could challenge the CPP, whose commune chiefs have faced accusations of complicity in land grabs.
In 2021, the Interior Ministry released a report implicating 10 people — including a sitting senator and three Mondulkiri commune chiefs — for partaking in land grabs. Little to no action was taken against most of the officials, barring administrative slaps on the wrist.
"We don't do politics because we want a high position; only because we see problems and we want to solve them," said Sin.
"There were no effective measures for our advocacy. If it was effective, I would not have to create the party."
Sin comes across as pragmatic in his approach to protecting indigenous rights, especially in how he balances his Bunong identity with his Christian faith.
At his home in Bosra, Sin has a 7-meter-wide banner showing the shadowy figures of the biblical three wise men on camels nearing the manger after the birth of Jesus Christ in Bethlehem. The image is superimposed on to a photograph of Bunong families photographed against a hilly Mondulkiri landscape.
Sin said he is a Protestant and converted to Christianity when he was 15. Sin says there is no contradiction in his choice of religion and his conviction that indigenous identities can be preserved. "I can still sing Christian songs in my own language."
And while the old ways of rotational farming and traditional clothing were likely lost forever, Sin said if indigenous communities were able to stem the loss of their land — including their burial grounds and spirit forests — and preserve their language, utensils, and music, their ethos can stay strong.
"It is easy. We will change what we have to change. And we will preserve what we can," he said.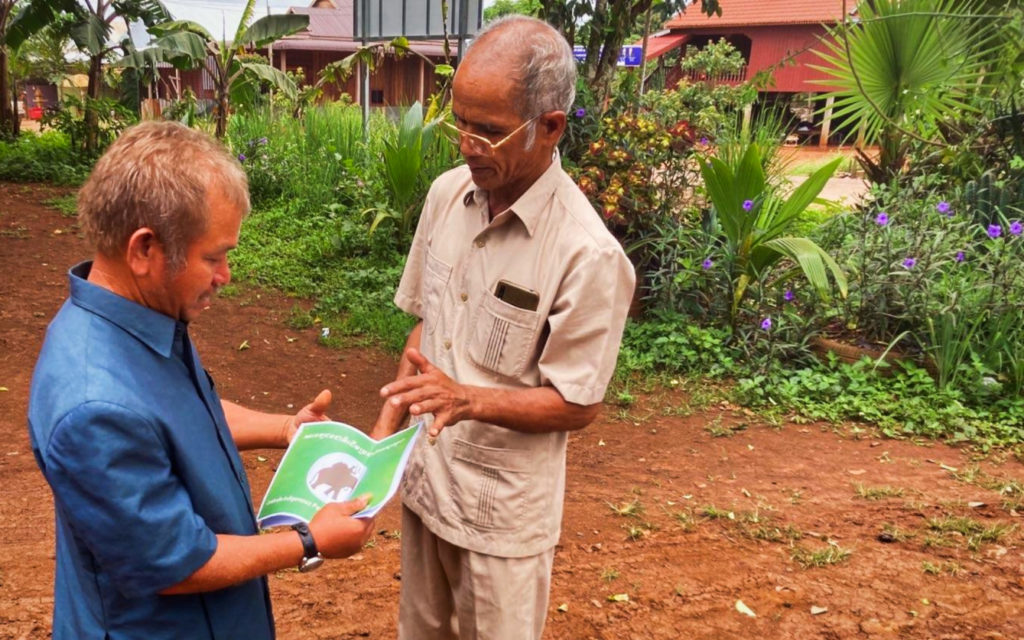 Little-Known Alternative
Road 76 forks a few kilometers away from provincial capital Sen Monorom and winds around shallow hills. Resorts and hotels — some offering clear hemispheric rooms — dot the landscape. The road curves around the "Builds Love Mountain Resort," revealing Dak Dam, which is centered around the local school and commune hall.
Back in Dak Dam, Dany and Savai are sitting on a neat pile of firewood and chatting, a toddler wrapped tight to Savai's chest. The two are reluctant to speak for fear of repercussions but later agree to give only their first names.
It doesn't take long for the two to open up about the land disputes affecting the community and how the sitting CPP commune chief, Chas Na, has done little to help residents. They even allege he has forced people to sell their land but did not provide any evidence to support the accusation.
Dany said the Bunong community had lost burial grounds in the commune — a recurring complaint reporters heard from indigenous communities in the province — and were told by the supposed buyer of the land to stop burials and to start cremating bodies like the Khmer majority.
She said this was an affront to her beliefs and deeply hurt her. Savai nodded in agreement. The Dak Dam resident questioned why outsiders were telling them how to perform the last rites for indigenous residents, while also taking their lands away.
"We bury the corpses in our area, it is not in your land," Savai said, referring to people who bought the land. They spoke so cruelly even though this is not their land."
Both women were unaware of the Indigenous People's Party and again only recognized it as the "elephant party." They say they haven't decided who to pick on the ballot come June 5, but their criterion is simple: vote for the party that solves land disputes.
Dany says, "If the party can solve the land dispute for us, we are going to support them."
Chas Na, the CPP commune chief, is Bunong, much like 80 percent of the commune. The chief denies all accusations residents leveled against him. He was in fact protecting burial grounds by turning away prospective buyers, solving residents' land disputes in the commune, and was not involved in land sales.
"I don't know anything about that. It is between the people and the [land] agents," Na says. "Did I force them? No, I never did that."
Asked if these allegations will hurt his re-election bid, Na only defends his record.
"I always helped the people solve their land disputes," he says. "But it is their right."
Sin, the Indigenous People's Party president, says he can see cynicism among voters for the ruling dispensation. That may not result in a transfer of votes to his party, he says, but that won't stop him from putting the rights of indigenous communities on the ballot.
"Even though the party doesn't get enough votes, we will still continue," he said, smiling.