The fish flitting around the nets under Yor Yeng Tam's floating home need one year to grow into sizable catfish and climbing perches that he can sell for $2 per kilogram. Yeng Tam has spent decades in Phnom Penh river waters, raising fish under his dai, a houseboat rigged with a net underneath to raise fish.
When officials last June ordered 45-year-old Yeng Tam and his family to leave their previous home, anchored near the Kilometer 7 marker on National Road 5, they were not allowed time to transport the thousands of fish maturing under his house.
"I lost two dai of fish, one big and one small, worth around $4,000 or $5,000, because there was no time to move," he says some nine months later. "If I didn't move in time, they would have destroyed my house, like cut it down."
When he spoke to VOD in March in the northern outskirts of Phnom Penh, the ethnically Vietnamese fisher was two or three months into raising a new group of fish, not yet able to take them to the market and recoup his losses. At this rate, Yeng Tam, who was born in Cambodia and has lived his life here, didn't think it would be possible to save money to move to land within three years as ordered by Phnom Penh officials.
His wife, Vieng Ti Liv, was more uncertain about the will of the officials to let them stay.
"I'm afraid officials will tell us to leave again," she says, and her husband later agreed.
Following repeated evictions from settlements along the Tonle Sap and Mekong rivers, ethnically Vietnamese fishing communities, who live on the water and are often stateless, have been left with a tenuous place in Cambodia.
Trying to Adjust
Phnom Penh's river-dwelling communities had relatively stable bases throughout the city before last year, when authorities ordered people who live on boats and floating platforms off the water. In early June, the communities were initially given one week to leave their homes, but the deadline was extended. Some went north toward the city's outskirts, where they were allowed to anchor on the Tonle Sap river near Prek Pnov district's Wat Kruos for at least six more months.
Phnom Penh authorities announced in late February that these hundreds of boats and dai docked on the river there in Samraong commune would be allowed to stay for three years, but then they would need to find a space on land.
When VOD spoke to river-dwelling residents in Samraong commune in March — all of whom were ethnically Vietnamese — most were unsure what to think of the future.
While his family was gutting, chopping and weighing fish to make meatballs on their floating platform, Sok Pha, 33, says he's frustrated how far the new location was from Phnom Penh's major markets, but he thought little about the future.
"I do not know where to go after three years," he says.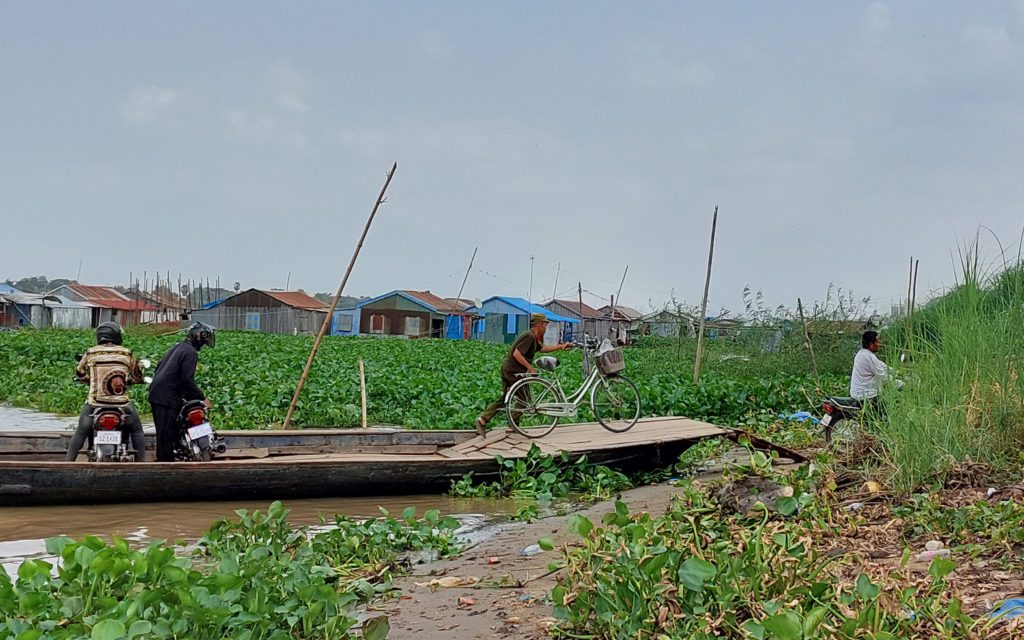 Sim Chy, head of the Khmer Vietnamese Association, says the organization tries to collect donations from business owners and entrepreneurs to assist floating communities.
"We, the philanthropists in Cambodia … want to reach out to them to help small businesses," he told VOD.
He wouldn't say if he believed it would be feasible for the Prek Pnov communities to earn enough in three years to start renting homes on the land.
"Regarding Prek Pnov, we do not know if in three years they will be able to move to the land or not," he said. "We just help spread the word about the authorities that they should try to find another location."
He felt that life was "a little better" for the ethnically Vietnamese communities still in Phnom Penh, because they could work as fish farmers. But others had moved south, toward the Vietnamese border, and needed help finding vendors who would buy fish in Loeuk Dek district in Kandal and Prey Veng provinces.
South to the Border
When the river-dwelling communities — mostly consisting of ethnically Vietnamese who have lived in Cambodia for years, or Cambodian Muslims, who are often ethnically Cham — left their homes, dozens of families with Vietnamese heritage decided to leave Cambodia, saying they no longer felt welcome. They floated their boats around 100 km down the Mekong river toward the border with Vietnam and docked on the riverbanks — some on the eastern bank in Prey Veng's Koh Roka commune and others in Kandal's Ka'am Samnor commune on the West side.
As of mid-March, more than a hundred families remain docked behind a sand depot in Ka'am Samnor, wondering when they will be able to cross into Vietnam.
To Yongson remembers that when he first came to Ka'am Samnor in the middle of last year, a Vietnamese official told him to wait seven days, and he would then be able to cross the water border into Vietnam. That day hasn't come, and he says he's been docked about 5 km from the border ever since.
Yongson, 64, says he never saw Cambodian officials visit the floating community, and Vietnamese officials arrived with donations but little news about the future.
"There are some assistant officers from Vietnam who give food for people there like rice once per month," he says, without clarifying which department they are in. "They know that I cannot do anything here [for work]." There are few fish in this section of the Mekong.
Meng Yeang Tong, 50, recalls that authorities destroyed his houseboat last June because he was unable to leave in time. The boat he now stays on is his younger brother's. He's no longer able to earn money from fishing, so he just catches to feed his family.
"When they open the border I will go," he says. "I am so upset that I do not want to stay here."
When VOD went to the border on March 14, some residents gathered on Yeang Tong's dai said they had heard rumors that Cambodian authorities would arrive the next morning and tell them where to go next — maybe back to Phnom Penh, or they would finally be allowed to cross into Vietnam. VOD called Yeang Tong and two others on March 15, but nothing had happened.
The wait was starting to drag on Veang Veng Ket, a 28-year-old living in the Ka'am Samnor community. He floated for two days down the Mekong after he was told to leave, and received no help in bringing his family's boat downstream.
At his previous space, docked near the Koh Norea construction site, he could work in construction and earn $10 or $15 a day when the fishing was fraught.
At his current location, where the nearby village has few markets, Veng Ket struggles to buy food for fish he can raise on the family's dai, and even if he does try to sell fish, he spends $2 on petrol to look for buyers. He's reaching his limit in Ka'am Samnor, he says.
"I want to go back because I think the border will not open," he says. "I have never heard people talking [about our future]."
Effects for the Fish
Location is critical for fishing — a turbulent spot or sudden pollution can ruin a whole season, the fishers say. Both in Phnom Penh and Kandal, fishers who had to move say their move may also cost them future fish catches.
Yongson, docked at Ka'am Samnor, says he decided to move from Kampong Chhnang to Phnom Penh 12 years ago at the opportunity of reaching a better market.
He says he could catch roughly 10 kg of fish daily whether he was fishing the Tonle Sap river from his old home in Phnom Penh's Prek Pnov district or the mouth of the Tonle Sap lake in Kampong Chhnang province. But in Phnom Penh he could earn $25 for that haul, better than he could make in the provinces.
At Kandal, he can only catch between 3 and 5 kg a day, and the earnings per kilogram are worse. His only customer is a person in a car, buying fish and hauling it into Phnom Penh, so they offer lower prices in order to cover their own gas, he says.
Yongson still felt it would be preferable to go to Vietnam, where he could at least stay with distant relatives whom he chats with "rarely." Until then, his family also has a small sundry shop on a boat, selling snacks to other community members to earn small money.
"I do not want to go back to Phnom Penh, because I am afraid they will tell me to come back," he says.
Up north, Hak Sophang says the Wat Kruos fishing communities have been pushed to stay close to wastewater discharges at the Kilometer 7 and Kilometer 9 junctions along National Road 6, and he believes the location has caused great losses.
"Once, all my fish died," the 46-year-old says, adding that the silver barb he raises generally need a year to grow, but he had to restart twice last year. "20,000 fish [dying] in a second batch equals more than $1,000 of investment [lost], and half of my fish died the first time."
In addition to being closer to sewage, the shifting flows of the Mekong and Tonle Sap have an effect on how much pollution the fish are exposed to. All these factors cut into his income, he says.
"Previously, there were never deaths like this."
Identity Without Documents
Chy, of the Khmer Vietnamese Association, says that he doesn't think the community will be able to move to Vietnam because they don't have Vietnamese identification or documents showing their connection to Vietnam.
But they aren't able to help with any legal identification, saying Vietnam has not allowed them to cross and Cambodian documents are handled by the government.
"The association cannot help to find other documents for them, only the authorities and the General Department of Immigration, who can provide these documents," he said.
Before last year's river evictions, the Cambodian government opened a campaign starting in late 2017 to revoke documents from ethnically Vietnamese people who have been living in Cambodia for years, often since birth.
A few months before they were told to move to Samraong commune, Yeng Tam and Ti Liv say they were forced by authorities in Prek Pnov district to give up their Cambodian identification cards.
Yeng Tam says he had voted in previous elections but now no longer is able to. He also worries about the three-year deadline to stay on the river, saying he would not be able to buy land even if he could save enough money.
"Now, I have documents like immigrants," Yeng Tam says. "I do not know what to say while they take my documents because all people's documents were taken away."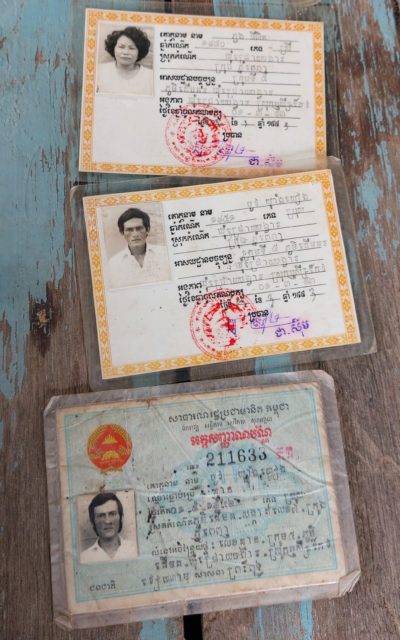 Chov Yeang, now living near the Vietnamese border, was born in Chroy Changva. He has no documents to prove it, but he says his parents are Vietnamese, and he spent between 1970 and 1980 working on construction sites in Vietnam. What he has are four laminated Khmer identification cards, two each for himself and his wife, dating back to 1986 and 1993.
"I never thought I would go back to Vietnam," says Yeang. He felt there was no other choice but to try Vietnam after Cambodian officials kicked him out of Chroy Changva district.
"I feel angry but I do not know what to do because it is their country," he says, referring to the country where he was born.