POIPET CITY, Banteay Meanchey — Riding into Kilometer 4 village on Thursday, there was a hum of funeral prayers on loudspeakers.
Theav Bov, 63, was finishing lunch as caterers packed up the tables and cutlery, marking the end of the day's ceremony.
His wife, Khean Kimhong, had been playing cards on Wednesday near the Park City Poipet housing development project in Phsar Kandal commune as a crane in the adjoining construction site hauled a large prefabricated concrete slab. The crane came crashing down, crushing a nearby home and front yard, the concrete slab landing on Khean Kimhong and others, according to local officials.
Bov said his daughter had run to inform him of the incident, but the duck farmer was reluctant to believe the news.
"But I knew my wife would be disabled or dead," he said. "It is rare that someone survives something like this."
Five were killed and five others injured in the incident. Families on Thursday held funerals for three of the victims, with the bodies of two others taken to their hometowns in nearby Nimit commune and Kampong Cham province, respectively.
Bov said it was likely that the workers were inexperienced to operate that crane and that the company had been careless, but also refused to blame Park City Poipet for the incident.
"I am a weak person. It is up to the governor, city officials and authorities to decide who is wrong," he added.
He said Park City Poipet representatives had given him $300 and 30 kg of rice, Banteay Meanchey Governor Um Reatrey had given around $250 and the local police and prosecutor had donated $50.
Kilometer 4 village chief Mao Thy questioned the expertise of the construction site's crane operators.
"This incident is because the [construction company] does not have experts on how to carefully use the cranes," he said.
Asked if the company was criminally liable for the incident, Thy also deferred to the provincial governor, police and other authorities, who he said were better equipped to investigate the matter.
Soum Chankea, the local coordinator for rights group Adhoc, confirmed that initially only four people were reported injured but another person was pulled from the wreckage later, taking the toll to five dead and five injured.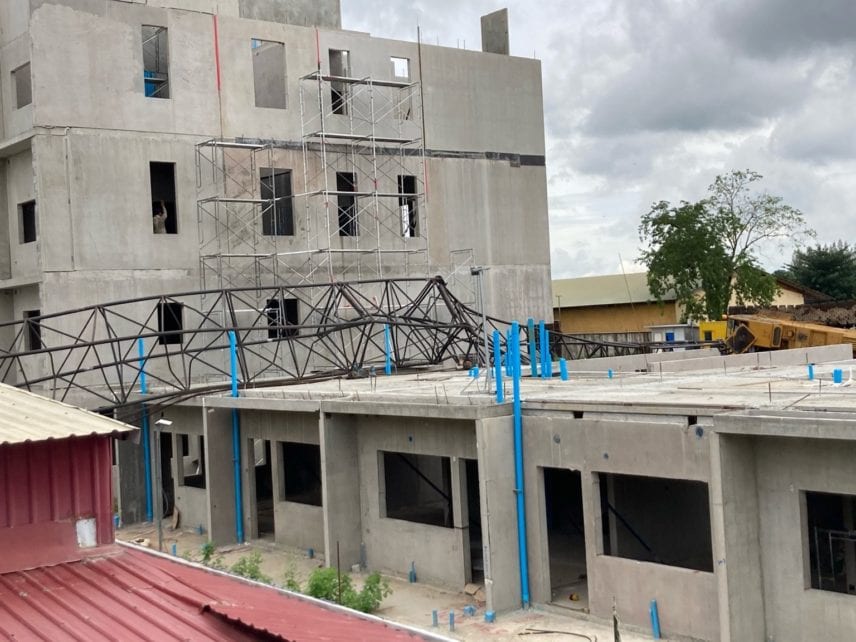 Banteay Meanchey police chief Ath Khem said officials were investigating the incident and had questioned the crane operator, who said that there were strong winds and rain at the time of the incident and that the crane was missing metal supports.
But Khem said the incident was caused by "natural causes and technical issues" and was not intentional. He said that while investigations were ongoing and police had pushed the company to pay compensation for now, it was up to the provincial court to take legal action against the company.
"It is up to the court to make its decision later and we do not dare to talk about it," he said. "And if the company [gives compensation], it is a good thing."
Land Management Ministry spokesperson Seng Lot did not respond to requests for comment.
Park City Poipet is being developed by Total Home Enterprise, which is owned by local tycoon Lay Bun Pa. The businessman is also a director of L.B.P Microfinance, which is based in Phnom Penh, according to business registry filings.
Company employees at Park City Poipet's office did not comment on the incident and VOD was unable to contact Bun Pa.
The crane crash comes little more than a year after an under-construction building in Sihanoukville collapsed killing 28 people. In January, another unfinished building in Kep province collapsed killing 36, including six children.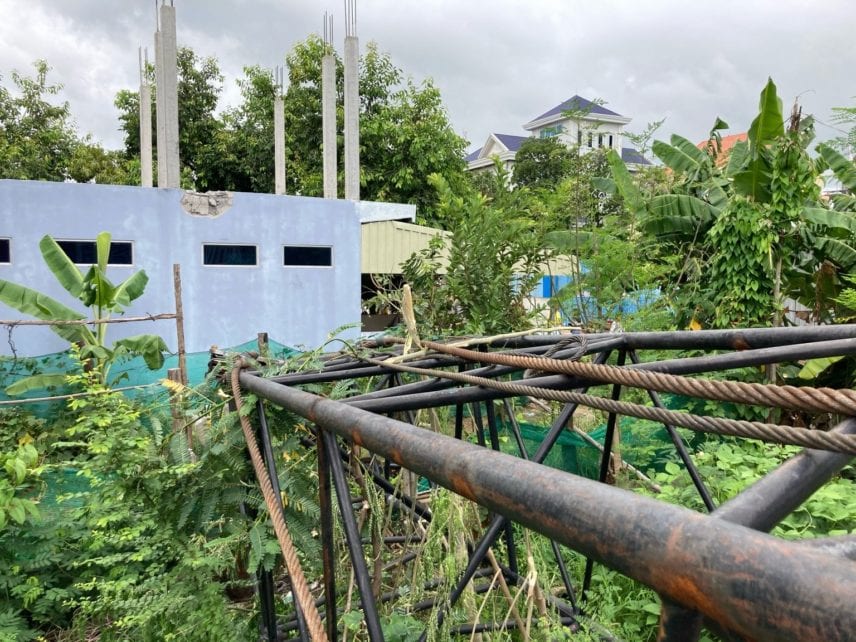 Two hundred meters away from the scene of the Poipet crane collapse, Cheav Channy said she had heard a loud explosion-like sound in her backyard. From her first-floor balcony, one can see the crane laying on its side, its long arm and lifting hook piercing a wall between the construction site and the village, where it landed on a nearby house.
Channy said her motorcycle, with a sidecar, had been crushed by the falling crane but that nobody had spoken to her about compensation or repairing the vehicle, which she needs to ride around and sell desserts.
"The authorities have not asked who this motorcycle belongs to. I am afraid they will not compensate me," she said, still unable to extract the motorcycle from the wreckage.
Back at village chief Thy's house, he said there was a sense of fear in the community. The village chief's home is barely 2 meters away from the wall separating the 60-hectare development and Kilometer 4.
Thy said he was a little worried about venturing close to the boundary wall and hoped preventive measures would be taken in the future.
"Yes, I am concerned," he said. "But this should not happen a second or third time. The company should take precautions."